Astros open roster space, outright Singleton
Former top prospect off Houston's 40-man; Fontana claimed off waivers by Angels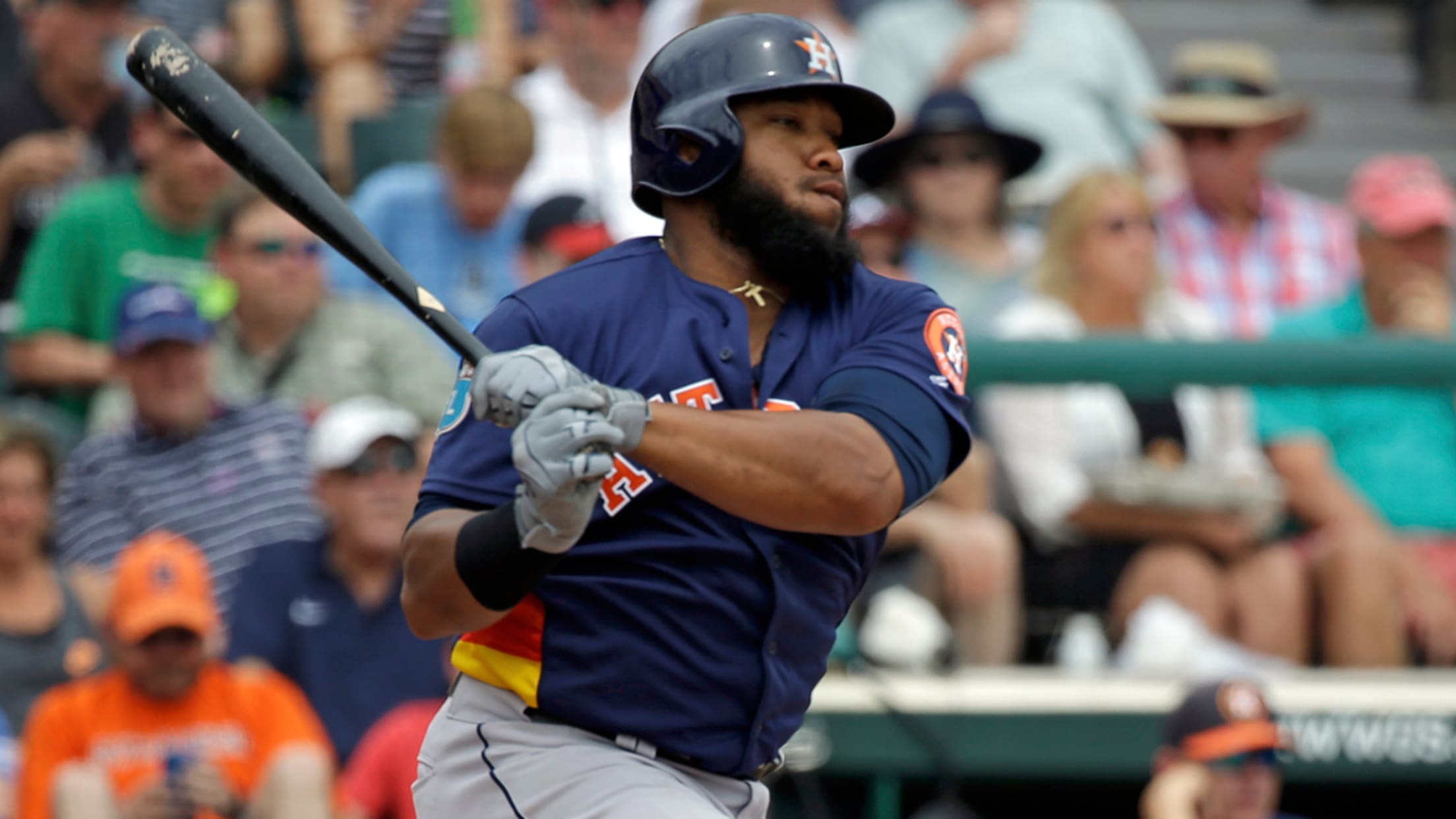 Jon Singleton spent the 2016 season playing for Triple-A Fresno. (AP)
HOUSTON -- The Astros cleared two spots off their 40-man roster on Tuesday by outrighting former top prospect Jon Singleton to Triple-A Fresno and losing infielder Nolan Fontana, who was claimed off outright waivers by the Angels.Singleton, who signed a five-year, $10 milion contract upon his promotion to the big
HOUSTON -- The Astros cleared two spots off their 40-man roster on Tuesday by outrighting former top prospect Jon Singleton to Triple-A Fresno and losing infielder Nolan Fontana, who was claimed off outright waivers by the Angels.
Singleton, who signed a five-year, $10 milion contract upon his promotion to the big leagues in 2014, was placed on outright waivers on Friday and cleared Tuesday. The moves leave the Astros with 37 players on their 40-man roster, not including the impending addition of free-agent outfielder Josh Reddick.
Singleton, 25, played parts of the 2014 and '15 seasons with Houston, hitting .171 with 20 homers, 71 RBIs and 215 strikeouts in 410 at-bats. He had a chance to win the starting first base job last spring, but he didn't make the club. Singleton spent all of last season at Fresno, hitting .202 with 20 homers, 66 RBIs and a .337 on-base percentage that was partially the product of 83 walks.
"He's still in the organization, and we still have hopes he contributes at the Major League level," Astros general manager Jeff Luhnow said. "This is simply a roster management move. We're going to need some roster spots coming up in the next month or two and figured he would get through, which he did. It doesn't really affect the player. Jon needs to show us he's ready to contribute at the big league level and there will be opportunity here, but he just needs to take advantage of it. But right now, he doesn't need to be on the roster."
Singleton was passed on the depth chart this year by another young left-handed slugger, A.J. Reed, who had his own struggles when he was called up to the big leagues. The Astros are also in the market to add a first baseman this offseason, which only further clouds Singleton's future.
"I think [Singleton] knows that he hasn't reached the expectations that he had for himself and we had for him, but it doesn't mean that he's not going to," Luhnow said. "He's a young guy and still has a lot of promise, and he hit 20 home runs in the PCL last year. There's definitely some potential there and hopefully will come together."
The Astros are trying to clear space on their 40-man roster after signing free-agent pitcher Charlie Morton on Wednesday and trading for catcher Brian McCann on Thursday. Reddick reached an agreement on a four-year, $52 million deal that's expected to be announced this week.
Fontana, a second-round Draft pick in 2012, hit .237 with a .379 career on-base percentage in 452 career games in the Astros' Minor League system. He split last season between Triple-A and Double-A Corpus Christi.