Abreu back on All-Star stage with veteran poise
White Sox first baseman voted into AL starting lineup by fans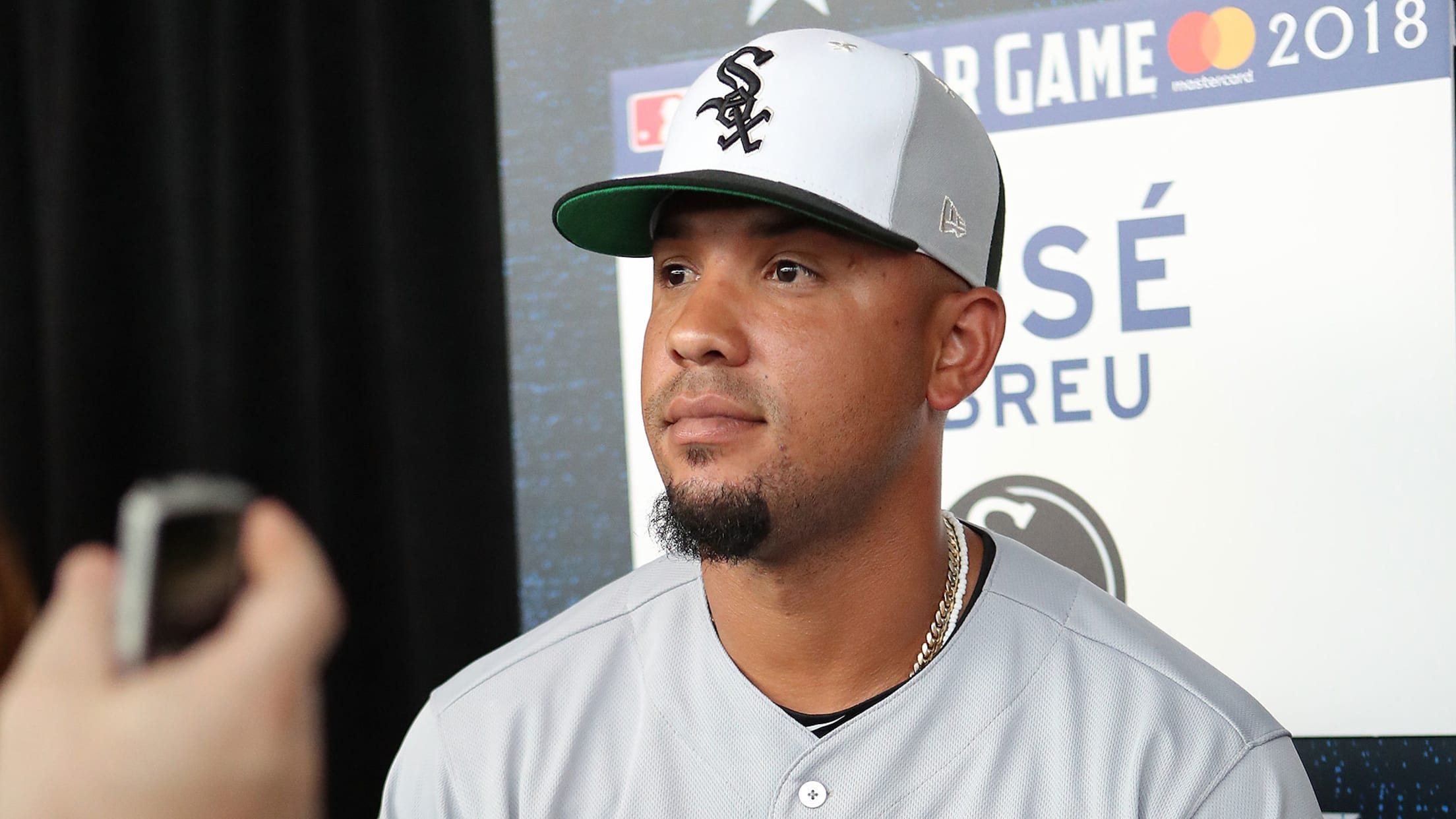 There's a certain cadence or rhythm to Jose Abreu's interviews, consistent in good times and in bad, much like the player himself.He's filled with optimism. He's thankful, and he always takes pride in who he represents, ranging from his family to the Chicago White Sox.All of those themes were on
There's a certain cadence or rhythm to Jose Abreu's interviews, consistent in good times and in bad, much like the player himself.
He's filled with optimism. He's thankful, and he always takes pride in who he represents, ranging from his family to the Chicago White Sox.
All of those themes were on display Monday in Washington, D.C., where the starting first baseman for the American League All-Star team answered waves of media questions the day before the game with a look of poise and a sense of belonging.
:: Complete All-Star Game coverage ::
Abreu became the first White Sox player to lead at any point in the balloting process since Frank Thomas won the fan election at first base in 1996. He also became the sixth White Sox player (11th time) to be fan-elected as a starter to the All-Star team, joining Thomas (1994-96), Carlton Fisk (1981-82), Richie Zisk (1977), Dick Allen (1972-74) and Luis Aparicio (1970).
Abreu's second appearance has a different feel than his 2014 All-Star debut, with his wife, Yusmary, and his sons, Dariel Eduardo and Josue Dariel, joining his parents by his side.
"It's good to be back. I'm very happy," said Abreu, who will be hitting eighth in manager AJ Hinch's AL lineup. "This one is even more special than the first one.
"I know the game more and everything that comes with it. I know I'm going to enjoy the game. I'll have my family here, which makes it very special."
Humble & selfless. José Abreu is an All-Star on and off the field! pic.twitter.com/fqsOFNi2Ts

— Chicago White Sox (@whitesox) July 16, 2018
In '14, the eventual AL Rookie of the Year was new to the United States -- let alone the White Sox -- after coming from Cuba via a six-year, $68 million free-agent deal. Now in his fifth season with Chicago, Abreu has become one of the more respected middle-of-the-order hitters in baseball, a true leader for a rebuilding White Sox organization and a valued clubhouse presence.
The consistent daily work ethic exhibited by Abreu, 31, holds up as a great example for younger teammates. That approach hasn't changed in the face of a recent slump -- dropping Abreu's average from .319 on May 26 to .253 -- with 13 home runs, 27 doubles and 52 RBIs entering the All-Star break.
"I'm trying to let them know to have belief in yourself, have confidence in your approach, confidence in your routine, your work," Abreu said. "That's the way to overcome the difficulties, especially at this level."

"That's something that motivates you, something that lets you know that if you do things the right way, you're going to get rewarded," White Sox second baseman Yoan Moncada said of Abreu through interpreter Billy Russo. "I feel really honored to share this team with him."
Chris Sale, who will be the AL starting pitcher in his third straight All-Star Game, shared a White Sox team with Abreu upon Abreu's arrival in '14. The two had a special moment reuniting before the media session.
"We talked about our families. How he was doing and how I was doing," Abreu said. "It was great to talk to him and express gratitude for everything he has done for me and being a good teammate."
Sale wanted to stay and win with the White Sox, but his trade to Boston before last season began the rebuild in earnest. Abreu feels the same White Sox loyalty, but with one more year of contractual control beyond '18, his future on the South Side is uncertain.
A trade certainly won't lessen his pride for where he started in the Majors. On Monday, Abreu sported a green-and-white bracelet on his left wrist showing the colors of Cienfuegos, his old team and hometown back in Cuba.
Representing Cuba at the All-Star Game also means a great deal to Abreu.
"They made me who I am," Abreu said of Cienfuegos. "They were my first club and will always be with me."
We're ready to see our guy in the #AllStarGame. 💪 pic.twitter.com/QDUIrBUrJc

— Chicago White Sox (@whitesox) July 16, 2018