Berrios, Difo among top prospect performers Tuesday
Twins' No. 1 prospect allows one hit in seven frames, Nats' No. 6 records career-high seven RBIs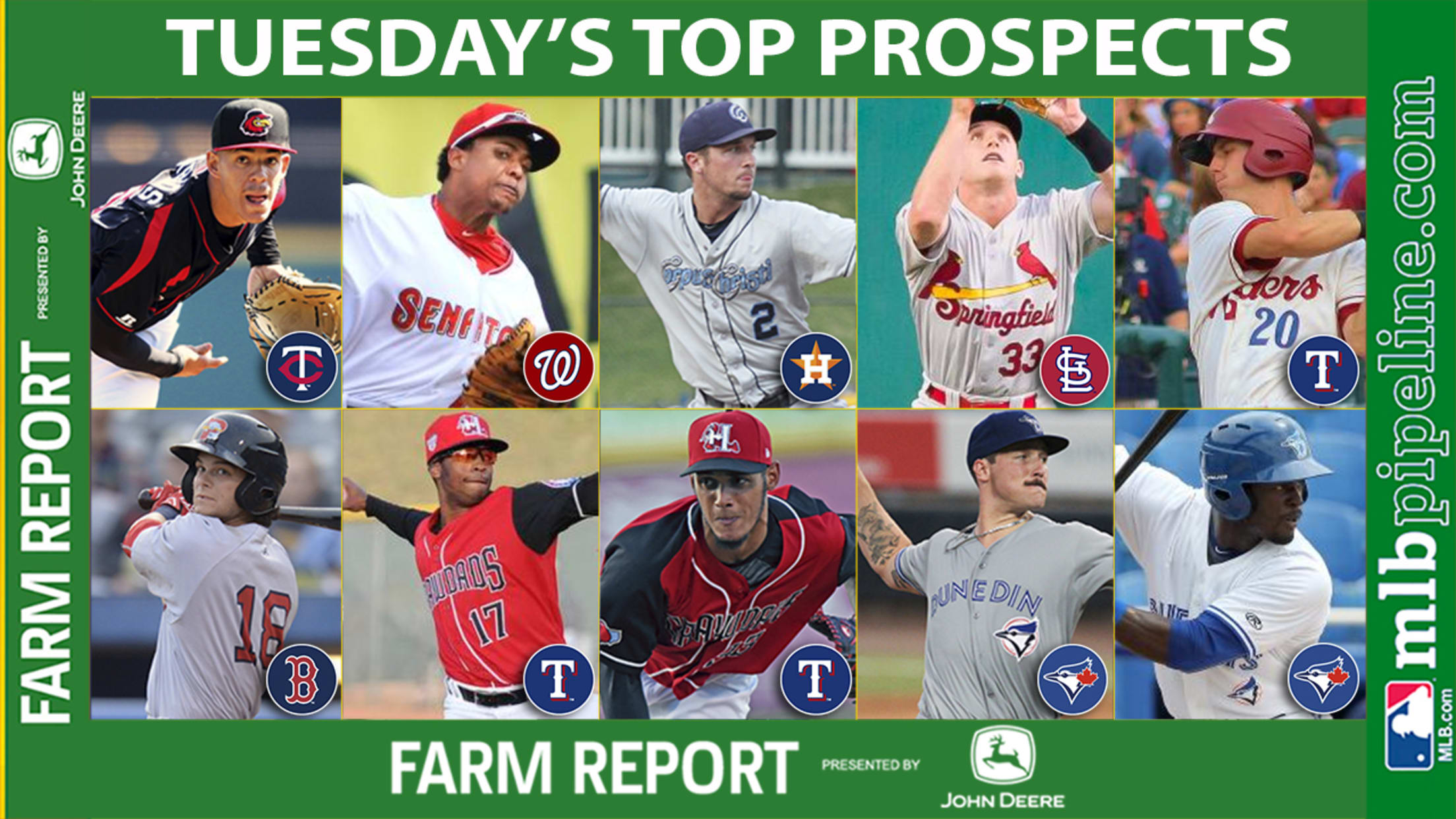 (Paul Sancya/AP)
Jose Berrios followed up his best start of the year with a no-hit bid and an outing that was equally impressive.The No. 15 overall prospect took a no-hitter into the seventh, but lost it on a one-out double -- the lone hit he allowed in seven scoreless frames. Berrios threw
Jose Berrios followed up his best start of the year with a no-hit bid and an outing that was equally impressive.
The No. 15 overall prospect took a no-hitter into the seventh, but lost it on a one-out double -- the lone hit he allowed in seven scoreless frames. Berrios threw 64 of his 96 pitches for strikes, walking three and striking out six.
This all came after the Twins' top prospect needed just 88 pitches to throw eight scoreless innings in his previous start.
MILB Video - Title: Watch: Berrios notches K - Url: http://www.milb.com/r/video?content_id=869731983
Berrios will have his 15-inning scoreless streak on the line the next time he takes the mound, looking to build on the success he generated in the month of June, when he went 4-1 with a 2.02 ERA in 35 2/3 innings.
The rest of the best performances from top prospects Tuesday:
• A trio of top prospects put their offensive prowess on display under the bright lights at the Texas League All-Star Game. Alex Bregman (Astros' No. 1, No. 15 overall) hit a two-run homer in his first at-bat and later added another hit, going 2-for-3 before he was taken out. Bregman's teammate on the South squad, Ryan Cordell (Rangers' No. 14) had some offensive fireworks of his own, going 3-for-5 with a homer and four RBIs. Cordell was rewarded with the game's MVP Award. Cardinals' No. 10 prospect Harrison Bader went 4-for-5 for the North.
MILB Video - Title: Watch: Bregman goes yard - Url: http://www.milb.com/r/video?content_id=870288783
• Andrew Benintendi (Red Sox's No. 3) had a pretty good day. The No. 21 overall prospect was named to the All-Star Futures Game then followed that up with his second four-hit game of the year and his first with Double-A Portland. The Sea Dogs came up short, losing 10-9 to Trenton, but Benintendi hit a pair of doubles and drove in a run in a 4-for-5 game.
MILB Video - Title: Watch: Benintendi drives in run - Url: http://www.milb.com/r/video?content_id=871234183
• A pair of top Rangers' prospects pitched Class A Hickory to a win over Columbia. Rangers No. 1 prospect Dillon Tate (No. 31 overall) started the game and struck out three in two scoreless innings. A few frames later, Jonathan Hernandez (Rangers' No. 26) came in to finish it off. Hernandez threw four scoreless innings, struck out six and surrendered one hit.
• Sean Reid-Foley's (Blue Jays' No. 3) scoreless streak reached 19 innings before he gave up a pair of runs in the third inning of Class A Advanced Dunedin's 10-7 win over Lakeland. However, those were the only runs Reid-Foley allowed over his six innings. Blue Jays' No. 1 prospect Anthony Alford went 1-for-3 with a homer and two RBIs. The No. 37 prospect also scored a pair of runs.
• Scouts have wondered whether Mets' No. 1 prospect Dominic Smith will hit for power and although he didn't hit a lot of homers initially in the Minors, his is starting to show as he's homered in three of his past five games. The No. 46 overall prospect set a career-high with his seventh homer in a 1-for-4, two-RBI game for Double-A Binghamton.
MILB Video - Title: Watch: Smith blasts off - Url: http://www.milb.com/r/video?content_id=869066883
• Blue Jays' No. 12 prospect Ryan Borucki threw another gem for Class A Lansing in its 4-1 win over Great Lakes. The left-hander struck out six over seven scoreless innings and gave up four hits. Over his last 21 innings -- spanning three starts -- Borucki has given up two runs and fanned 23.
MILB Video - Title: Watch: Borucki strikes out batter - Url: http://www.milb.com/r/video?content_id=871560083
• Braves' No. 11 prospect Mike Soroka twirled his first professional complete game and lowered his ERA to 2.77 in the first half of Class A Rome's twin bill. The 2015 first-round selection gave up one run on two hits and a walk in seven innings. Soroka also tied his season-high with seven strikeouts.
• Carson Sands (Cubs' No. 23) led Class A South Bend to a 3-0 win over Lake County with seven scoreless innings. Sands, whom the Cubs selected in the fourth round of the 2014 Draft, walked one, gave up three hits and struck out four.
"It was awesome," Sands told MiLB.com. "My grandparents came tonight and watched me pitch for the first time since high school. It was really great to have them in the stands like the old days. They drove 13 hours to get here and I'm just beyond blessed to have family that will do something like that."
MILB Video - Title: Watch: Sands notches K - Url: http://www.milb.com/r/video?content_id=869766583
• Alex Young (D-backs' No. 3) continues to carve his way through opposing lineups. The left-hander led Class A Kane County to a 2-0 win over Burlington with seven scoreless innings. Young struck out six, gave up four hits and lowered his ERA to 2.16.
• The Triple-A Columbus Clippers scored just one run against Lehigh Valley, but that was all they needed with Adam Plutko (Indians' No. 14) on the mound. The right-hander continued his stellar season with seven scoreless innings of three-hit ball. Plutko walked one, fanned five and lowered his ERA to 1.93.
"Early on, I thought my command with my fastball was a little erratic," Plutko told MiLB.com. "But I stayed with that and got my curveball going early. The slow and fast speeds kept their hitters off balance as the game went on."
MILB Video - Title: Watch: Plutko strikes out batter - Url: http://www.milb.com/r/video?content_id=869662083
• Mets' No. 11 prospect Jhoan Urena put together his second three-hit game of the season for Class A Advanced St. Lucie in an 11-9 loss to Charlotte. The third baseman went 3-for-4 and drove in three, a season-high.
• Wilmer Difo (Nationals' No. 6) isn't a big RBI guy. He had just 13 through the first 72 games this year, but that all changed for Double-A Harrisburg as Difo went 4-for-5 with a career-high seven RBIs in a 13-10 win. Difo hit his second career grand slam in the game and finished a triple shy of the cycle.
MILB Video - Title: Watch: Difo hits grand slam - Url: http://www.milb.com/r/video?content_id=869244783
• Orioles' No. 27 prospect Adrian Marin hit his third homer of the year and set a career-high with five RBIs for Double-A Bowie in its loss to Harrisburg. The 22-year-old shortstop went 3-for-4, his fourth three-hit game this season.
• Phillies' No. 19 prospect Rhys Hoskins continues to swing a hot bat. The first baseman went 4-for-4 for Double-A Reading in a 7-2 win over Erie and has hits in seven of his past eight games, including multiple hits in five. The four-hit game was the first of the year for Hoskins, who has raised his batting average from .270 to .289 during his hot streak.
2016 Draft picks
• Jameson Fisher, the White Sox fourth-round selection, hit the first two homers of his professional career, going 2-for-4 with four RBIs for Rookie-level Great Falls.
• Nationals' sixth-round pick Tres Barrera went 1-for-3 with his first professional homer for Class A Short Season Auburn.