Nicasio to have season-ending knee surgery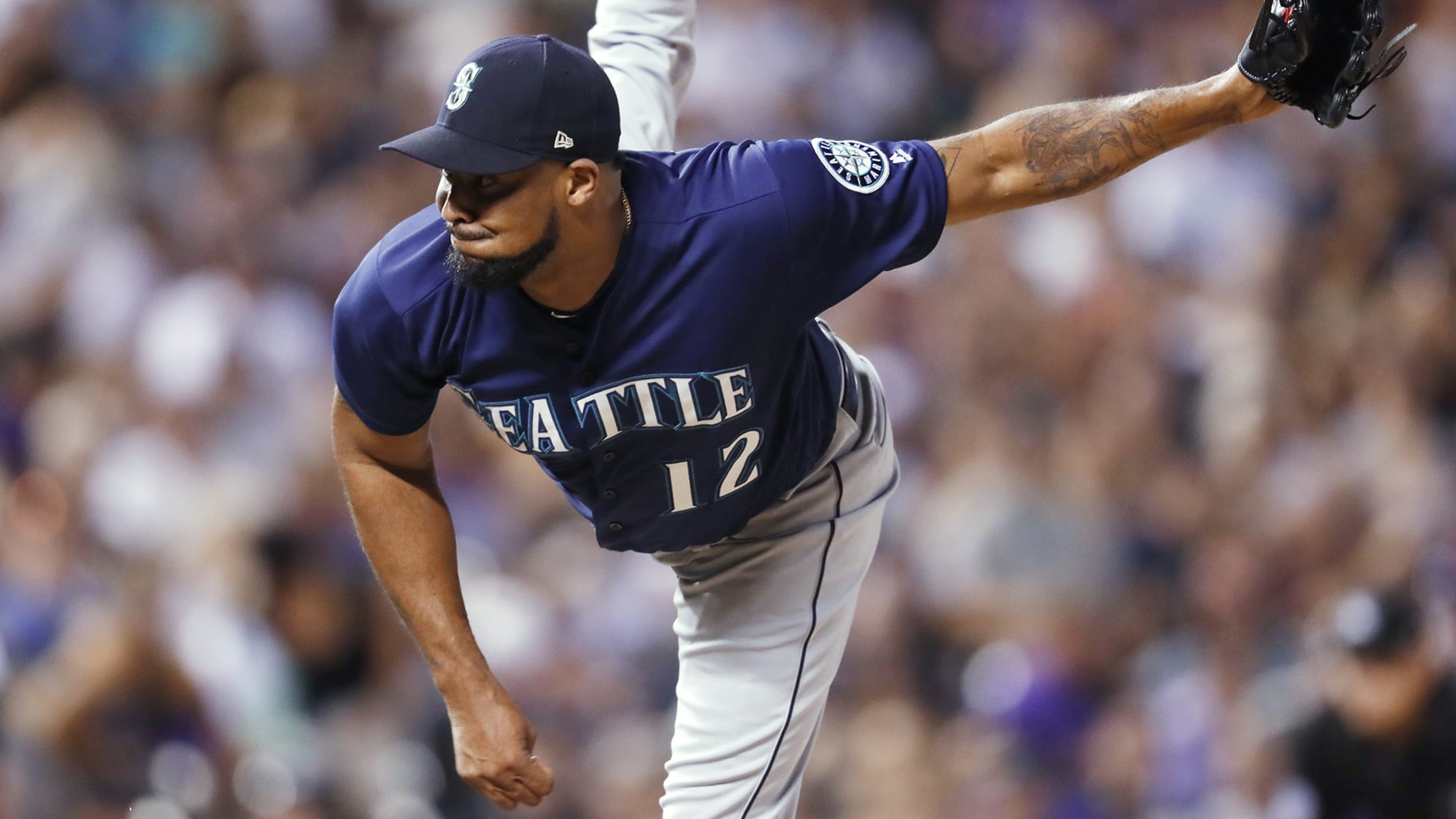 Seattle Mariners relief pitcher Juan Nicasio works against a Colorado Rockies batter during the eighth inning of a baseball game Saturday, July 14, 2018, in Denver. Colorado won 4-1. (AP Photo/David Zalubowski) (David Zalubowski/AP)
PHOENIX -- Mariners manager Scott Servais called Juan Nicasio one of the "most unlucky" pitchers in the Majors this season. And the right-hander's fortune just got worse.:: Players' Weekend presented by Valspar Stain ::Servais announced on Sunday that Nicasio will undergo season-ending surgery on his right knee to have it "cleaned
PHOENIX -- Mariners manager Scott Servais called Juan Nicasio one of the "most unlucky" pitchers in the Majors this season. And the right-hander's fortune just got worse.
:: Players' Weekend presented by Valspar Stain ::
Servais announced on Sunday that Nicasio will undergo season-ending surgery on his right knee to have it "cleaned up." Nicasio went on the disabled list on Aug. 3 with inflammation and got a second opinion earlier this week before deciding on surgery.
• Mariners Players' Weekend gear
"Juan is our most unlucky pitcher by far, one of the most unlucky in the big leagues this year, just batting average on ball in play," Servais said. "Juan had a couple really good stretches for us, and he had some times that he struggled and gave up some big hits late in games which kind of tipped the game in the other direction. But I was really, really hoping to have him back. You've got to have your legs under you to pitch, and he didn't feel comfortable there."
• Mariners' nicknames for Players' Weekend
Nicasio went 1-6 with a 6.00 ERA in 46 games this season. The 31-year-old right-hander was in his first season with the Mariners after previously playing for the Rockies, Dodgers, Pirates, Phillies and Cardinals. Nicasio signed with Seattle during free agency in December.
Nicasio's batting average on balls in play (BABIP) was .402, the highest of any of his eight seasons.
Altavilla's rehab continues
Right-hander Dan Altavilla (UCL sprain) made his fourth rehab appearance for Triple-A Tacoma on Saturday night. He gave up three runs on four hits in two-thirds of an inning.
Altavilla, who was transferred to the 60-day DL on July 31, has given up at least one run in each of his four rehab appearances, posting an 18.90 ERA.
"The stuff looked OK, velocity-wise is typically what you see out of Danny," Servais said. "The location and executing pitches, not quite there yet, but he'll have a couple more of those rehab starts."
Iwakuma returns to mound
On Sunday, Hisashi Iwakuma pitched in a game for the first time since June 2017, tossing one inning for short-season Class-A Everett against Hillsboro. The right-hander, who underwent right shoulder surgery last September, gave up one run on two hits -- a pair of singles, which led to a sacrifice fly.
Prior to Sunday's game against the D-backs, Servais said he was "very curious" to see how Iwakuma looked.
"Kind of have to wait and see what that looks like before we say, 'OK, yeah, maybe he can help, or maybe he can't.'" Servais said. "We'll have a better indication after the first rehab assignment, see how that goes."
Cruz back to bench
Nelson Cruz made his 2018 fielding debut when he started in right field on Saturday night and played all 10 innings. It was a clean showing, and after the game, Cruz was campaigning to start in right again on Sunday.
It didn't work, as Cruz was on the bench for the second time in this three-game series at Chase Field, a National League ballpark with no designated hitter, and Ben Gamel started in right.
"[Cruz] started that about the eighth inning last night on the bench and I quickly let him know that I appreciated his thoughts, this was not a democracy," Servais said. "'Skip, this is a team.' Yes, it is, and there's somebody who gets paid to make the decisions."
Servais said Cruz will be "in discussion" to return to the field during the two-game series in San Diego that starts Tuesday.
Jake Rill is an editorial producer for MLB.com based in Phoenix.