New setting, new optimism for De Fratus
Reliever 'fell into something great' with Mariners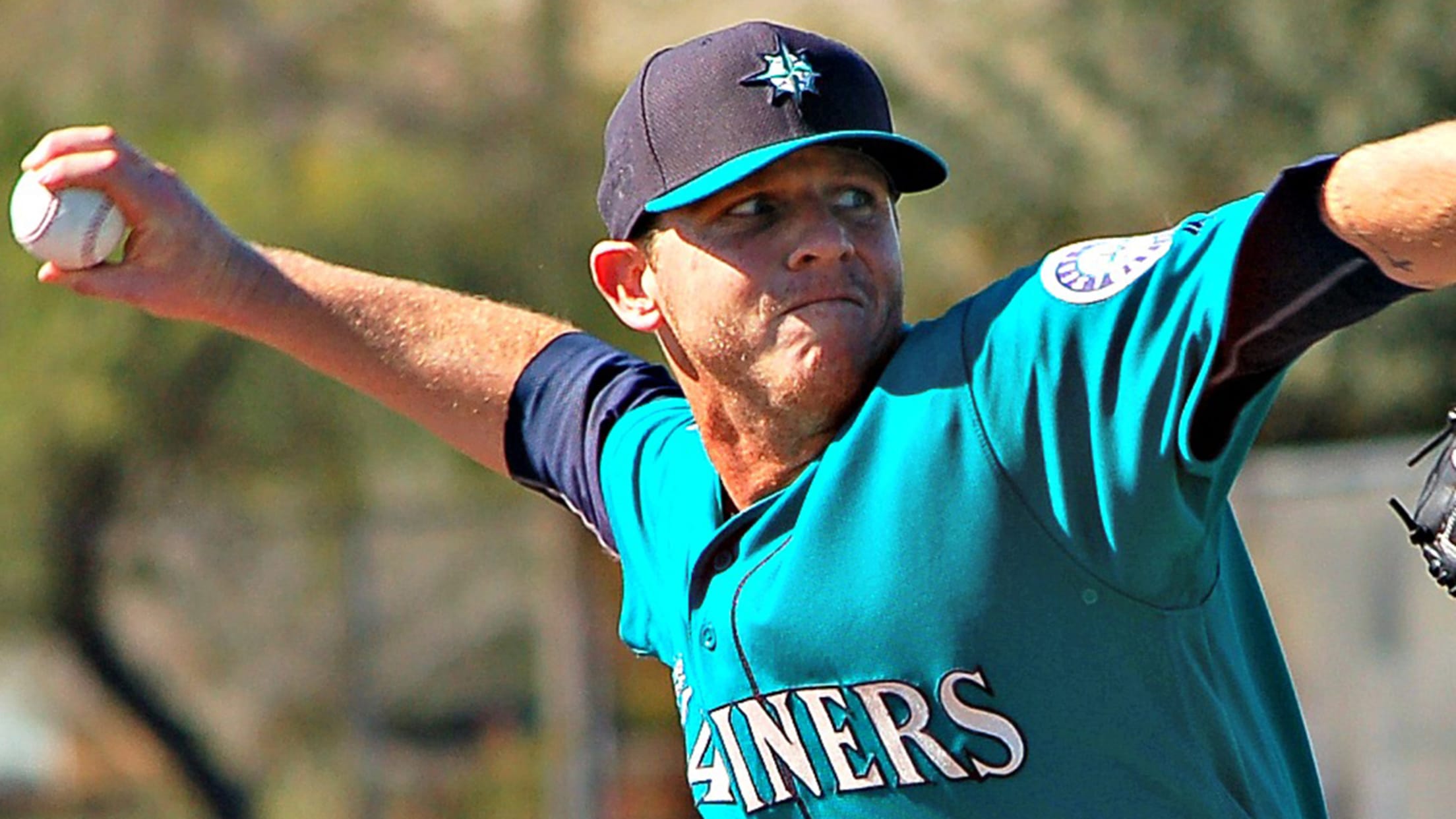 After a rough '15 in Philadelphia, Justin De Fratus feels reborn in Seattle. (Greg Johns)
PEORIA, Ariz. -- For Justin De Fratus, last year was a season of survival with the Phillies. The 28- year-old reliever says he realized by June that he wasn't pitching the way he wanted, but kept grinding out innings as best he could.The result was a disappointing 5.51 ERA in
PEORIA, Ariz. -- For Justin De Fratus, last year was a season of survival with the Phillies. The 28- year-old reliever says he realized by June that he wasn't pitching the way he wanted, but kept grinding out innings as best he could.
The result was a disappointing 5.51 ERA in 80 innings over 61 outings from a right-hander who'd been a standout for Philadelphia the prior two years. But De Fratus says he knew what needed fixing. He just needed extended time to work things out and a new team to believe in him -- and he feels he's found both with a Mariners club that overhauled its bullpen under new general manager Jerry Dipoto.
• Mariners Spring Training info
"I know I'm a good big league pitcher," De Fratus said. "I know the years I had before were not a fluke. You always see these stories about new environments and things working out for people. Am I going to be able to pinpoint anything? No. The only thing I can control is my mechanics to the point where I can forget about them. I want to drill them down here in Spring Training so I can forget about them and just go get people out."
That was a chore last season for a Phillies team that went 63-99 and had the second-worst ERA in MLB. De Fratus said his fastball had flattened out and his normally reliable slider wasn't fooling anybody, but he kept going out and doing the best he could with limited weapons. And while some feel De Fratus was just worn down by overuse in a short-handed situation in Philly, he's not hiding behind that excuse.
"I was more mentally exhausted than anything," he said. "I don't think the workload had anything to do with it. I was just making bad pitches. I love that everybody wants to give me the benefit of the doubt and say, 'Hey, you just got worked too hard.' Thank you, I appreciate that. Maybe that did have something to do with it.
"But the fact of the matter is, I still was on the mound and I still have to make quality pitches and I didn't. So being honest with myself in that regard, it wasn't anybody else's fault, dude. It's your fault. Get it right. So I took my time to get it right instead of sitting home saying, 'It'll be fine. It's their fault.'"
De Fratus started overhauling his delivery the day he got home to California after the season ended. He'd watch videos of the best pitchers in the game -- Felix Hernandez, Clayton Kershaw, Jacob deGrom, Zack Greinke -- ponder his own delivery and then spring awake in the middle of the night at times and find a mirror to mimic what he wanted to do on the mound with his 6-foot-4 frame.
"I knew what I wanted to work on, which was getting on top of the ball again and throwing more downhill," De Fratus said. "Stop being so flat in the strike zone. When you're talking about muscle memory you've been building for years, it takes a while to get out of it."
De Fratus agreed to a one-year, $750,000 Major League deal with the Mariners. He says he didn't care about the money, he just wanted to be on a Major League roster and allowed a chance to prove himself again. And with fellow right-handers Ryan Cook and Evan Scribner sidelined now by sore lat muscles, he and veteran non-roster invitee Joel Peralta appear thick in the mix for the final bullpen spots.
De Fratus has pitched twice so far this spring, allowing three hits and two runs with two strikeouts in two innings. It's a process, but one he's enjoying immensely. As one of many newcomers in the Mariners clubhouse, he says there is a refreshing feeling to a group that is quickly bonding.
"They're encouraging everybody to just be who they are, which is a nice thing," said De Fratus, who was talked into bringing his guitar and playing for the team in one morning meeting. "And the big thing is, I don't feel like I'm looking over my shoulder. I don't have to throw every pitch and wonder if, shoot, have I made the team or lost it because of that. There are places where it is that way. I see a good recipe for success here. I feel like I fell into it something great and I couldn't be happier."