Pillar, Smoak power Jays past Tigers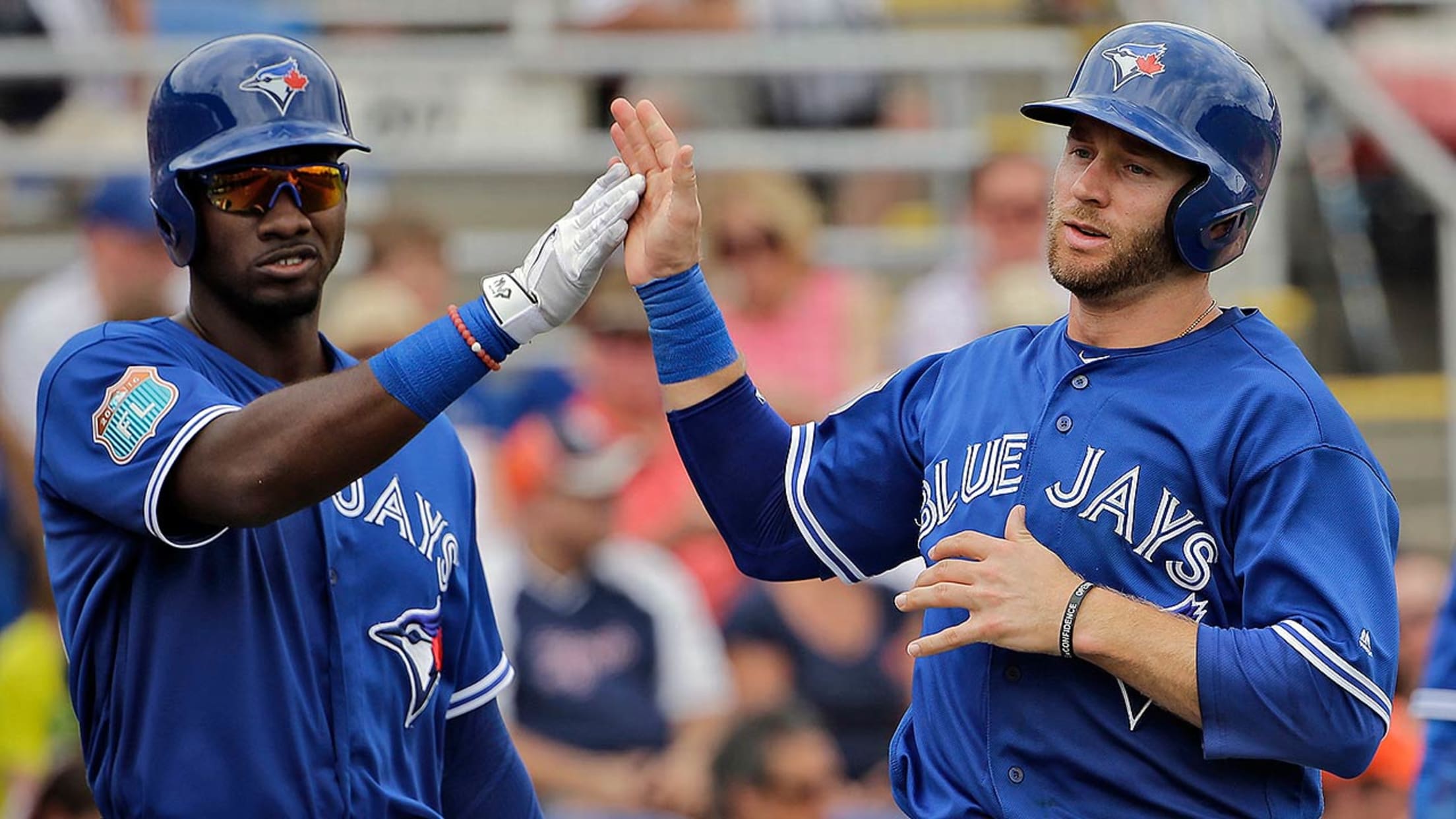 David Adams (right) and Domonic Brown celebrate after scoring on a two-run single by Kevin Pillar. (AP)
DUNEDIN, Fla. -- The Blue Jays and Tigers were swinging early and often on Thursday afternoon, as both R.A. Dickey and Matt Boyd were hit around in their respective starts in Toronto's 6-4 victory at Florida Auto Exchange Stadium.Boyd, who was selected by the Blue Jays in the sixth round
DUNEDIN, Fla. -- The Blue Jays and Tigers were swinging early and often on Thursday afternoon, as both R.A. Dickey and Matt Boyd were hit around in their respective starts in Toronto's 6-4 victory at Florida Auto Exchange Stadium.
Boyd, who was selected by the Blue Jays in the sixth round of the 2013 Draft and was part of last year's trade for David Price, tossed 3 1/3 innings and surrendered four runs (three earned) on seven hits, two walks and three strikeouts. He gave up a lot of hard contact, and at times the left-hander seemed to be struggling with his fastball command.
Toronto did most of its damage in the second inning, when Justin Smoak homered and Kevin Pillar added a two-run single. Smoak's home run was his fourth of the spring and came on an 0-1 pitch from Boyd that was sent over the wall in left-center field for a no-doubt shot.
"I had no rhythm out there," Boyd said. "I beat myself and I put myself in position where I wasn't repeating my delivery."
The Blue Jays' rally then continued later in the frame when Junior Lake walked and advanced to third on a single to center. Three batters later, Pillar came through with a hard single that went just beyond the outstretched glove of a diving Jose Iglesias at shortstop.
Dickey gave up several soft hits, but there was some hard contact as well. He pitched a clean first and began the second by surrendering a single to J.D. Martinez and then a double to Steven Moya. Two batters later, James McCann drove home both players home with a single up the middle to give Detroit took an early 2-1.
The Tigers chipped away at Dickey once again in the fourth and fifth innings. In the fourth, Dickey allowed a pair of singles and then saw the game's third run score on a throwing error by Pillar. In the fifth, Detroit scored again as Nick Castellanos hit a solo homer on an 0-2 pitch from Dickey that went over the wall in right-center field.
Dickey was charged with four runs on eight hits, one walk and five strikeouts over five innings. He was then replaced by Arnold Leon, who is competing for the final spot in Toronto's bullpen. Leon helped his caused with two scoreless innings en route to his first victory.
"I could not have been happier with today," Dickey said. "You try not to look at the results, really, in a scenario like that. I wanted to get to 100 pitches, [and] I was able to do that. I was able to maintain my velocity through pitch 100 and felt great. [I] could have gone right back out there.
"At this point of the spring, I'm optimistic. I got a lot of swings and misses against a team that has a good approach to the pitch. A lot to be happy about today."
Up next for the Blue Jays: Right-hander Marco Estrada will make his second start of the spring when the Blue Jays visit the Phillies in a rare Spring Training night game that can be seen on MLB.TV or heard on an exclusive webcast. First pitch is scheduled for 6:35 p.m. ET at Bright House Field, where Estrada is expected to throw approximately 60-65 pitches as he continues to make his way back from a lower back injury. In other action, right-hander Gavin Floyd will start a Minor League game in what will likely be his final outing before the Blue Jays officially announce who won the fifth-starter's job. The competition is between Floyd and right-hander Aaron Sanchez.
Up next for the Tigers:Shane Greene, now the leading candidate for the fifth-starter's job, tries to seal his case when he faces the Braves for the second time this spring with a 1:05 p.m. ET matchup at Joker Marchant Stadium, and fans can follow the action via Gameday. Miguel Cabrera, Martinez, Justin Upton, Ian Kinsler, Castellanos and McCann are expected to be in the lineup. Ryan Weber is scheduled to start for Atlanta.