Verlander, Scherzer lead latest Cy Young poll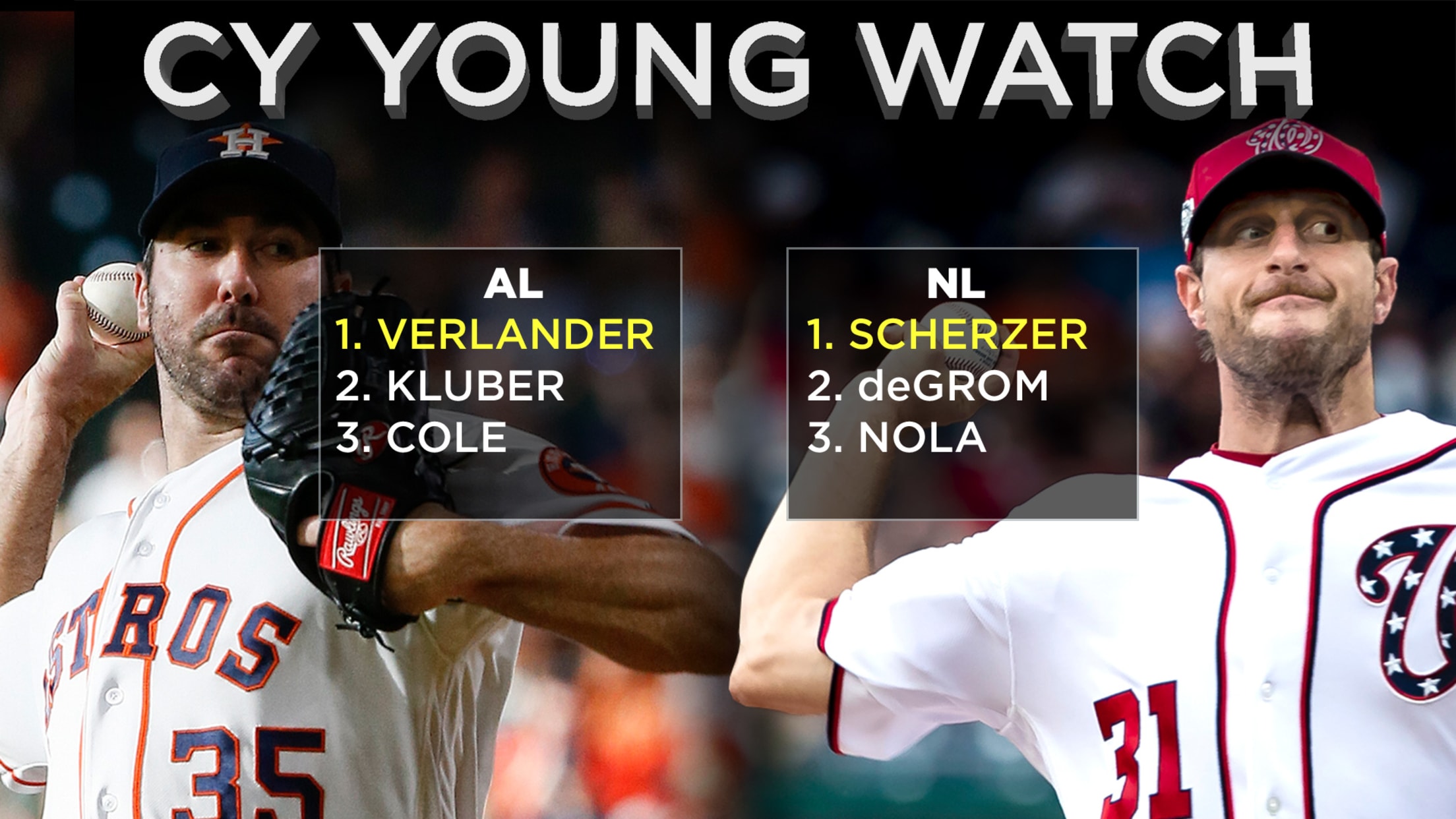 When you watch Max Scherzer perform these days, remember this: You are seeing one of the best there ever was. Isn't that the bottom line? He's at the point where he's flirting with history every time he takes the baseball these days, and our Cy Young Award poll reflects that
When you watch Max Scherzer perform these days, remember this: You are seeing one of the best there ever was. Isn't that the bottom line? He's at the point where he's flirting with history every time he takes the baseball these days, and our Cy Young Award poll reflects that greatness.
At 33, Scherzer seems on his way to becoming just the third pitcher in history to win a Cy Young Award in three consecutive seasons. Only Hall of Famers Randy Johnson (1999-2002) and Greg Maddux (1992-95) have done it, and Scherzer figures to join them in Cooperstown at some point.
Meanwhile, Scherzer's former teammate, Justin Verlander, was a unanimous pick in the American League balloting. While Scherzer got 150 of a possible 160 points, Verlander got all 160.
Each of our 32 voters was asked to rank their top three pitchers in each league, with a first-place vote being worth five points, three points for a second-place vote and one point for third-place vote. Therefore, the maximum number of points a player could get was 160.
Let's look at the voting:
AMERICAN LEAGUE
1. Justin Verlander, Astros (160 points)
He's solidly positioned to become the 20th pitcher to win multiple Cy Young Awards, having also won in 2011 while with the Tigers along with finishing second twice ('12 and '16) and third once ('09).
Like Scherzer, he has seldom been better than he is this season, his 14th. He leads the American League with a 1.45 ERA, 0.761 WHIP, 4.9 hits per nine innings and a 262 ERA+. He's averaging 10.9 strikeouts per nine innings, and in 14 starts, has pitched fewer than six innings just once. He has allowed one run or fewer 10 times.
2. Corey Kluber, Indians (59 points)
Kluber didn't receive a single vote in our first Cy Young Award poll, but that was before he went on one of those runs that magnify his consistency and greatness. He has allowed five total earned runs in his last six starts and the Indians have won 10 of his last 12 starts. He hasn't pitched fewer than six innings, or allowed more than three runs, and leads the AL in victories (10), innings (99 2/3), and K/BB ratio (10.3).
3. Gerrit Cole, Astros (49 points)
He slipped from second to third in our second poll, but continues to lead the AL in total strikeouts (124) and strikeouts per nine innings (12.7). His 2.16 ERA and 0.844 WHIP have him among the best of the best in his first season with the Astros.
Others receiving votes:Luis Severino, Trevor Bauer.
NATIONAL LEAGUE

Max Scherzer, Nationals (150 points)
He's leading the National League in strikeouts, innings, WHIP (0.845) and strikeouts per nine innings (13.5). He's also allowing the fewest hits per nine innings (5.5). The Nationals have won 11 of Scherzer's 14 starts. He has struck out at least 10 hitters nine times and allowed more than two runs -- that's right, more than two -- once. He has pitched seven or more innings in half of his 14 starts.
If he wins again, he'll be the fifth pitcher to win four Cy Young Awards, the others being Roger Clemens (7), Randy Johnson (5) and Steve Carlton and Greg Maddux (4 each).
2. Jacob deGrom, Mets (88 points)
His excellence should not be overshadowed by the Mets' tough times. deGrom has remained relentlessly consistent despite getting three runs or less of offensive support in eight of his last nine games. In those games, he allowed more than one run just once. To sum it up, in those eight games, deGrom allowed five total earned runs in 55 1/3 innings for an 0.81 ERA.
3. Aaron Nola, Phillies (28 points)
The highest compliment a pitcher can receive is that when his teammates see his name on the scorecard, they think, "We're going to win tonight." The Phillies have won eight of Nola's 13 starts and he has allowed two runs or fewer 10 times. He has pitched at least six innings in 11 consecutive starts.
Others receiving votes:Josh Hader, Miles Mikolas