Herrera's homer problems continue to surface
Royals closer gives up go-ahead jack in Astros' 5-run rally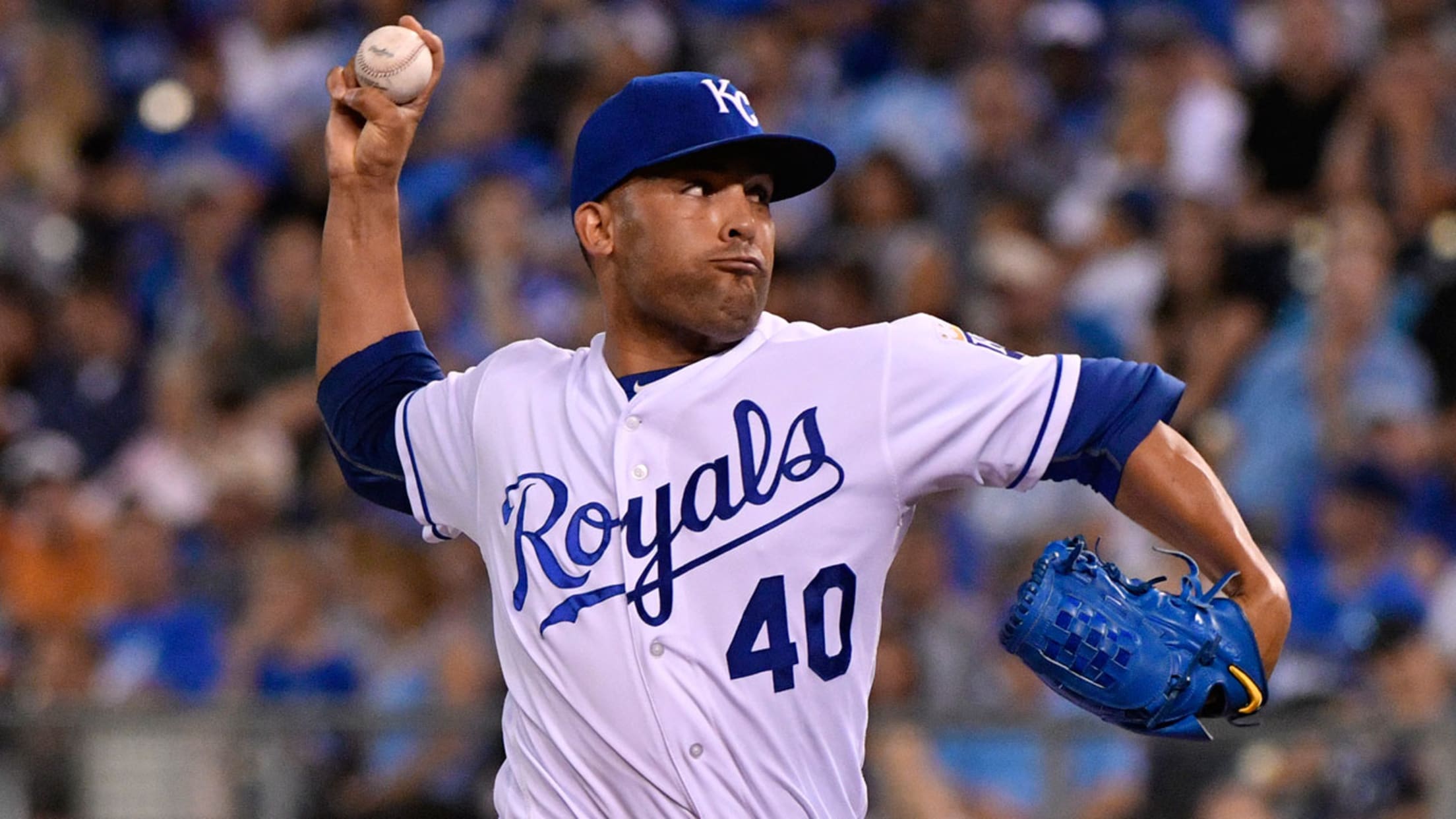 Royals closer Kelvin Herrera has allowed his most home runs in a season since 2013. (Getty)
KANSAS CITY -- Royals closer Kelvin Herrera gave up three home runs against the Braves in 2013, something he said he'd never done before. But that experience taught Herrera a valuable lesson: Forget quickly.After allowing four runs in a 6-1 loss to the Astros on Thursday night, Herrera will have
KANSAS CITY -- Royals closer Kelvin Herrera gave up three home runs against the Braves in 2013, something he said he'd never done before. But that experience taught Herrera a valuable lesson: Forget quickly.
After allowing four runs in a 6-1 loss to the Astros on Thursday night, Herrera will have to have a short memory once again.
In a 1-1 game, Herrera walked Josh Reddick on four pitches to open the ninth. Then, after falling behind 1-0 to Jose Altuve, Herrera served up a 95-mph two-seam fastball that caught too much of the plate. Altuve didn't miss, driving it a projected 430 feet, according to Statcast™, over the wall in left-center and sparking a five-run rally. It was the seventh home run that Herrera has given up this season. Last year, he yielded six total.
"He got a pitch up today and Altuve didn't miss it," Royals manager Ned Yost said. "He's given up a lot of home runs this year, but it goes in cycles. It's like a hitter's slump. Pitchers get in slumps, too."
After the home run to Altuve, Herrera gave up a triple to Carlos Correa, a sacrifice fly to Brian McCann and a single to Evan Gattis before being lifted, having retired one of the five batters he faced. His ERA ballooned to 5.55.
In 24 1/3 innings, Herrera, who also has 13 saves, has allowed the most home runs in a season since 2013, when he gave up nine. He's also given up 15 earned runs -- more than his entire '14 season.
"Location's the problem," Herrera said.
Herrera's problems have come on offspeed pitches. According to Statcast™, five of the home runs Herrera has given up this season came on secondary pitches. Last season, two of the six came off those pitches.
Though he has struggled, Herrera said he will be able move on.
"That is the beauty of this game," Herrera said. "I cannot do anything about what happened tonight. I just have to move forward and look to do my job tomorrow."
Wilson Alexander is a reporter for MLB.com based in Kansas City.