Mariners' 1st pitch honors go to Griffey
Seattle's Opening Day festivities to feature Hall of Fame electee, Henderson tribute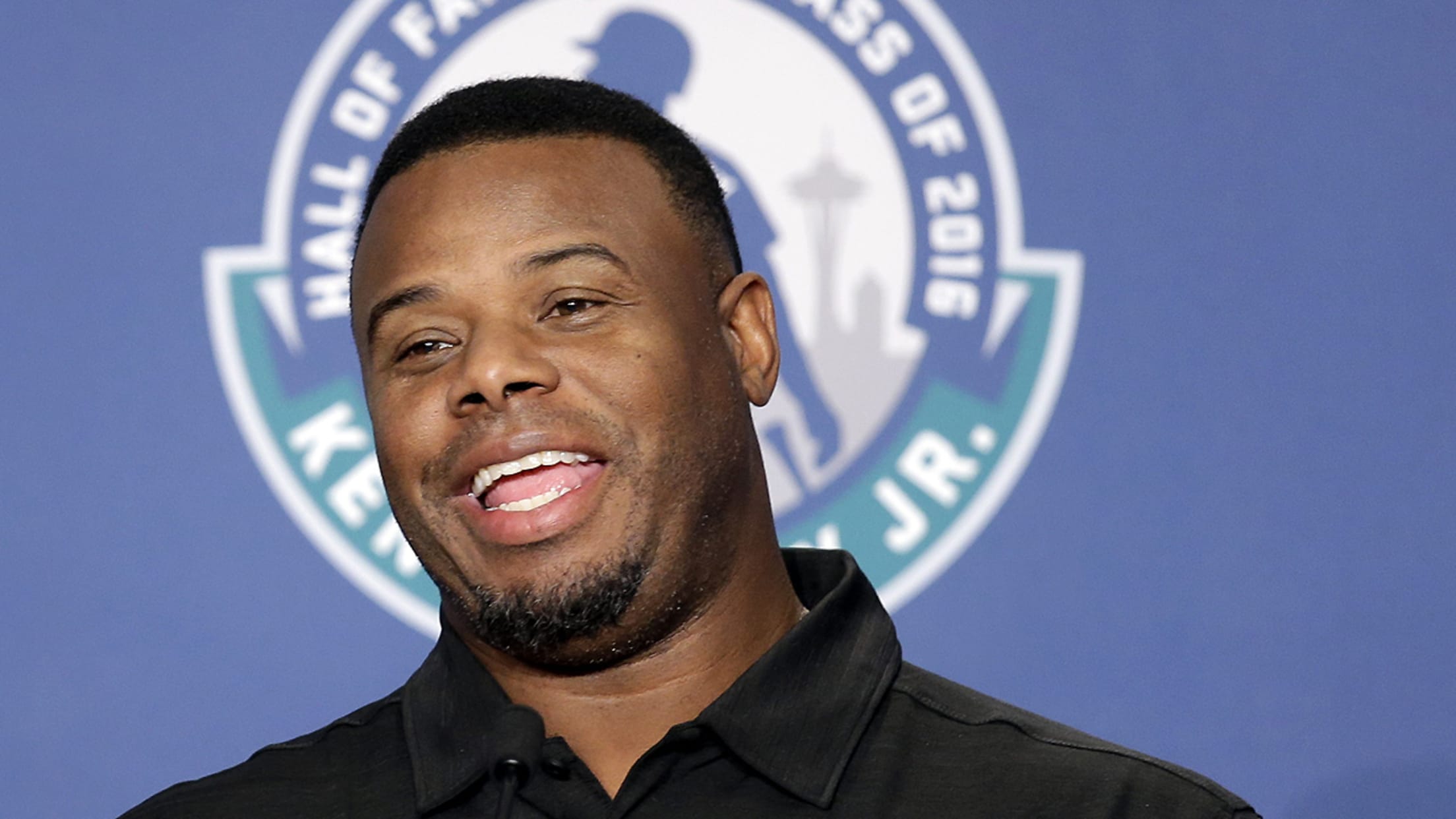 Ken Griffey Jr., who will be induced into the Hall of Fame this summer, will throw the ceremonial first pitch Friday. (AP) (Elaine Thompson/AP)
SEATTLE -- Hall of Fame-bound Ken Griffey Jr. will throw out the ceremonial first pitch before Friday night's home opener in front of a sellout crowd at Safeco Field.The gates at Safeco will open at 4:40 p.m. PT for the 7:10 p.m. game against the A's, with pregame ceremonies to
SEATTLE -- Hall of Fame-bound Ken Griffey Jr. will throw out the ceremonial first pitch before Friday night's home opener in front of a sellout crowd at Safeco Field.
The gates at Safeco will open at 4:40 p.m. PT for the 7:10 p.m. game against the A's, with pregame ceremonies to begin at 6:30 p.m. Those ceremonies will be streamed live on Mariners.com and also carried live as part of the Root Sports pregame show.
The red carpet player introductions and fireworks will start at 6:39 p.m., followed by a moment of silence and tribute for Dave Henderson, the former Mariners outfielder and team's first Draft pick who passed away in December.
Pregame ceremonies will also include the annual run around the bases by a Make-A-Wish child, with Jesse Bailey of Spanaway, Wash., selected for this year's honor. Bailey, 13, is being treated for a brain tumor and will be attending his first game at Safeco.
Griffey, who will be inducted into the National Baseball Hall of Fame in July, will then throw out the first pitch at 7:02 p.m., and U.S. Marine Corps Capt. Skye Martin will sing the national anthem.
The pregame will also include a presentation of the 2015 Silver Slugger Award to Nelson Cruz as well as recognition of Rick Griffin, who has been chosen for induction into the Washington State Athletic Trainers Association Hall of Fame after 34 years as the head of the Mariners' training staff.
Right-hander Taijuan Walker gets the start for Seattle, with the A's calling up 28-year-old lefty Eric Surkamp to take the place of injured starter Felix Doubront.