Cash sees twin bill at Fenway 'as a positive'
Rays recall Sadler, option Wood; Wendle homers in rehab assignment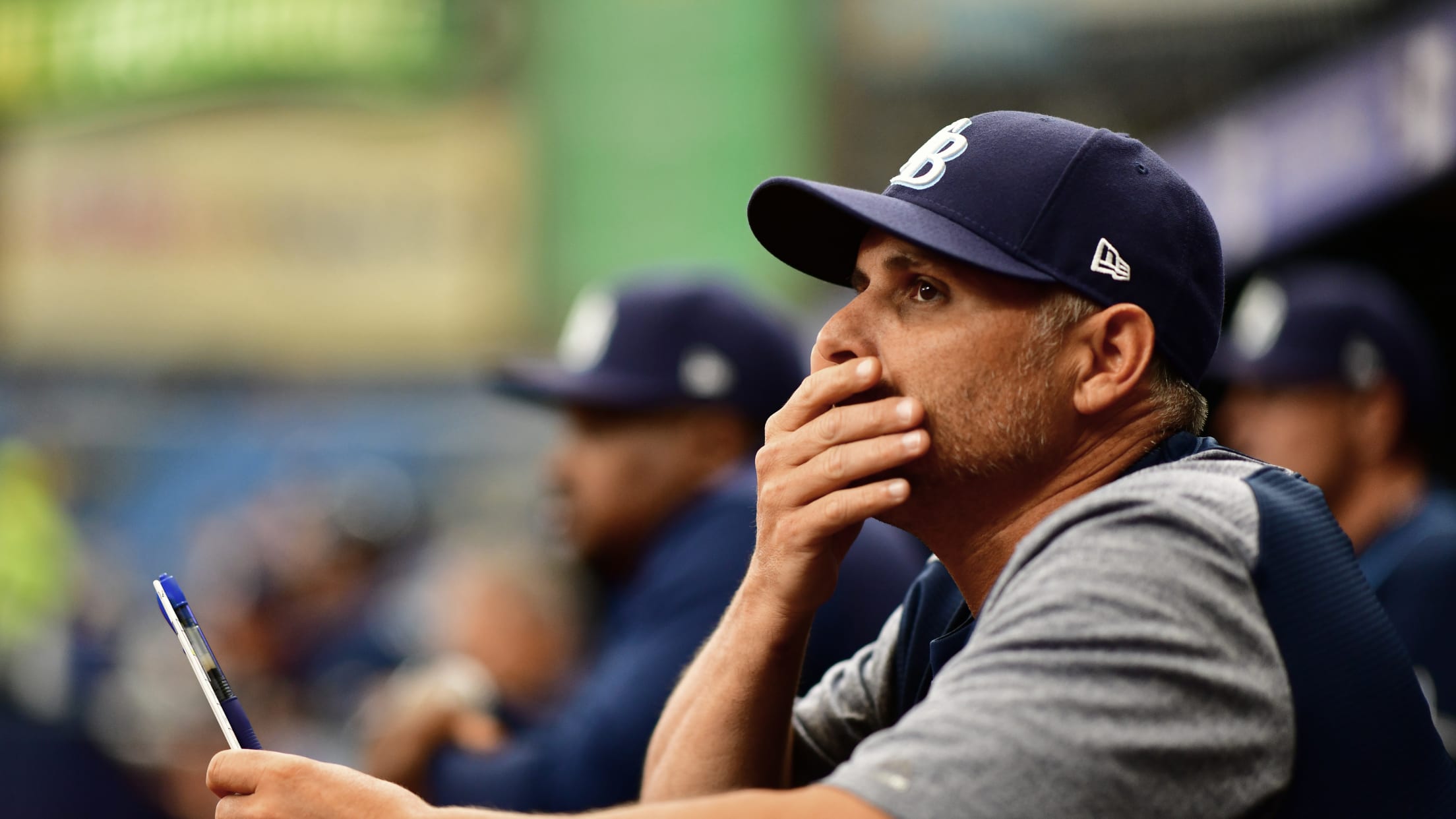 BOSTON -- Managing a four-game, three-day series means Kevin Cash will have extra juggling to do this weekend. The Rays opened the set on Friday with a 5-1 win at Fenway Park, and they will play a doubleheader on Saturday to make up for an April 26 rain postponement. "I
BOSTON -- Managing a four-game, three-day series means Kevin Cash will have extra juggling to do this weekend.
The Rays opened the set on Friday with a 5-1 win at Fenway Park, and they will play a doubleheader on Saturday to make up for an April 26 rain postponement.
"I look at it as a positive -- we get to play baseball a lot," Cash said. "I think our guys are going to look at it that way."
Each game against the Red Sox has significant implications in the standings. The second-place Rays now have a six-game lead over the defending World Series champions. Tampa Bay is 3-3 against the Red Sox in their first six meetings this season, and four of those games were decided by two runs or fewer. Cash considers the bigger picture when approaching a jam-packed series against an American League East competitor.
"The goal is to win tonight's game, and then we'll worry about tomorrow, tomorrow," Cash said before Friday's game. "But you certainly have to put in the back of your mind the workload of everybody, especially your pitchers and even the position players. We've got guys that are coming back that we really don't want to run out there for four days and three days on their feet for that period of time. Everybody's going to get an opportunity to play, and just be aware of the workload of position players and pitchers alike."
Maintaining the Rays' health is a priority during the weekend series, as several players have recently returned from injury. Tommy Pham remained in the designated hitter role for the second straight game after being sidelined by a right calf injury.
"He said he was ready to play, so we'll give him more days at DH," Cash said. "He'll play the outfield at some point [Saturday], first or second game, but he's totally fine to play. If we can afford it, why not give him one more day where he can manage his workload a little bit and just worry about running when he's coming out of the box?"
The Rays also made a roster move on Friday ahead of the series. Right-hander Casey Sadler was recalled from Triple-A Durham for his fifth stint this season with the Rays, and righty Hunter Wood was optioned to Durham.
"With a lot of moving parts potentially going forward, we've got the 26th man. We needed a guy where we felt like if a game went one way or the other, [he] provided a little bit of length," Cash said. "He could do that. I think he's had four or five days off of 60-plus pitches so he's full go. That will help us depending how tonight and tomorrow goes."
Sadler, who has a 1.76 ERA in seven appearances this season, is excited to play in a series that could have playoff implications down the road.
"It's awesome," he said. "It's what you want. You want to know that every time you go out into a game, it has meaning."
Left-hander Ryan Yarbrough will start Game 1 of Saturday's doubleheader, but the Rays had not finalized Game 2's starting pitcher on Friday. The team recalled right-hander Austin Pruitt from Triple-A as the 26th man.
Wendle belts home run in rehab assignment
Joey Wendle (right wrist fracture) homered on Thursday in a rehab assignment with the Class A Advanced Charlotte Stone Crabs. Cash said Wendle will join the Triple-A squad to play on Saturday. There is no date set for his return.
"He felt good," Cash said. "He wanted the extra day of BP before he got in a game. Sounds like he made the right decision. He got a ball he could knock out of the ballpark, but he's getting closer. We'll continue to see how he feels day by day coming in and the different types of swings that he'll take in some of those games."