Gibson to throw out Tigers' first pitch Friday
Battling Parkinson's disease, former slugger served as ST baserunning instructor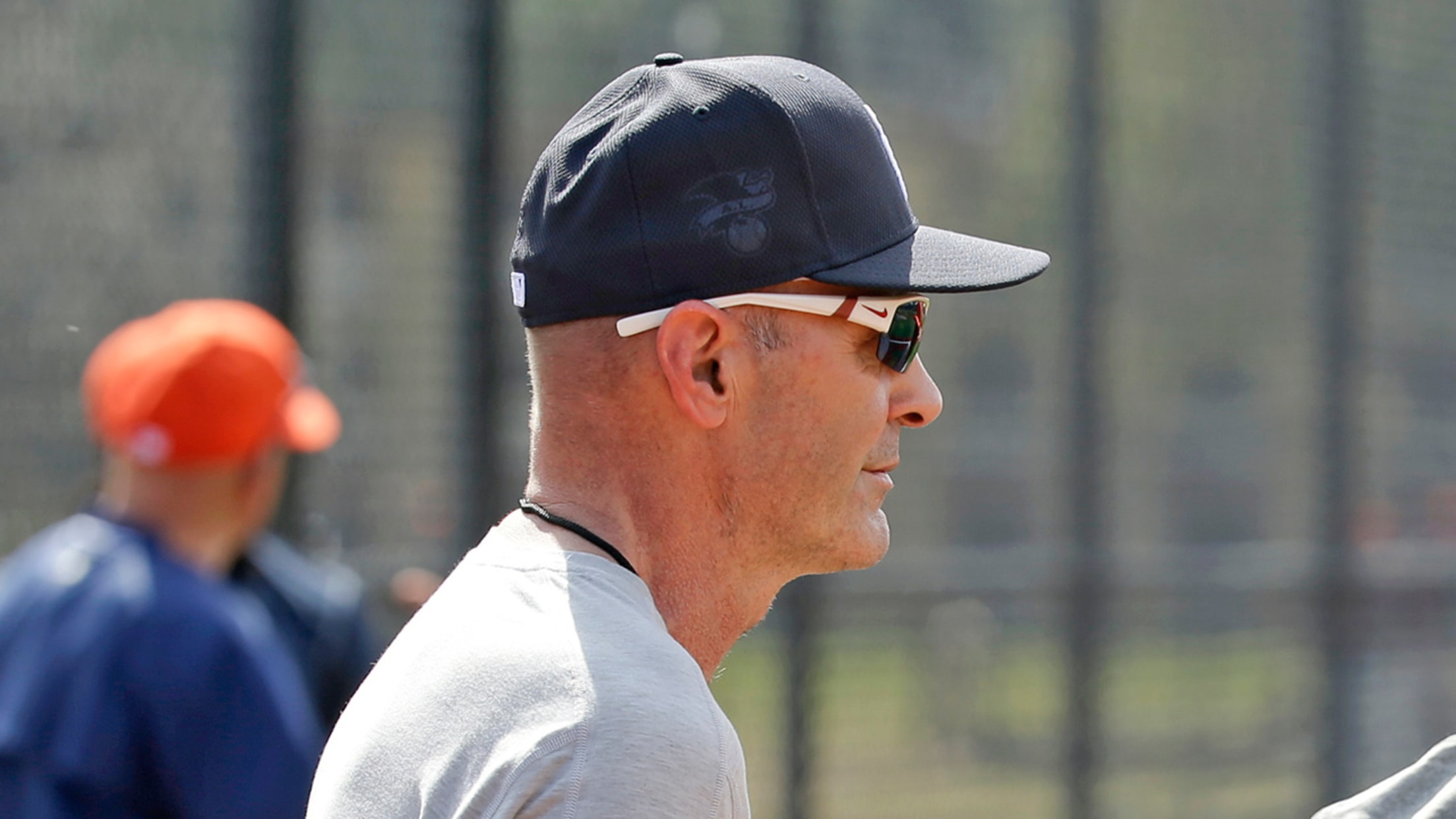 Kirk Gibson will throw out the ceremonial first pitch on Friday at Comerica Park. (John Raoux/AP) (John Raoux/AP)
MIAMI -- While winter's chill takes one more run through Michigan this week, the sun eventually snuck through the clouds and the left-field windows of Marlins Park as the Tigers worked out ahead of Tuesday's season opener. Still, Detroit is preparing for Friday's home opener at chilly Comerica Park.Tigers legend
MIAMI -- While winter's chill takes one more run through Michigan this week, the sun eventually snuck through the clouds and the left-field windows of Marlins Park as the Tigers worked out ahead of Tuesday's season opener. Still, Detroit is preparing for Friday's home opener at chilly Comerica Park.
Tigers legend and Michigan native Kirk Gibson, whose battle with Parkinson's disease has become a cause for fans since his diagnosis nearly a year ago, will throw out Friday's ceremonial first pitch, the team announced. Gibson returned to the team as a broadcaster last year after his managerial stint in Arizona, and he returned to the field this Spring Training to serve as a baserunning instructor for manager Brad Ausmus.
"Gibby's one of the greatest Tigers of all-time," Ausmus said Monday. "He has probably one of the top 10 video highlights recorded in baseball history. He's a great guy. He's been a big help to me this spring. So I'm happy for him."
Other home opener festivities announced include the delivery of the game ball to the mound, courtesy of Air Force Lieutenant Colonel Justin Tyree, and the National Anthem performed by a brass ensemble from the Detroit Symphony Orchestra's Civic Youth Ensembles.
Two A-10 Thunderbird II "Warthog" aircraft from the 107th Fighter Squadron will perform a flyover before the game. The squadron, part of the 127th Wing at Selfridge Air National Guard base in Michigan, recently returned from a six-month deployment to Southeast Asia as part of Operation Inherent Resolve.
Gates to the ballpark will open at 11 a.m. ET ahead of the scheduled 1:10 p.m. first pitch.
• Though the season-opening series in Miami is a homecoming for several Tigers players, it's an unfamiliar feeling for some of them. For many, it's an offseason home, and the return during the season creates some confusion.
That's why J.D. Martinez -- born in Miami, raised in Pembroke Pines and a product of Fort Lauderdale's Nova Southeastern University -- planned on staying at the team hotel rather than his house.
"I have home associated with relaxing in the offseason," Martinez said a few days ago. "I just like to stay focused. When the season ends and it's all said and done, then I can go home and shut it down. But right now's not the time. I'll probably have my family come down and we'll eat. I'm weird like that."
Other Tigers with wives and kids are staying at home and commuting to the ballpark.
"It feels weird," Jose Iglesias said. "I mean, it's good to spend time with the family, but I feel weird. It feels like the offseason."
Anibal Sanchez not only lives in south Florida, he played for the Marlins for seven years before he was traded to the Tigers in 2012.
"That's the first team that I got when I made the big leagues," Sanchez said. "But I represent the Detroit Tigers and I'm going to do my job."