Friday's top prospect performers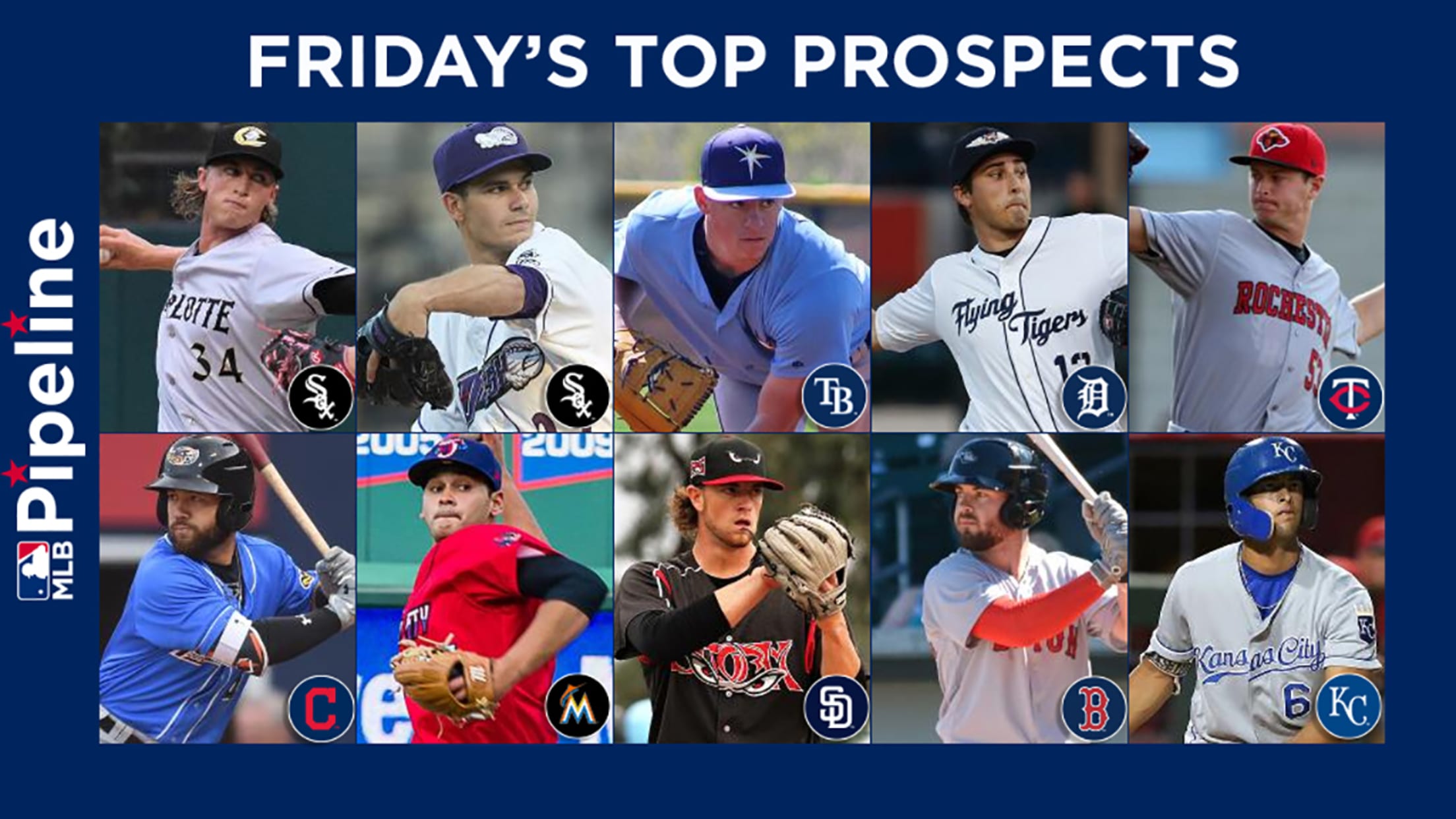 Here's MLB Pipeline's roundup of the top prospect performances in the Minor Leagues on Friday.:: Complete prospect coverage ::Two of the top five prospects in the White Sox farm system took the mound on Friday night, and they didn't disappoint. Chicago's No. 2 prospect (No. 9 overall), Michael Kopech, rode
Here's MLB Pipeline's roundup of the top prospect performances in the Minor Leagues on Friday.
:: Complete prospect coverage ::
Two of the top five prospects in the White Sox farm system took the mound on Friday night, and they didn't disappoint. Chicago's No. 2 prospect (No. 9 overall), Michael Kopech, rode his blistering fastball to his longest Triple-A start, while the team's No. 5 prospect -- and No. 56 prospect overall -- Dylan Cease turned in six scoreless frames of his own in Class A Advanced Winston-Salem's 6-0 victory over Down East.
Kopech tossed seven scoreless innings for Charlotte, giving up just two hits, walking two and striking out nine. He didn't allow his first hit until he yielded a two-out double in the fifth. The performance was a big turnaround after the 22-year-old right-hander surrendered eight earned runs over 3 1/3 innings in his previous outing.
"It was a night where three out of my four pitches were working for me," Kopech told MiLB.com. "My changeup wasn't great tonight, but I did throw it in some counts where I was able to get some swings over it and just go take advantage of putting guys behind with that pitch."
MILB Video - Title: Watch: Kopech fans Haase on three pitches - Url: http://www.milb.com/r/video?content_id=2057992283
Cease, meanwhile, allowed two hits, while walking two and fanning six for the Dash. The 22-year-old right-hander lowered his season ERA to 3.12 over eight starts.
Other top prospect performances from Friday's action:
• Two-way player Brendan McKay, the Rays' No. 3 prospect (No. 24 overall) made his pitching debut for Class A Advanced Charlotte, tossing five scoreless innings over which he yielded one hit and struck out five. McKay, who also plays first base, posted a 1.09 ERA in six starts for Class A Bowling Green before his promotion.
• Tigers No. 3 prospect -- and No. 55 prospect overall -- Alex Faedo threw seven brilliant innings in Class A Advanced Lakeland's 1-0 victory over Tampa. He held the Tarpons scoreless on only two hits, walking one and fanning five. The performance lowered the right-hander's season ERA to 3.50 over eight starts and was a bounceback effort after he allowed eight runs on 10 hits over just two innings in his previous start.
"I'm not saying it's ever good to have a start [like my last one]," Faedo told MiLB.com, "but when it happens it really gives you a chance to reflect. And for me, it served as a reminder that I'm going up against professional hitters and everyone out there is trying to get the best of you and beat you, so I need to always get the best out of myself. So it definitely was a reminder that I need to pay attention to detail every single time I'm throwing. With everyone having access to a scouting report, it's crucial to put an emphasis on every pitch and just keep getting better every time I go out there. So that's been my focus."
• Stephen Gonsalves, the Twins' No. 3 prospect and the No. 74 prospect overall, struck out 11 over 5 1/3 scoreless frames in Triple-A Rochester's 2-0 win over Pawtucket, walking four and giving up four hits. The 23-year-old left-hander has a 2.95 ERA in four starts for Rochester after a promotion from Double-A Chattanooga, where he posted a 1.77 ERA over four starts.
• Left-hander Alex Young, the D-backs' No. 23 prospect, tossed eight scoreless innings in Double-A Jackson's 4-1 win over Pensacola. He gave up just three hits and walked two while striking out seven, lowering his ERA on the season to 3.91 in nine starts.
• Indians No. 23 prospect Ka'ai Tom had a huge night at the plate in Double-A Akron's 15-3 rout of Hartford, going 5-for-5 with two home runs and four RBIs. The 23-year-old outfielder added 37 points to his batting average on the season, raising it from .190 to .227. The pair of homers gives him five in 32 games this season.
MILB Video - Title: Tom blasts 2nd homer of the game - Url: http://www.milb.com/r/video?content_id=2058110083
• Marlins No. 21 prospect Pablo Lopez continued his sensational start to the 2018 season, tossing 5 2/3 innings while allowing no earned runs (three unearned), five hits and three walks while fanning 10. The 22-year-old right-hander's ERA for the season is 0.28 over six starts, and he has 37 strikeouts to seven walks.
MILB Video - Title: Lopez gets 10th K - Url: http://www.milb.com/r/video?content_id=2057555683
• Padres' No. 21 prospect Chris Paddack continued his remarkable run in his return from Tommy John surgery, striking out 10 over 5 2/3 shutout frames for Class A Advanced Lake Elsinore to stretch his scoreless-inning streak to 21 2/3 innings to start the season. The 22-year-old right-hander gave up just two hits and a walk and has yielded only seven singles and three doubles through his first four starts while posting a 36:2 K/BB mark.
"Tonight, we worked off the fastball command," Paddack told MiLB.com. "My curveball was working tonight. I threw a few changeups when I needed to. But other than that, we threw every bit of 50-to-55 fastballs, if not more."
• Red Sox No. 24 prospect Chad De La Guerra went 2-for-5 in Double-A Portland's 8-4 victory over Altoona, racking up multiple hits for the fourth straight game. The 25-year-old infielder is batting .413 (19-for-46) with two homers in 11 games for the Sea Dogs after he hit .137/.158/.205 with one home run in 22 games for Triple-A Pawtucket earlier in the season.
• Royals No. 4 prospect MJ Melendez had a career night at the plate in Class A Lexington's 6-0 victory over West Virginia, doubling and homering twice while driving in a career-best five runs. The 19-year-old catcher raised his season batting average by 16 points in the process, and he is slashing .269/.330/.625 with seven home runs in 28 games.
Melendez told MiLB.com that after watching a recent MLB.com interview of Bo Bichette, in which the Blue Jays prospect credited a return to being himself at the plate for his emergence from a slump, he decided to do the same.
"I really felt like I was trying to do too much in the early and middle parts of the season. ... I'm just going back to sticking to my approach, hit the ball solid and not trying to do too much by not trying to lift balls out of the park, and let my physical abilities take over."