Struggling Barraclough to remain in closer's role
June's NL Reliever of the Month seeking answers after three straight blown saves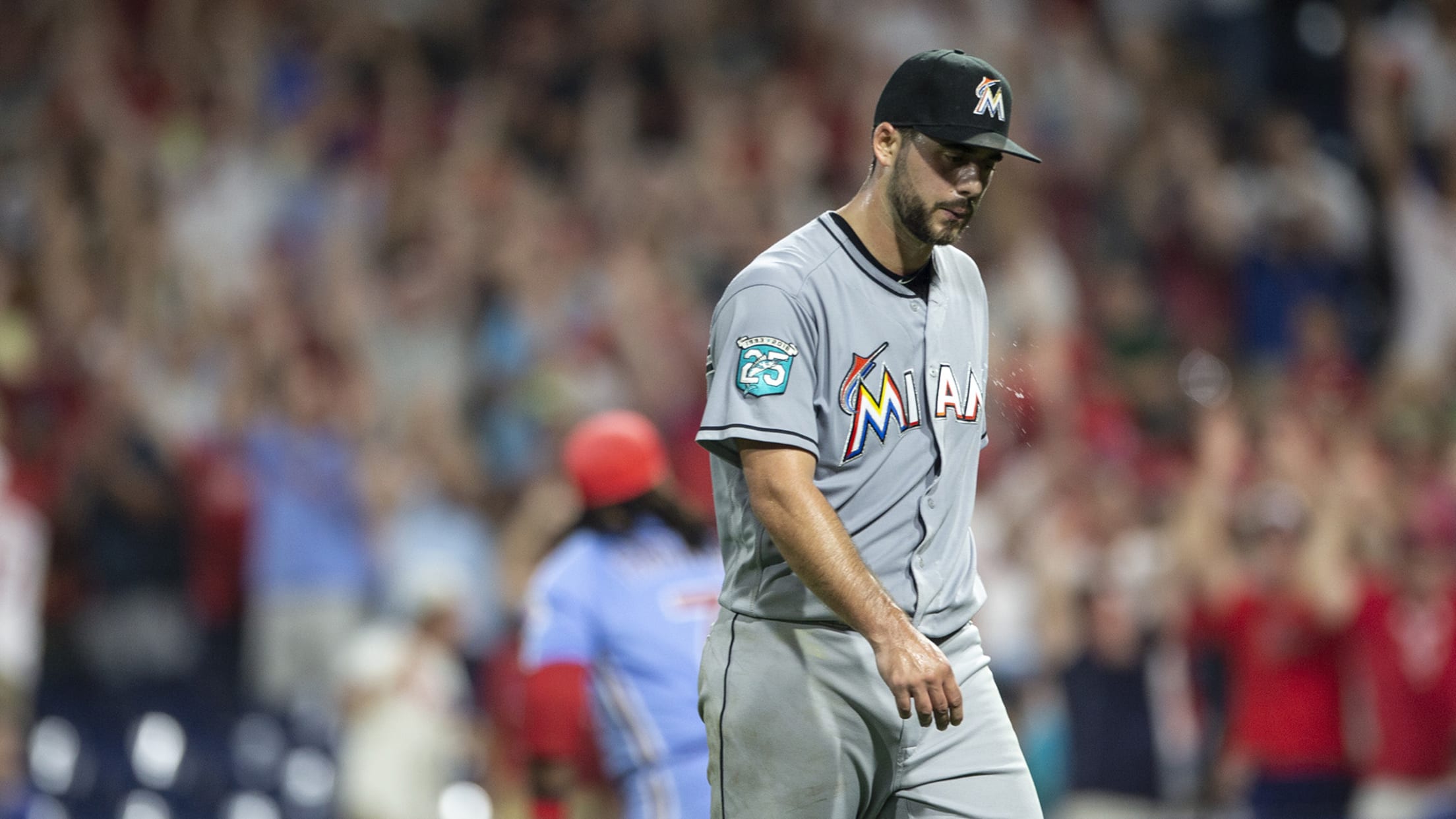 Miami Marlins relief pitcher Kyle Barraclough walks off the field after Philadelphia Phillies' Maikel Franco, rear, hit a walk-off three-run home run in a baseball game Thursday, Aug. 2, 2018, in Philadelphia. The Phillies won 5-2. (AP Photo/Laurence Kesterson) (Laurence Kesterson/AP)
PHILADELPHIA -- After Kyle Barraclough blew his third straight save in Thursday night's loss to the Phillies, he disappeared. He could not be found in the Marlins' clubhouse at Citizens Bank Park to speak with reporters. He had burrowed into a nearby video room and rewound the tape to days
PHILADELPHIA -- After Kyle Barraclough blew his third straight save in Thursday night's loss to the Phillies, he disappeared. He could not be found in the Marlins' clubhouse at Citizens Bank Park to speak with reporters. He had burrowed into a nearby video room and rewound the tape to days brighter than those he's facing now.
"I was more looking back at June," Barraclough said on Friday, "trying to get those good images in your head and flush out the bad ones."
That month, Barraclough earned National League Reliever of the Month honors because, in 12 scoreless innings, he allowed one hit and struck out 12 while walking just two. His stellar month lowered his ERA to 0.99.
That version of Barraclough validated his move into the closer's role in place of Brad Ziegler. He will stay there, manager Don Mattingly said, despite recent issues because for Barraclough to possess any confidence in himself, he must feel that Miami has confidence in him. Mattingly admitted he will be a little "top-stepish" should that decision be tested on Friday night.
"He's relatively a new closer," Mattingly said. "He's pitched high-leverage innings. We know what he can do, and part of him coming into that role is getting out there and going through experiences like last night. Obviously, it's not one you want to go through, but sometimes you learn the most from your struggle."
Fastball command, Barraclough said, is the root of what has plagued him since June. He blew three saves in July. His first outing in August ended with Maikel Franco's first career walk-off home run. It came two weeks after a walk-off grand slam against the Rays.
Finding a mechanical fix has not been easy. Barraclough said he is trying to figure that part out. Mattingly, while acknowledging his lack of expertise on the subject, noted that Barraclough's recent tendency to pull off his fastball has caused it to lack any true carry.
All the while, Barraclough is balancing this search for answers with a knock to his confidence.
"I'm kind of going through the ringer," Barraclough said. "... I'm just trying to work through it, work with the coaches, work on a throwing program and get fastball command back and hopefully, things turn around."
Luck has not been on Barraclough's side. A bloop single broke up his streak of hitless outings from May 26 to June 24. He lost Thursday night's lead on an RBI dribbler. Earlier, Carlos Santana reached on a grounder against the shift.
But, Barraclough admitted, walks and walk-offs have less to do with misfortune and more to do with performance. He has looked at that combination as a "regression to the mean."
"It's kind of just been the perfect storm in a bad way," Barraclough said. "As good as June was in a good way, this has been the bad way it can go. It seems to have flipped overnight, and now it's spiraled and I'm trying to correct the direction."
Joe Bloss is a reporter for MLB.com based in Philadelphia.