McClellan uses nonprofit to revitalize St. Louis
Former Cardinals pitcher helping North City build housing, community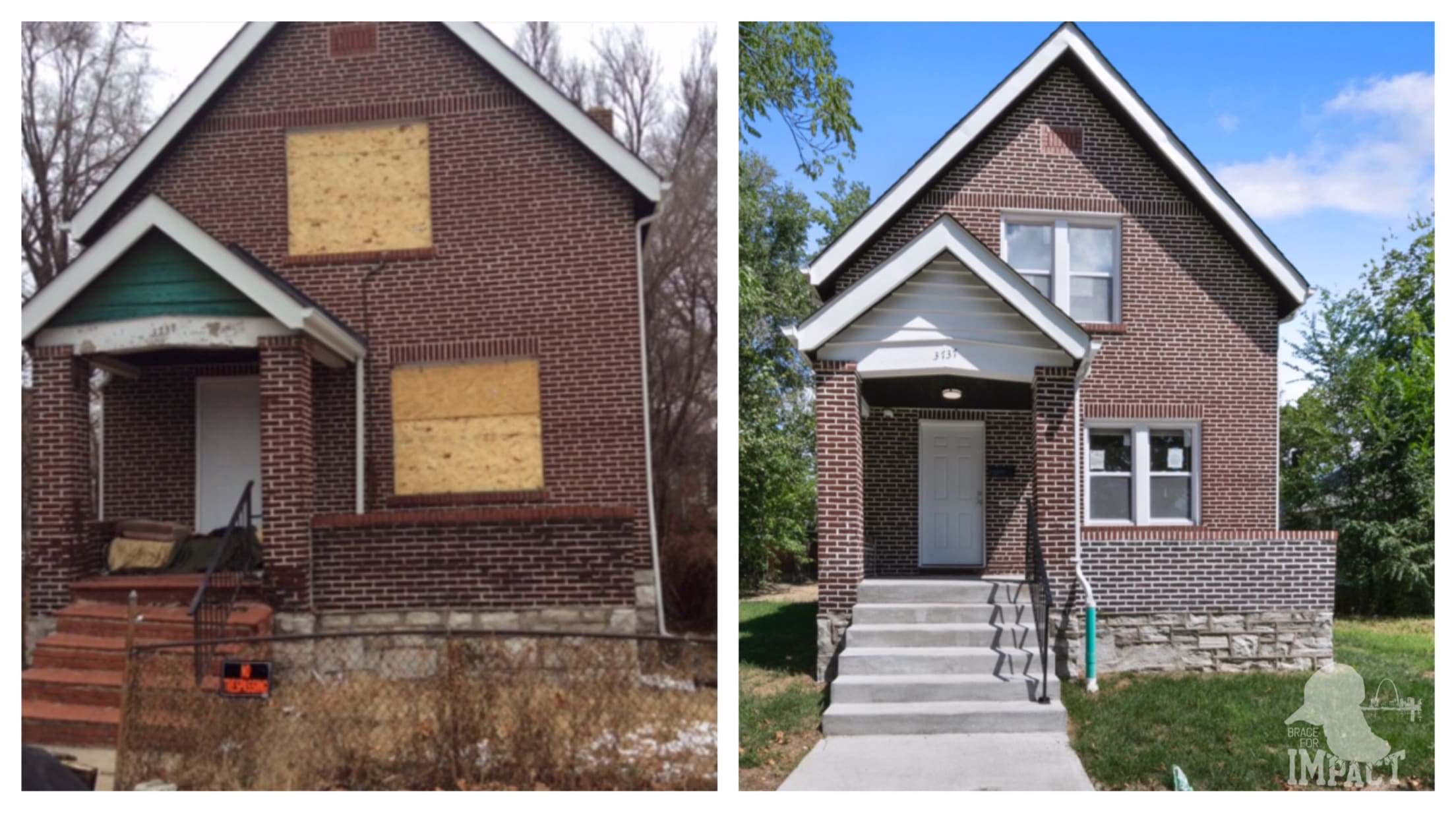 ST. LOUIS -- Just a short walk away from the site of Sportsman's Park, the former home field of the Cardinals, sits a two-story brick house, transformed by months of labor and love.Windows that were once boarded up let sunlight pass through. The entrance is more inviting, the pipes completely
ST. LOUIS -- Just a short walk away from the site of Sportsman's Park, the former home field of the Cardinals, sits a two-story brick house, transformed by months of labor and love.
Windows that were once boarded up let sunlight pass through. The entrance is more inviting, the pipes completely new. A stately fireplace adds an element of charm to a once abandoned structure that a single mother and her 6-year-old child can now call home.
Kyle McClellan hasn't met them yet. He's not certain whether he will. But his connection to this family, another down the street and three more moving in soon is tangible. He's the reason these families have a welcoming home for the holidays.
*
The idea, at least in a nebulous sense, germinated years ago when McClellan was the hometown kid pitching for the St. Louis Cardinals. He sat down with his wife and his father and, using clip art images for emphasis, shared his vision.
But the timing wasn't right. McClellan felt that his big league career required his undivided attention, which is what he gave it until, after six seasons, his shoulder could no longer sustain the stress of his chosen career. McClellan announced his retirement in late 2014.
By then, he had already found new purpose. A trip to Haiti with Adam Wainwright earlier that year captured his heart, and McClellan spent his first years away from baseball assisting with numerous projects on the Caribbean island. Through his foundation, Brace for Impact 46, McClellan helped support an orphanage, a new hospital, clean water projects and other programs around the port city of Cap-Haitien. Combined, these facilities and resources aid 45,000 residents daily.

But as he poured time and energy into uplifting residents in Haiti, McClellan continued to seek ways to bring that sort of work home.
"One of the things I'm proud of is that I am from St. Louis," said McClellan, who was born and raised in the northern suburb of Florissant, Mo. "I love this city. I love being from here. I love raising my family here. But I can't stand the negative perception that our city has nationally or even here locally, the way people talk about it.
"And for me, I'm not going to sit around and contribute to that. Don't just sit here and talk about the problems. Go and be a problem solver."
A meeting in 2015 with Andre Alexander, a local church pastor, turned those dreams tangible.
Alexander, too, had grown up in St. Louis. He was raised by his father and grandparents after his mother passed away and left only briefly for his college years in Columbia, Mo., and a job in Kansas City. He returned home to lead a church and helped found the Tabernacle Community Development Corporation (TCDC), a nonprofit organization centered around the principals of education, economics and empowerment.
With overlapping visions, Alexander and McClellan teamed up to transform a community that had been mostly abandoned. Once the epicenter of baseball in this city, the neighborhood is now dotted with dilapidating structures, vacant lots and poverty.
"Picture that you're a child walking to school or walking to your bus stop, and you see a house that has been without windows, maybe a roof is missing, trash on the lot," Alexander said. "You're seeing different activity that is illegal. As humans, we adapt to our environment. What we want to show people is that, no, while this has been the norm, this is not normal."
McClellan's involvement is critical. With investment from Brace for Impact 46 and other area corporations to whom McClellan pitched the project, TCDC has been able to purchase several properties in an area that it is calling The Village. The name is a nod to the adage of it taking a village to raise a child.
In this case, it's empowering a village to raise itself.
"It's investing in local people," McClellan explained. "We want to build people up. Our belief is that if you truly want to have community development, you have to have buy-in from the people who live in and around that area."
Their plans to revitalize this area of St. Louis start by turning the neighborhood back over to those who live there. TCDC will utilize local contractors -- usually about 45-55 workers per project -- to renovate a home, then field applications from interested tenants. TCDC specifically seeks out families with children who need more stability, and placement requires a two-way commitment.

Families are given an affordable rent, based upon their income, and in return, they log monthly volunteer hours and attend quarterly seminars led by nonprofit organizations in the community.
"We don't just put families in and go on to the next one," McClellan said. "We put the families in and say, 'Hey, we are committed to you. We are going to put you in the home, and we are going to surround you with the things you need to stabilize your family.'"
The first family moved into their new home in October 2017. Another received their keys this month. Three more homes will be completed and ready for occupancy early next year. More will follow.
"What really brings hope is that we stay," Alexander said. "They are used to people coming in, then leaving. Or doing a little bit and walking away because it got too hard. So the fact that they see us staying and they see constant activity in the entire area, it brings a sense of hope and joy, as well as trust."
*
Until recently, most of Brace for Impact 46's public fundraising had been to benefit its Haitian projects. That is slowly shifting.
While McClellan has no intention of abandoning his work in Haiti, he hopes to increase the impact his foundation can have in North City by complementing corporate support with investment from individuals. The competitive nature that fueled his playing career compels him to want to do more.
The response does, too.
Like the worker who, after being hired to work on the homes, brought his wife to the job site because he felt it was that important to introduce her to the people responsible for providing him with a steady job.
Or the woman who sought out Alexander to let him know that this was the first time she had ever seen anyone invest in the community. She's lived on that street since 1969.
"That hit me," McClellan said. "There's pride among these people. People that can come in and make a difference in a way that's truly about those people is something I think goes a long way for them."
In addition to moving a family in for the holidays, McClellan is closing out the year with a push for pledges. Brace for Impact 46 is gifting ornaments to those who sign up to make a recurring donation to fund work in either Haiti or North City. McClellan's foundation is also offering help for that impossible-to-shop-for friend or family member by giving an option to make a donation in someone else's name.
It's a way, McClellan asserts, for the community that reared him, then cheered him, to entrust in him a collective vision for a better St. Louis.
"There aren't a lot of Kyles walking around," Alexander said. "Let's be honest. In most cases, people in Kyle's profession or people from where Kyle's from, they stay away. He'll describe it sometimes as the person that ran into the fire. I describe him as the person that came with the hose while we were in the fire."