Hill (blisters) still hopeful for LA debut Friday
McCarthy looks 'much better,' slated to start Saturday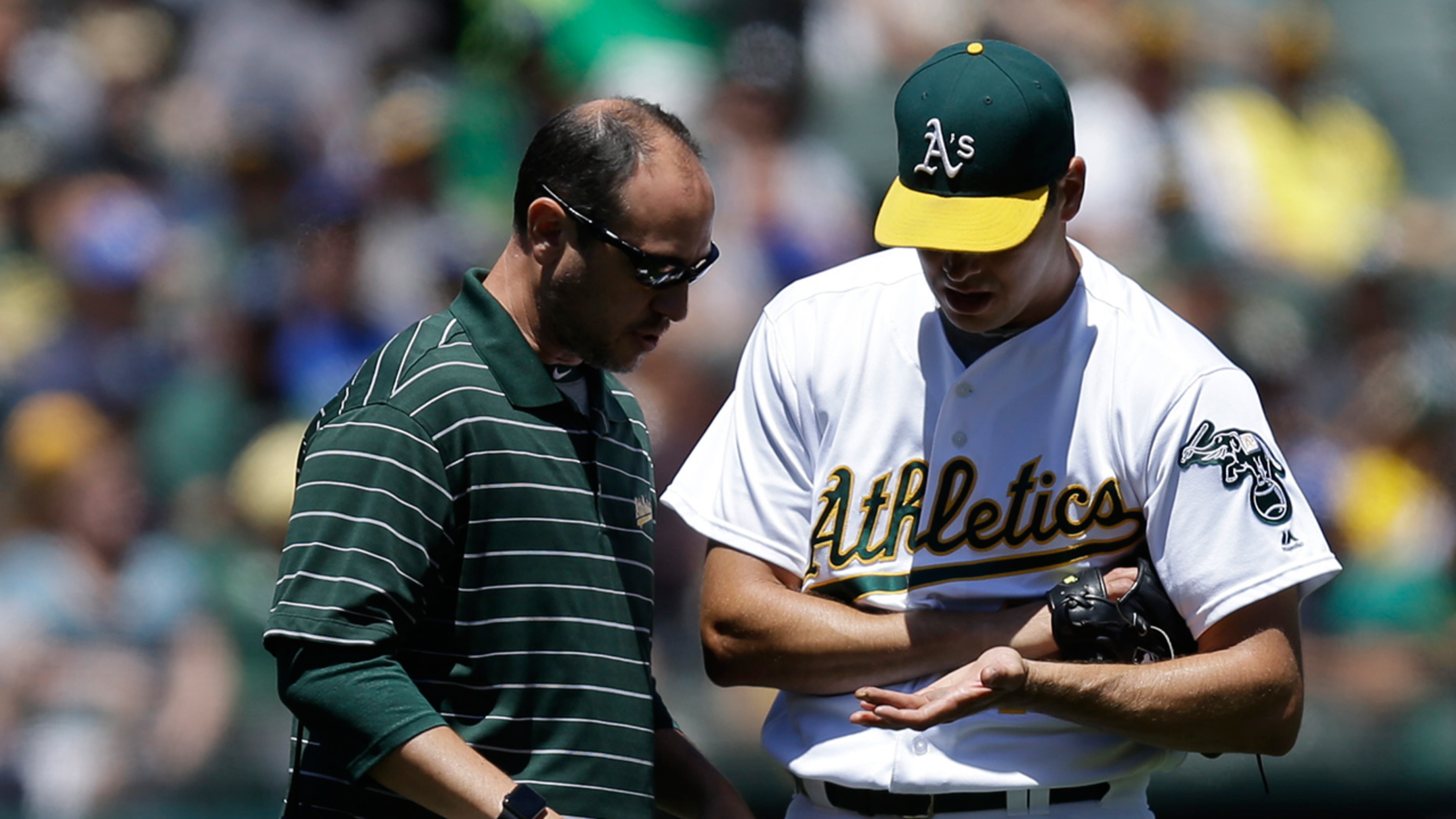 Rich Hill, seen here with Oakland before his trade to the Dodgers, hasn't pitched in a game since July 7 because of two blisters. (AP)
LOS ANGELES -- Pregame workouts on Tuesday did little to clarify the Dodgers' starting-pitching plans for the weekend series with the Pirates.Manager Dave Roberts said Rich Hill and Brandon McCarthy were still scheduled to start Friday and Saturday, but as Roberts has proved repeatedly this year, plans could change. Guessing
LOS ANGELES -- Pregame workouts on Tuesday did little to clarify the Dodgers' starting-pitching plans for the weekend series with the Pirates.
Manager Dave Roberts said Rich Hill and Brandon McCarthy were still scheduled to start Friday and Saturday, but as Roberts has proved repeatedly this year, plans could change. Guessing a Sunday starter is even tougher.
Hill did not throw off a mound Tuesday as scheduled, but Ross Stripling did, lining him up to possibly make Friday's start. Hill hasn't pitched in a game of any kind since July 7 because of two blisters. The last time he tried to start for Oakland, on July 17, he shut it down while warming up in the bullpen and wound up on the disabled list, where he was when the Dodgers traded for him on Aug. 1.
For Hill to start Friday without a bullpen session or a rehab start -- and for a club to take the chance that a recurrence would create an emergency for the taxed bullpen the way it did for Oakland -- would be about as unconventional as anything the Dodgers have done this year.
"Eventually, I think it will completely heal and be gone, but again, where it is right now, it feels good to go for Friday," Hill said. "Just keep looking toward Friday, that's all I can say."
McCarthy, a command-and-control pitcher who has lost both coming off Tommy John surgery, threw a bullpen session on Tuesday and Roberts said his command was "much better."
"He might throw another light 'pen on Thursday to follow up on today," Roberts said. "As it looks now, he'll still make his start Saturday."
Saturday would give Julio Urías five days of rest from his Monday night start. The same goes for Brett Anderson (back surgery), who made a rehab start for Triple-A Oklahoma City on Monday and whose next assignment, Roberts said, could depend on the health of other pitchers. Jose De Leon is scheduled to start Friday night for Triple-A Oklahoma City, so there's that possibility too.
Ken Gurnick has covered the Dodgers since 1989, and for MLB.com since 2001.