Lady Jays Food Drive in full swing at ballpark
Fans who can't make it to Rogers Centre can donate online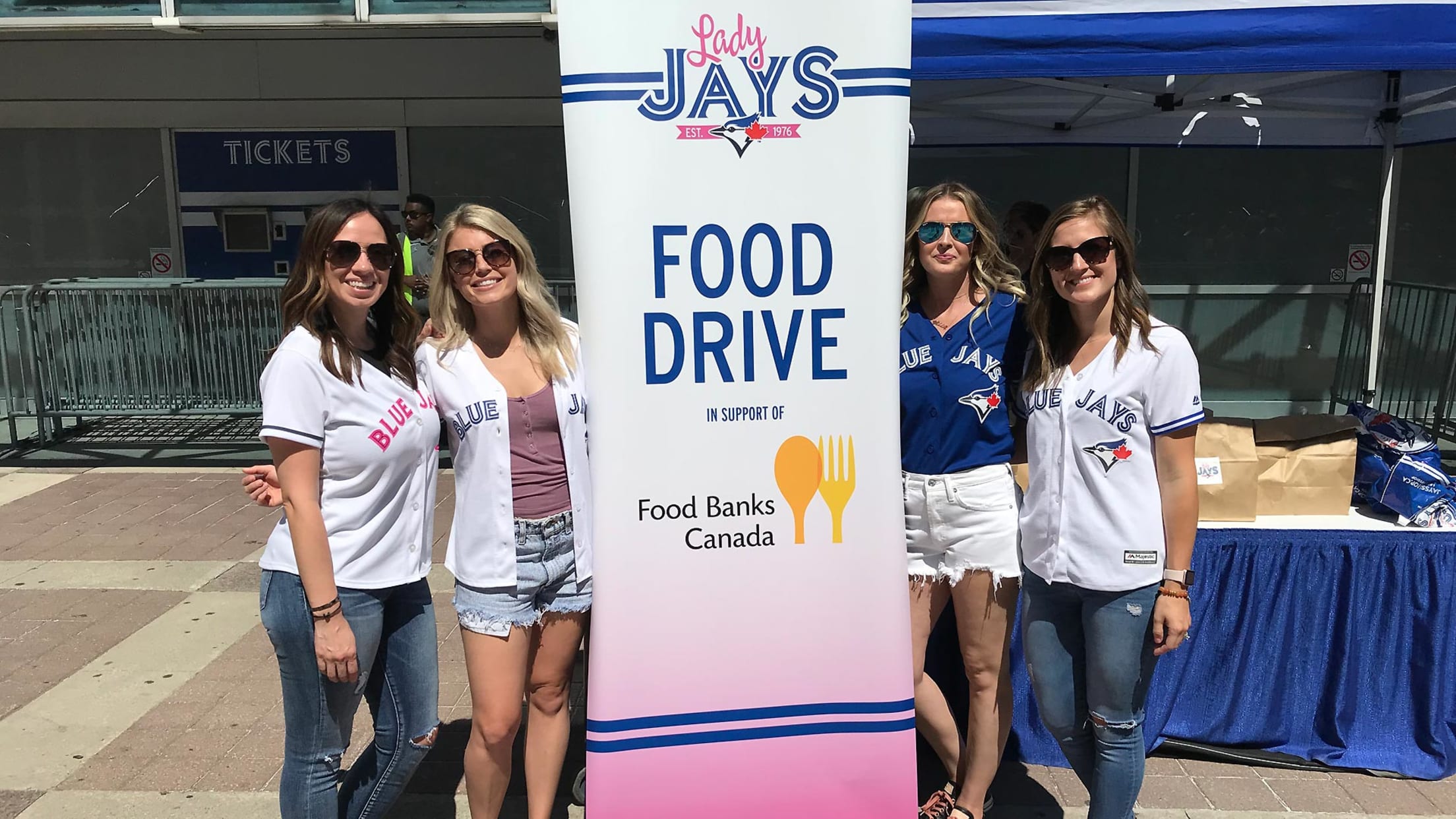 TORONTO -- The Blue Jays' 34th annual Lady Jays Food Drive in support of Food Banks Canada is taking place this weekend at Rogers Centre. The Lady Jays -- a group made up of the spouses and girlfriends of Blue Jays players -- are collecting non-perishable food items and monetary
TORONTO -- The Blue Jays' 34th annual Lady Jays Food Drive in support of Food Banks Canada is taking place this weekend at Rogers Centre. The Lady Jays -- a group made up of the spouses and girlfriends of Blue Jays players -- are collecting non-perishable food items and monetary donations at entrance gates around the ballpark.
"It's just great to give back to the community," said Amanda Pillar, who is married to Blue Jays center fielder Kevin Pillar. "Every year we just make more and more and more."
All the food collected over the weekend will go to support the more than 860,000 monthly food-bank users around Toronto. In addition to fan donations, the Sprott Foundation has agreed to match all monetary donations collected throughout the weekend up to $35,000.
Fans can also purchase mystery bags with hats and other items autographed by Blue Jays players, alumni and coaches. For fans who can't make it out to the ballpark, there are other ways to donate.
"You can go online to donate money," Amanda Pillar said. "Also, don't be afraid to just always donate to Food Banks Canada and give back to the community."
The food drive is the Lady Jays' biggest event of the season, but they do other charity work throughout the year, including working with Challenger Baseball, an organization that provides an opportunity for youth with cognitive and/or physical disabilities to enjoy playing baseball.
"We support our husbands and then we also are as involved with the community as we can be," Pillar said. "We go to hospital visits. Kevin and I do Challenger Baseball and we do this event."
The Lady Jays are hoping to top last year's donation total of more than 4,000 pounds of food and $93,000 raised through fan donations and a matching contribution from the Sprott Foundation.
"As long as it's $1 more than last year, we'll be happy," Pillar said.
Aaron Rose is a reporter for MLB.com based in Toronto.