Baer: 'We're not going to rush' search for GM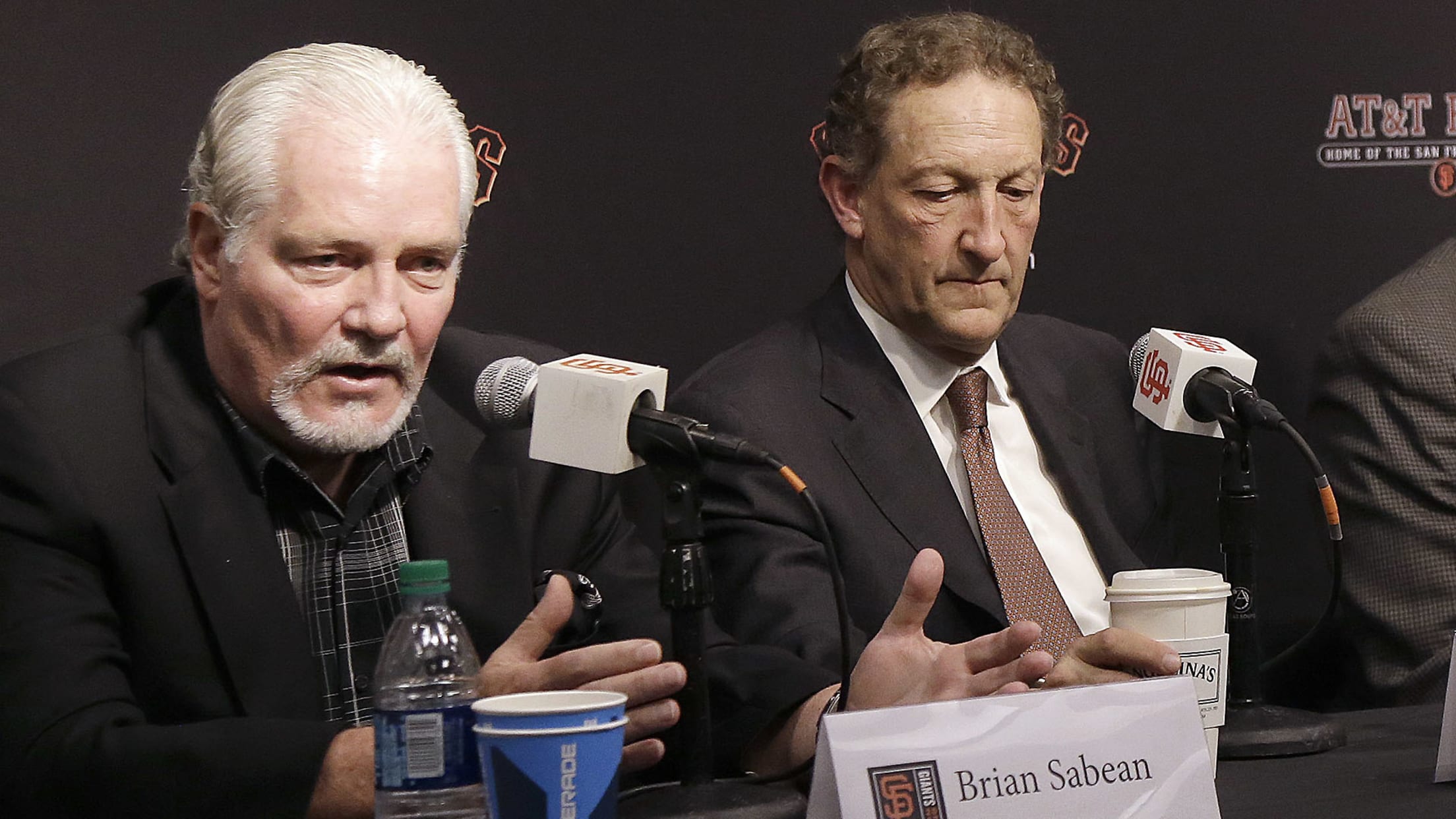 San Francisco Giants executive vice president of baseball operations Brian Sabean, from left, speaks next to CEO Larry Baer, general manager Bobby Evans and manager Bruce Bochy at a news conference in San Francisco, Tuesday, Oct. 3, 2017. (AP Photo/Jeff Chiu) (Jeff Chiu/AP)
SAN FRANCISCO -- The Giants might have to use a pinch-hitter Nov. 5-8 when Major League general managers gather in Carlsbad, Calif., for their annual meetings.Club president Larry Baer reiterated Sunday during a season-ending briefing with reporters that the team's search for a general manager will be a deliberate process."We're
SAN FRANCISCO -- The Giants might have to use a pinch-hitter Nov. 5-8 when Major League general managers gather in Carlsbad, Calif., for their annual meetings.
Club president Larry Baer reiterated Sunday during a season-ending briefing with reporters that the team's search for a general manager will be a deliberate process.
"We're not going to rush it. I don't think it'll be particularly quick," Baer said, indicating that the likelihood of interviewing candidates employed by postseason qualifiers could extend the selection process into late October or early November.
Asked whether the Giants' new hire will be in place in time for the GM meetings, Baer said, "I don't want to commit to that because I just don't know."
Baer said that the Giants have just begun to establish a field of candidates through networking. Their goal is to find the best and the brightest.
"The most important thing is a great baseball mind," Baer said. "I don't think it's, 'What is your exact plan for 2019?' Flowing from a great baseball mind will be the right approach, short term, mid-term and long term."
Whether the new GM emphasizes contemporary analytics won't matter, said executive vice president Brian Sabean, unless the ballclub improves its overall skill level. Sabean acknowledged that the Giants lacked enough depth to overcome the myriad injuries that hastened their 73-89 finish.
"You can't win without players. Players are your biggest and best asset," Sabean said. "You need players to be able to have analytics make a difference, in my opinion. If you're going to take below-average talent or very average talent and think analytics is going to be the nirvana to raise that group up, it doesn't work that way. ... It's talent first. You have to have talent."
Instead, the Giants often fielded lineups that Sabean compared to Spring Training split-squads -- particularly late in the season, in the wake of the numerous injuries and the Aug. 31 trade that sent outfielder Andrew McCutchen to the New York Yankees.
San Francisco finished 5-21 in September.
"Who's in the lineup or who's not in the lineup does roll into people's individual performance," Sabean said. "When we're missing pieces, because we rely on timely hitting and don't knock the fence down, it affects us. It affects us more than most."