3 lefty sluggers the Yankees should target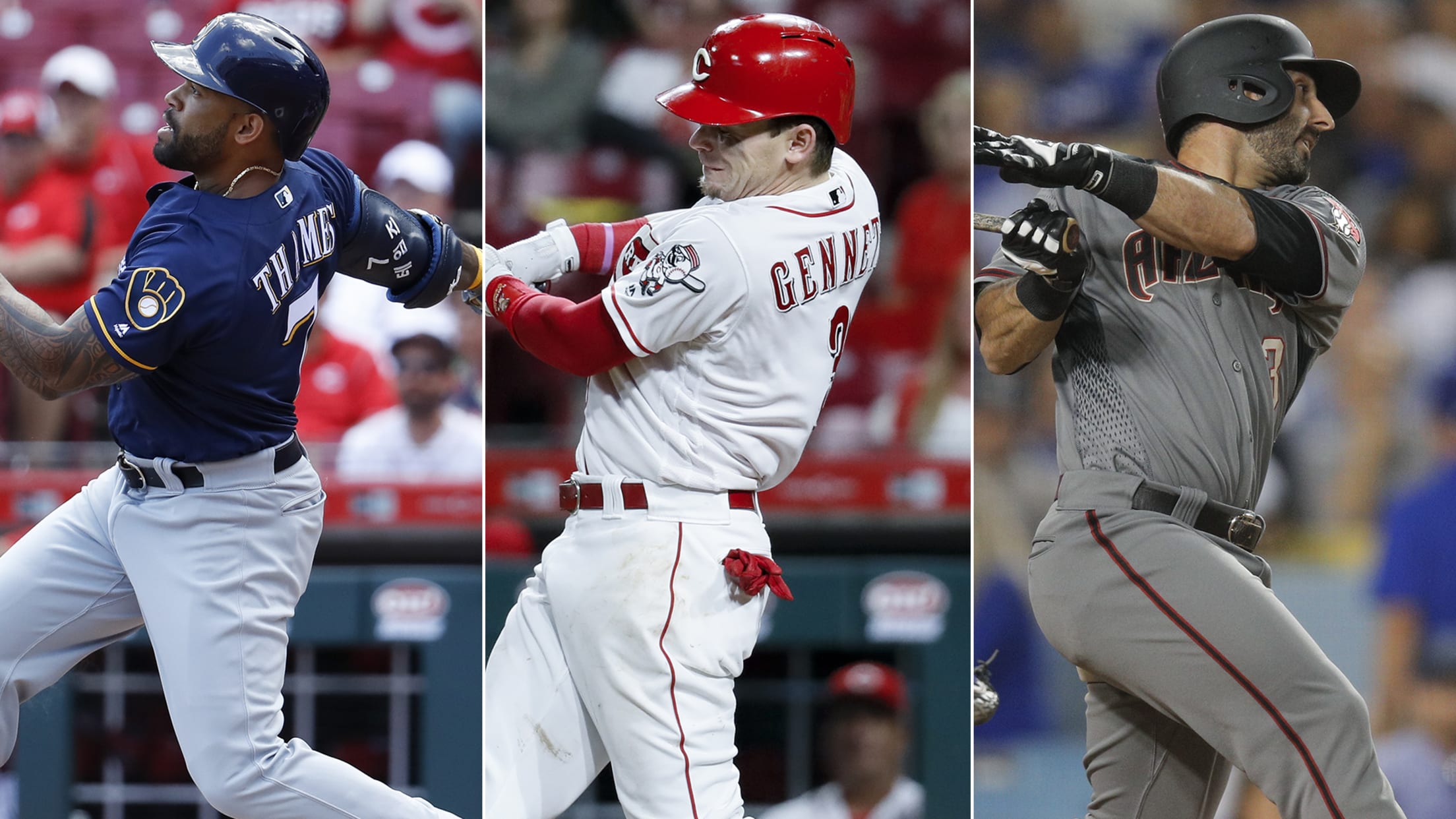 The Yankees are going to make moves this winter, both large and small. Sure, they'll be included in the Manny Machado/Bryce Harper rumorfest until each find homes. They'll be connected to Noah Syndergaard, Yusei Kikuchi and everyone else. They're the Yankees. This is how it works.But they're going to need some
The Yankees are going to make moves this winter, both large and small. Sure, they'll be included in the Manny Machado/Bryce Harper rumorfest until each find homes. They'll be connected to Noah Syndergaard, Yusei Kikuchi and everyone else. They're the Yankees. This is how it works.
But they're going to need some depth, too. They're going to need some left-handed hitting, especially because shortstop Didi Gregorius is injured, and because Greg Bird and Jacoby Ellsbury can never be relied upon. They're going to need first-base insurance for late-season breakout star Luke Voit, they need to sort out how to cover the middle infield until Gregorius returns and they need to add pop to a bench that didn't offer much in 2018.
There are many ways they can go about this. Surely, they have ideas. We have some of our own, and it begins with this thought: What if they leaned into the quirks that their home field offers? Like, really leaned into it? You may not think of Yankee Stadium as a Coors Field-esque monster, but in one important way it is -- and it could let them make some interesting decisions this winter.
Let's start with these two premises:
1. The current Yankees lineup is very, very right-handed.

The short right-field porch in Yankee Stadium is really, really short.
You can probably guess where this is going, and that's that the Yankees should deal with both of those things at the same time by filling out their roster with some lefty mashers who take aim to the pull side, simultaneously helping to add depth to places it's needed.
The Yankees lineup is very right-handed right now
Let's take a spin over to FanGraphs to look at the projected 2019 playing time for each Yankees hitter, and something should stand out to you: There's a ton of righties here. When some of those righties are Aaron Judge, Giancarlo Stanton and Miguel Andujar, that's not necessarily a problem, but it also means that about 75 percent of the team's 2019 plate appearances are projected to go to righties or switch-hitter Aaron Hicks.
It could be even more than that, really. More than 1,300 of those plate appearances, or about 21 percent, are slated to go to the quartet of Brett Gardner, Tyler Wade, Bird and Ellsbury, who combined to hit .219/.303/.366 in 2018. (That's all from the first three, as Ellsbury missed the entire season due to injury.) It's somewhat difficult to see this group of lefties actually getting this much opportunity, and that could leave the lineup even more tilted to the right.
You wouldn't turn down a better righty over a worse lefty just to have a lefty, obviously. Clearly, they'd be thrilled to add Machado no matter what side he bats from. But dating back to 2002, only 13 teams have had 75 percent or more of their plate appearances given to righties, and none of them played in Yankee Stadium.
The short porch in Yankee Stadium is really, really short
Other than "lineup balance," why might the Yankees want more lefties? Behold the glory of the short porch at Yankee Stadium. Taking aim at right field in the Bronx isn't quite the same as playing in Coors Field, but it might not be that far off, either.
It's not a coincidence that of Gregorius' 49 career home runs at Yankee Stadium, every one has come to the right of center field. Nor should it be surprising that in the last two seasons, when looking at number of home runs that traveled 350 feet or shorter, 28 of the 30 venues saw 18 or fewer such dingers ... while Yankee Stadium saw 40. (Houston's Minute Maid Park, with its Crawford Boxes in left, led with 42.)
And while you can't blame this entirely on right field, you can't ignore that Judge has hit .322/.444/.693 at home in his career, yet only .226/.353/.440 on the road. Yankee Stadium is a great place to hit. Right field is especially a great place to aim for.
In fact, we can quantify that. Let's take a look at each of the 30 Major League stadiums, splitting them into left, center and right fields. That gets us 90 combinations of park and field, and we'll make it 180 when we also split them up by lefty and righty batters. Over the last two seasons, which combination has seen the largest amount of power? Unsurprisingly, it's when lefty batters take aim at right field in New York.
Highest slugging percentage on contact to venue/field combo, by batter hand, 2017-18
.853 -- Lefty batters to RF at Yankee Stadium
.835 -- Lefty batters to RF at Great American Ball Park (Cincinnati)
.826 -- Righty batters to LF at Rogers Centre (Toronto)
.807 -- Righty batters to LF at Fenway Park (Boston)
.801 -- Righty batters to LF at Minute Maid Park (Houston)
.799 -- Righty batters to LF at Comerica Park (Detroit)
Intuitively, that group makes sense. Cincinnati has long been known as a hitter's park, and righty hitters have made careers out of slamming doubles off the Green Monster in Boston. Houston's Crawford Boxes are an inviting target, and Comerica Park is a better hitter's field than you might think, especially when you avoid the cavernous center field. (At the very bottom of the list: Righty hitters trying to go to right field at Citi Field, which makes sense, too; something weird has been going on in Queens.)
Remember, that list is showing lefty batters only, so this isn't about Judge, Stanton or Gary Sanchez. It's about Gregorius, Hicks and Boston's Andrew Benintendi. It's putting numbers to what your eyes already told you: It's very, very good to be a lefty who pulls the ball in the air to right field at Yankee Stadium.
OK, so all that said, who qualifies, fits the Yankees roster and might be available?
To answer that first question, let's find all the lefty hitters who pulled 50 batted balls over the last two seasons -- there are 142 -- and rank them by highest slugging percentage. (We could do this in more complicated ways, like Expected Weighted On-Base Average, but simple slugging percentage is fine for our purposes right now.) Let's show the top 11 names, for no other reason than Gregorius is 11th.
Highest slugging percentage to pull field, lefty hitters, 2017-18 (min. 50 balls)
1.230 -- Eric Thames, Brewers
1.035 -- Joey Gallo, Rangers
.984 -- Player Page for Max Muncy, Dodgers
.983 -- Jose Ramirez, Indians
.950 -- Matt Olson, A's
.949 -- Eduardo Escobar, Twins/D-backs
.941 -- Lucas Duda, Mets/Rays/Royals/Braves
.940 -- Scooter Gennett, Reds
.926 -- Yoan Moncada, White Sox
.924 -- Kyle Schwarber, Cubs
.922 -- Didi Gregorius, Yankees
Some of those names aren't relevant, for various reasons. Ramirez, Olson, Muncy, Gallo and Escobar, who recently signed a three-year deal with Arizona, probably aren't trade targets. Moncada and Duda probably aren't good enough to make an impact on this Yankees team. Before Stanton, Schwarber would have been an interesting fit, but the idea of asking one of them to cover Yankee Stadium's large left field every day isn't terribly appealing.
But there are two names on that list that might make a lot of sense -- plus two others who just missed who we should mention.
Eric Thames
After a stint in Korea, Thames returned to the Majors in 2017 with a 31-homer season for Milwaukee, though he couldn't quite replicate it in '18 while marred by thumb and hamstring injuries, especially as Jesus Aguilar took over with a breakout year of his own. Even in 2018, Thames was an MLB-average hitter and better than that against righties (.223/.313/.491, .804 OPS, 110 wRC+). As you can see above, he already mashes the ball when he pulls it, and he could make for a good platoon partner with Voit if New York has tired of Bird. (Daniel Murphy might fit this spot, too.)
Scooter Gennett
If Gleyber Torres slides over to shortstop to cover for Gregorius, then the Yankees could use a second baseman, and they've reportedly talked to Cincinnati about Gennett, who has one year left on his contract. You might not have noticed it, but Gennett has transformed himself into a slugger, actually out-slugging Machado and Kristopher Bryant over the past two seasons. Gennett is on the list above, too, because he crushes balls to right field, and even though part of that is his home park in Cincinnati, he wouldn't lose anything by coming to Yankee Stadium, and he'd fill a need.
Plus, a bonus name.
Daniel Descalso
A longtime backup infielder for three National League clubs, Descalso's career numbers aren't particularly impressive. Then again, this is a new Descalso, one who rebuilt his swing and put up career highs in on-base percentage, slugging percentage and home runs, while dropping his ground-ball rate to a career-low 30 percent in 2018. His .238/.353/.436 line was about 10 percent above MLB average, and he plays multiple positions.
The Yankees should still get Harper or Machado, obviously; Those are once-in-a-generation talents. They should get one of these guys, too. Every team needs depth. This team could use that depth in the form of a lefty who can take aim at that short porch. After all, it's there. Take advantage of it.
Mike Petriello is an analyst for MLB.com and the host of the Statcast podcast.