Hendriks (groin) lands on DL; Dull activated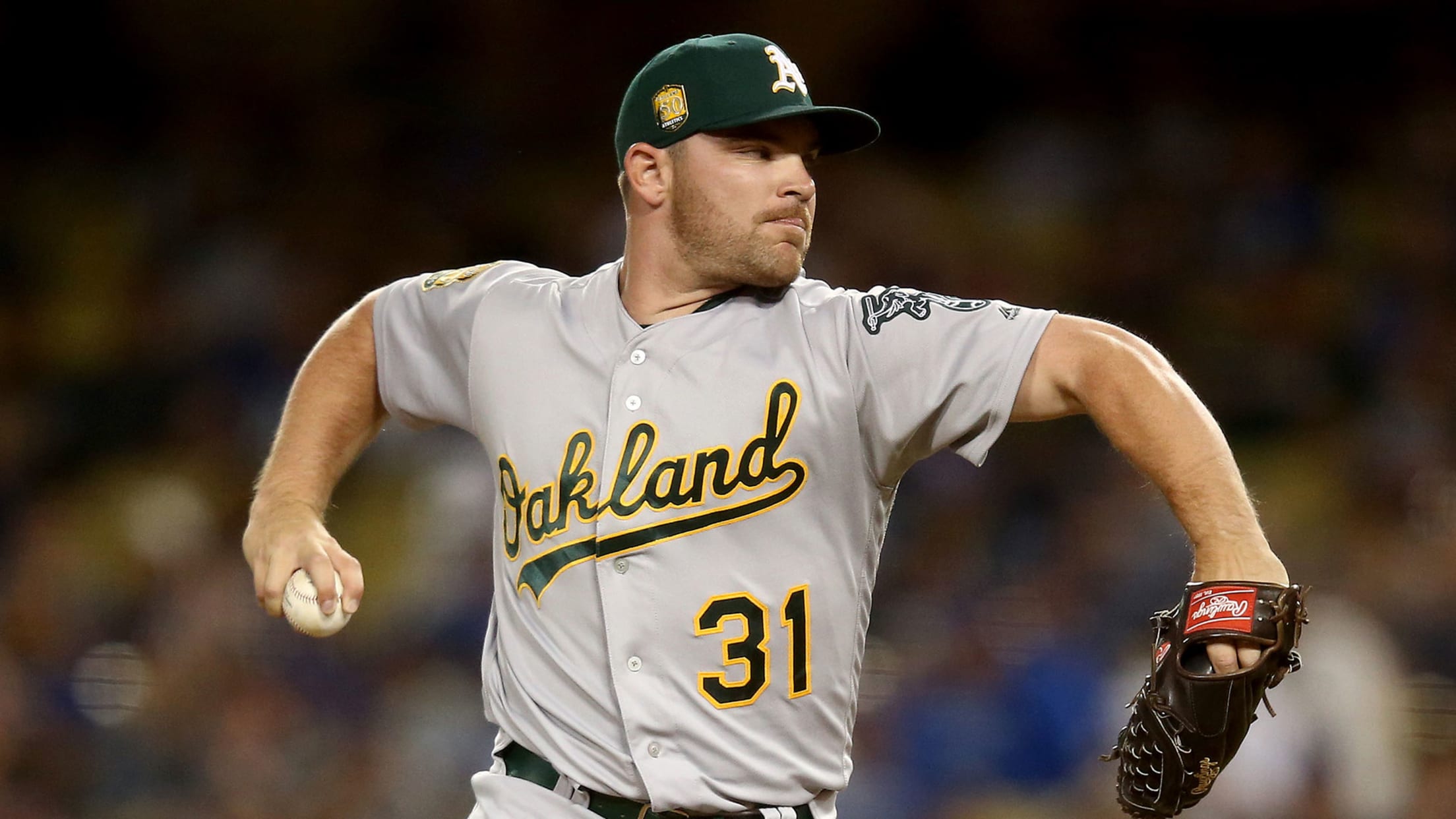 SEATTLE -- Ryan Dull has rejoined the A's bullpen, taking the roster spot of another right-hander ahead of Saturday's game in Seattle, with Liam Hendriks going on the disabled list with a right groin strain.Hendriks doesn't believe his injury to be as severe as a strain, referring to it as
SEATTLE -- Ryan Dull has rejoined the A's bullpen, taking the roster spot of another right-hander ahead of Saturday's game in Seattle, with Liam Hendriks going on the disabled list with a right groin strain.
Hendriks doesn't believe his injury to be as severe as a strain, referring to it as adductor tendinitis, but he'll be sidelined for at least 10 days nonetheless, after departing Friday night's 7-4 loss in Seattle after facing just one batter.
"We're still trying to get a handle on that," A's manager Bob Melvin said. "Yesterday we had him go down, throw some off the mound, said he was good to go. Now, you can't really simulate, obviously, what you do in a game, but once he got in the game, it stung a little bit. We're just not sure how severe it is, and sometimes these things calm down, and then you can kind of figure out where the exact spot is after a day or so."
Hendriks, who has allowed three runs in as many innings pitched this season, said he's been bothered by the injury for nearly a week. Only after his exit Friday did he realize how much it has been affecting his mechanics.
Perhaps most telling, he explained, were the opposing swings.
"I didn't have that same kind of jump on the ball," Hendriks said.
"Unfortunately it was definitely hindering the way I was able to throw. The last one definitely grabbed a lot more than the previous ones had. It's been one of those things where it's kind of there, but I felt like I was still doing everything right, but looking at the video my mechanics were completely different trying to overcompensate."
Dull, Melvin said, will resume his usual role. That means he'll be readily available for high-leverage situations immediately; the right-hander thrived in that setting in 2016, pitching to a 2.42 ERA in 70 games. He struggled at times in 2017, contributing to a 5.14 ERA in an injury-shortened season.
"Pretty similar to the way we've used him in the past," Melvin said. "He's pretty good about coming in with runners on base and getting some righties out, so that could happen in the sixth, it could happen in the seventh, the eighth."
Dull, who suffered a shoulder sprain in the early going of Spring Training, made three rehab appearances with Triple-A Nashville, allowing one earned run with three strikeouts across four innings.
"Everything finally feels like it's normal again," Dull said. "Everything felt like it was coming out really well."
Dull's return gives Melvin yet another late-inning arm, as the manager attempts to sort through his best setup options. Chris Hatcher was considered the primary choice entering the season, but his struggles of late could mean more opportunities for Emilio Pagan, Yusmeiro Petit and Dull.
"It's an acquired taste to be able to do that," Melvin said, "and we've had a little trouble with guys coming in with guys on base here recently, even though we feel like we have quite a few guys who can do it. [Dull's] used to doing it, and it should help us quite a bit."
Jane Lee has covered the A's for MLB.com since 2010.