Perdomo claims first win after 0-3 record
First Padres pitcher to hit two triples in a season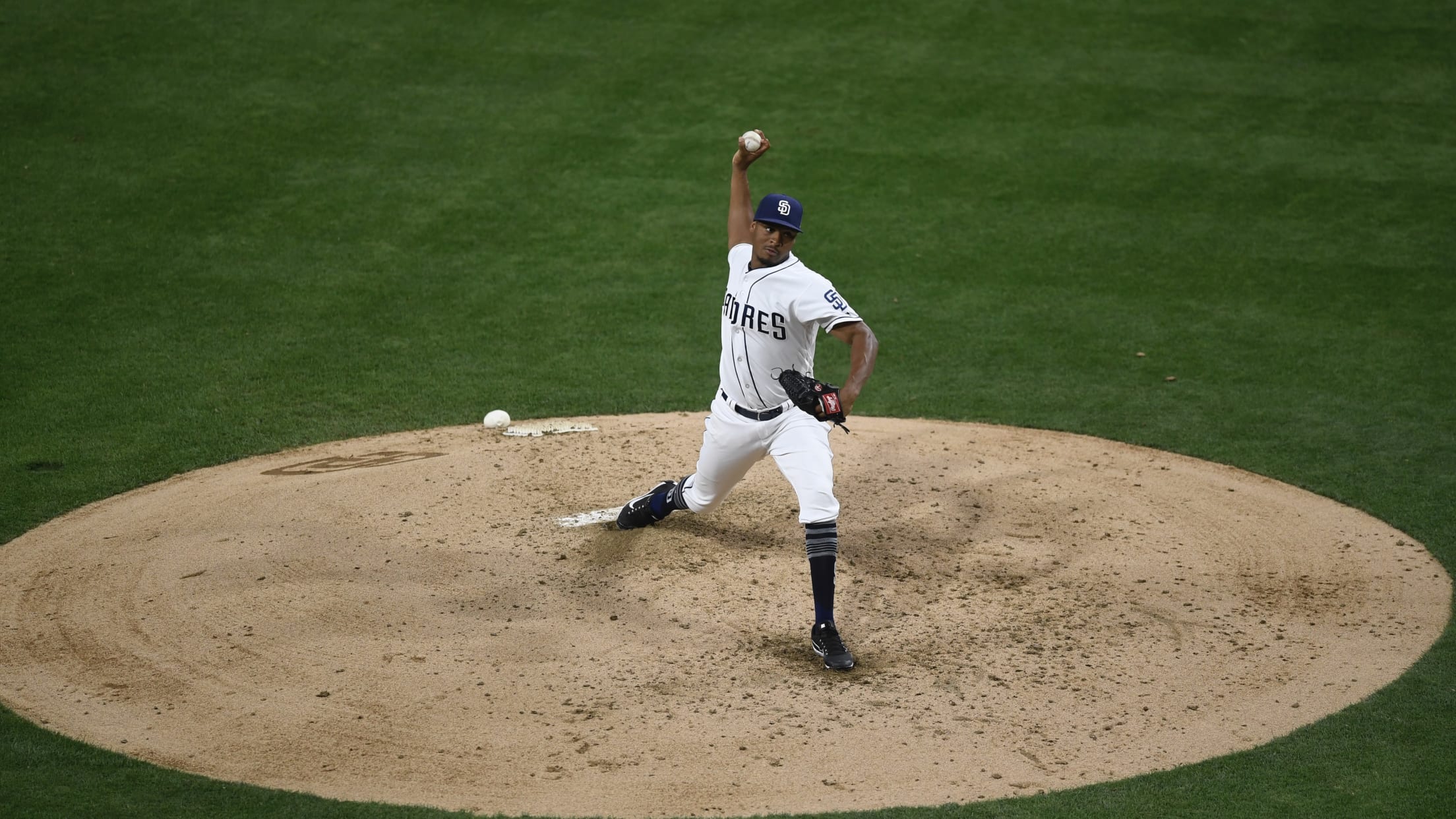 Luis Perdomo on the mound (Padres)
Bill Center, longtime sportswriter for U-T San Diego, is an employee of the Padres.Luis Perdomo didn't move closer to a record no one wanted Monday night while setting a Padres record that few knew existed.In his 11th start, Perdomo picked up his first win. Honestly, the "win" isn't the statistic
Bill Center, longtime sportswriter for U-T San Diego, is an employee of the Padres.
Luis Perdomo didn't move closer to a record no one wanted Monday night while setting a Padres record that few knew existed.
In his 11th start, Perdomo picked up his first win. Honestly, the "win" isn't the statistic used when the "complete game" was also in vogue for starting pitchers. But only one pitcher in Padres history - St. Augustine High graduate John D'Acquisto in 1977 - had gone 12 starts into a season without winning a game.
The right-handed Perdomo had his second-longest start of the season against the Reds, allowing three runs on seven hits and two walks with four strikeouts.
Perdomo earlier broke the Padres record for starts with no-decision to start a season. Perdomo had six to break Bob Owchinko's previous mark of five - which was also set in 1977.
Perdomo hit his second triple of the year (and career), Tuesday, becoming the first Padres pitcher to hit two triples in a season. He is also tied for the Padres lead in triples this season.
Perdomo is the first Major League pitcher to have two triples in a season since Dontrelle Willis scored three in 2007.
NOTE WORTHY:
--CF Franchy Cordero hit his first Major League homer Monday night, a two-run shot in the second off Bronson Arroyo. Cordero was 2-for-5 with a double, a homer, two RBIs and two runs scored. Monday was his fourth multi-hit game. He has hit safely in nine of his 12 Major League starts. He is 13-for-44 in his starts with two doubles, two triples and a homer.
--3B Cory Spangenberg is 9-for-15 hit a double and two homers with five runs scored during a four-game hitting streak. He has multiple hits in all four games.
--LF-2B Jose Pirela was 2-for-4 Monday with a double, a walk, a RBI and two runs; But his average remained at .500 (13-for-26) since promotion from Triple-A El Paso on June 6. Pirela is on a career-high, six-game hitting streak including five multi-hit games.
--2B Yangervis Solarte was 2-for-4 Monday with a homer and two RBIs. He has had a hit in five of his last six games, going 8-for-22 (.364) with two homers, seven RBIs and three runs scored.