Perdomo gains confidence, leads to results
24-year-old right-hander 3-1, 3.38 ERA in last four starts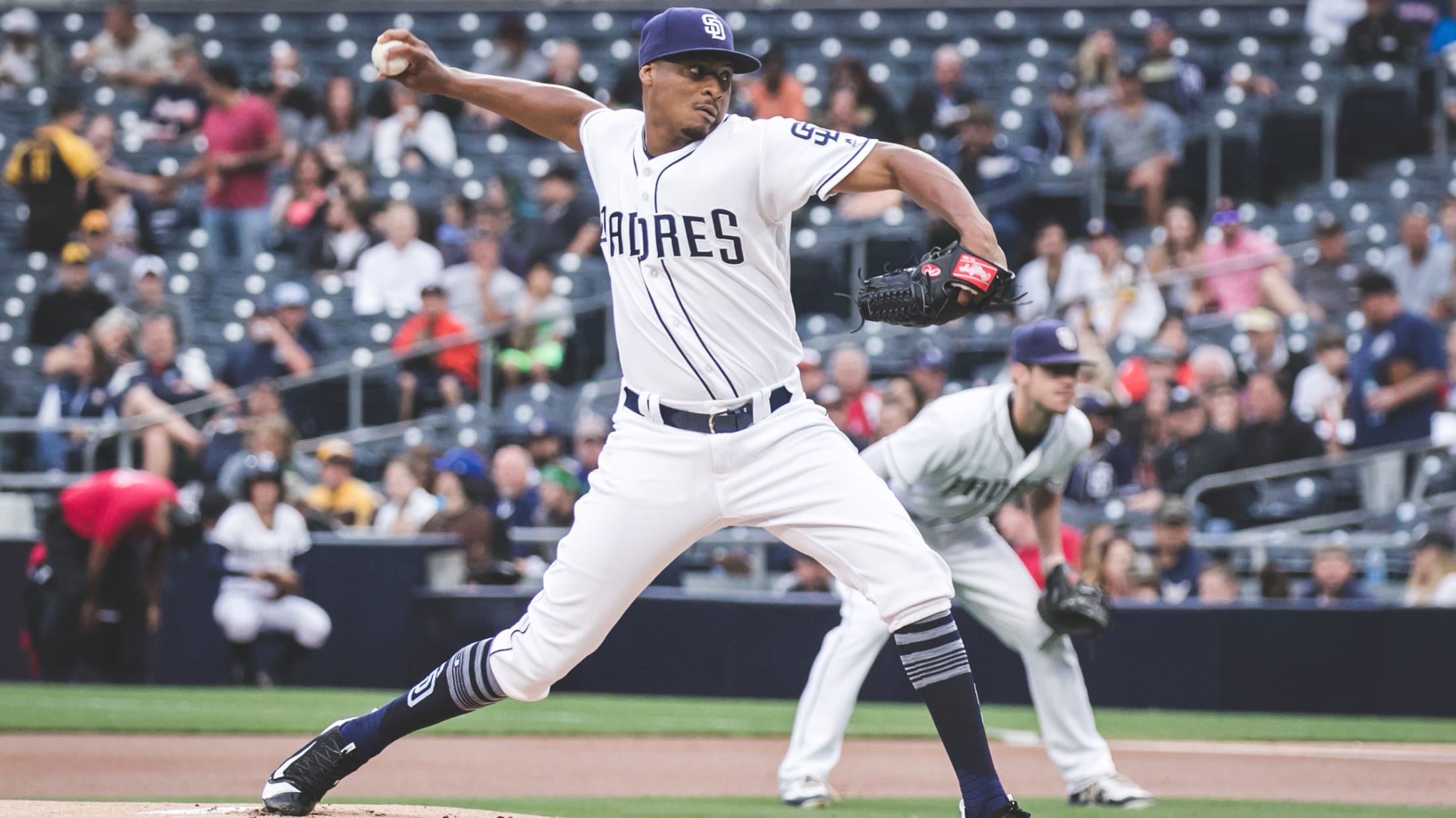 Bill Center, longtime sportswriter for U-T San Diego, is an employee of the Padres.Baseball is a confidence game.A lot of players have raw talent. But few make it.Much of the success in baseball is believing in oneself.It is a lesson 24-year-old right-hander Luis Perdomo is just coming to understand."I've worked
Bill Center, longtime sportswriter for U-T San Diego, is an employee of the Padres.
Baseball is a confidence game.
A lot of players have raw talent. But few make it.
Much of the success in baseball is believing in oneself.
It is a lesson 24-year-old right-hander Luis Perdomo is just coming to understand.
"I've worked a lot on my focus," Perdomo said Wednesday night after he picked up his third win in his last four starts. "I'm more confident."
A year ago at this time, Perdomo was a Rule 5 Draft pick just getting his feet wet as a member of a Major League rotation. He was just finding his sinker.
Today he's beginning to emerge.
Is there room for improvement? Yes. But, then again, almost everyone has room for improvement.
But Perdomo is growing as a pitcher. There is less talk of his sinker these days as other pitches become useable weapons in his repertoire. He is no longer throwing. He is working hitters.
As manager Andy Green noted late Wednesday night, Perdomo "cruised" through his first 5 1/3 innings against the Atlanta Braves. He allowed three hits and a walk and got two double play grounders to face only two hitters over the minimum.
Things did go downhill quickly from there. Five straight Braves reached base. But half of the four hits bled through the infield. Thanks to the bullpen retiring 11 straight Braves to end the game, Perdomo got credit for the win.
Over his last four starts, Perdomo is 3-1 with a 3.38 earned run average. He has given up 24 hits and 11 walks with 18 strikeouts over 24 innings in those starts. He also induced eight double plays in those four starts. Over those four starts, Perdomo's ERA has dropped from 5.47 to 4.71.
Clearly, Perdomo is moving in the right direction as his confidence grows.
NOTEWORTHY:
--The seven runs scored by the Padres Wednesday night against Atlanta were the most they scored in a game this season without the benefit of a home run.
--RHP Trevor Cahill allowed two runs on four hits in three-plus innings for Triple-A El Paso Wednesday night. Cahill started his second trip to the disabled list this season on May 14 with right shoulder inflammation. The Padres need a starter Saturday night against the Dodgers but currently have three starters RHPs Cahill and Jered Weaver and LHP Christian Friedrich on rehab assignments.
--CF Manuel Margot was 2-for-4 with a walk, two steals and three runs scored Wednesday night in his second game back from the disabled list. He had missed a month with a calf muscle injury. The two steals marked the first multi-steal game of rookie Margot's career. The three runs scored were also a career high. It was Margot's 15th multi-hit game of the season.
--3B Cory Spangenberg was 1-for-5 with a two-run double in the first inning Wednesday night. Spangenberg is hitting .314 (22-for-70) in June with three doubles, three home runs and eight RBIs.
--2B Carlos Asuaje was 3-for-4 with a RBI Wednesday. It was the first three-hit game of his career. Asuaje is 5-for-7 with a walk in his last two games and 7-for-17 since being recalled from Triple-A El Paso June 23 to play second in the absence of Yangervis Solarte (left oblique strain).