Ortiz, Naylor among top prospect performers Monday
Rangers' No. 4 prospect makes strong Double-A debut, Marlins' No. 2 has first pro multi-homer game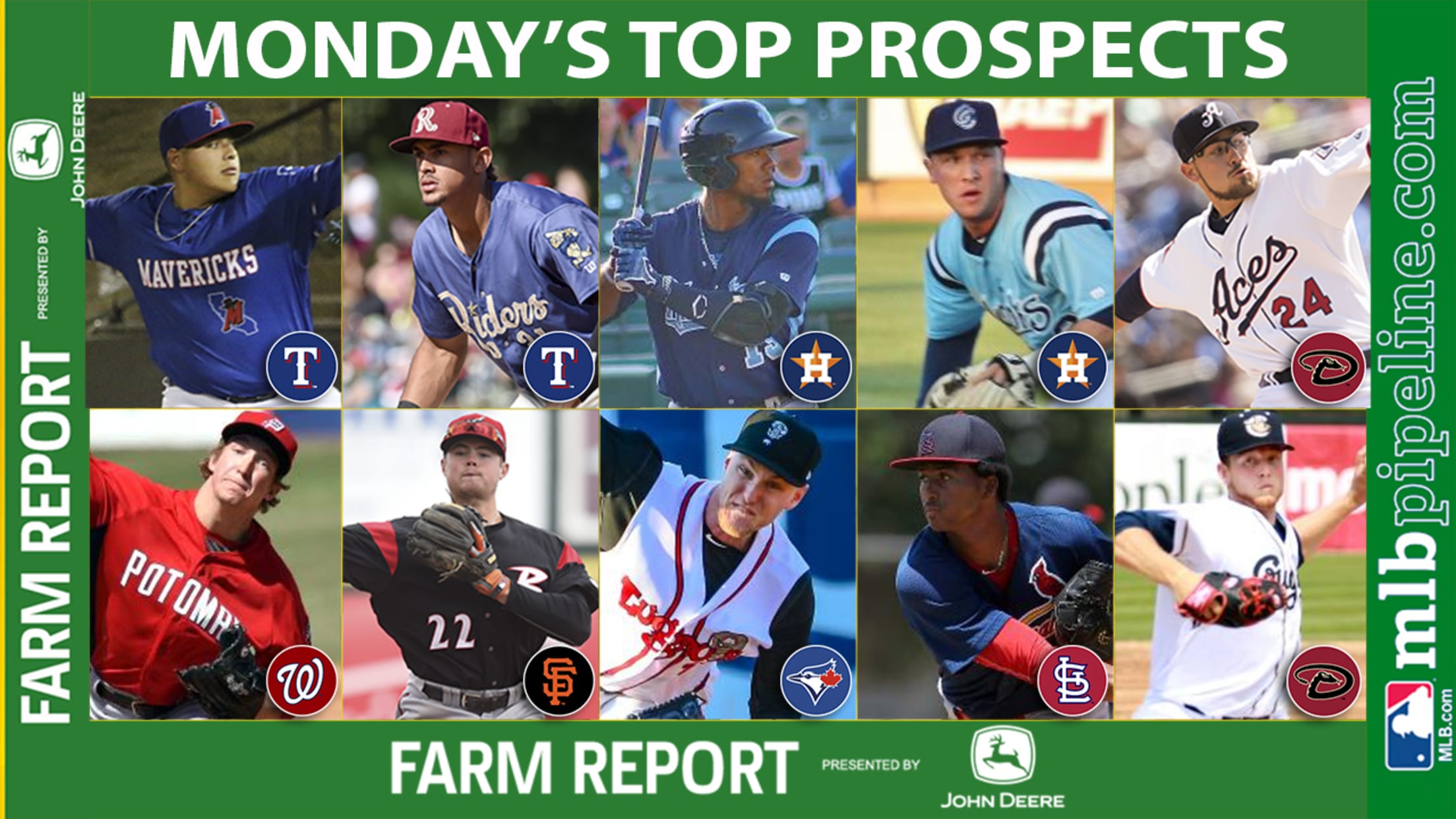 (Paul Sancya/AP)
Luis Ortiz, baseball's No. 69 overall prospect, made a seamless transition to Double-A as he enjoyed a stellar debut for Double-A Frisco. The Rangers' No. 4 prospect limited San Antonio to just one run in six innings, striking out six batters against one walk in the RoughRiders' lopsided 11-1 win.Monday's
Luis Ortiz, baseball's No. 69 overall prospect, made a seamless transition to Double-A as he enjoyed a stellar debut for Double-A Frisco. The Rangers' No. 4 prospect limited San Antonio to just one run in six innings, striking out six batters against one walk in the RoughRiders' lopsided 11-1 win.
Monday's outing marked the third time in his last four starts that Ortiz matched his career high mark with six innings while allowing one or no earned runs. The right-hander is 4-2 with a 2.41 ERA through eight games (seven starts) with Frisco and Class A Advanced High Desert this year.
Ortiz's teammate, Ronald Guzman, also contributed in the victory, recording his 16th multi-hit performance of the year. Guzman, the Rangers' No. 22 prospect, went 3-for-5 with two doubles, two runs scored and an RBI.
The rest of the best performances from top prospects Monday:
• Astros No. 26 prospect Teoscar Hernandez was a one-man offensive machine Monday. For the third time in four games, Hernandez collected multiple hits, going 4-for-5 with three doubles, three runs scored and a season-high four RBIs as Double-A Corpus Christi came from behind to beat Midland, 11-7, in 10 innings. His third double of the night (12th of the year), which was a career-high, drove in the go-ahead run in the 10th inning.
MILB Video - Title: Hernandez breaks tie with RBI double - Url: http://www.milb.com/r/video?content_id=731194783
The Astros' No. 1 prospect, Alex Bregman -- the No. 18 overall prospect -- also contributed a home run, his 11th of the season, for the Hooks.
MILB Video - Title: Bregman begins comeback with homer - Url: http://www.milb.com/r/video?content_id=731153183
• No. 62 overall prospect Braden Shipley (D-backs No. 1) tossed six scoreless innings Monday for Triple-A Reno in its 6-2 win against New Orleans. He allowed just three hits and matched his season-high with eight strikeouts. It was Shipley's third scoreless outing in 2016.
MILB Video - Title: Shipley finishes sixth inning - Url: http://www.milb.com/r/video?content_id=730852783
• No. 73 overall prospect Erick Fedde turned in his best outing of the year, tossing five scoreless frames for Class A Advanced Potomac in a 1-0 loss to Frederick. Monday's start was the first in which Fedde hasn't surrendered a run this season. He allowed just three hits and no walks while striking out six.
• No. 77 overall prospect Christian Arroyo (Giants No. 1) extended his hitting streak to six games with a 2-for-4 performance for Double-A Richmond. The 20-year-old shortstop chipped in a solo homer in the ninth for the Flying Squirrels' lone run in the 2-1 loss to Binghamton.
MILB Video - Title: Watch: Arroyo launches homer - Url: http://www.milb.com/r/video?content_id=732621583
• Blue Jays No. 4 prospect Jon Harris extended his scoreless innings streak to 32 with seven strong frames for Class A Lansing in a 3-0 win against Great Lakes. Harris scatted three hits, issued one walk and struck out a personal-best 11 batters for a second consecutive start. Harris hasn't allowed a run, earned or otherwise, since April 14. The three runs he gave up in his season debut remain the only earned runs he's surrendered through seven starts this year, resulting in a 0.83 ERA.
MILB Video - Title: Harris strikes out 11 in win - Url: http://www.milb.com/r/video?content_id=730015083
• Cardinals No. 19 prospect Sandy Alcantara recorded 18 outs in Class A Peoria's 5-4 loss to Beloit -- 14 of which came via strikeout. Alcantara established a career-high for strikeouts as he allowed four runs in six innings. He's now fanned double-digit batters in back-to-back starts. Before his last two outings, his previous career-best was eight.
• D-backs No. 14 prospect Cody Reed bounced back from a poor performance last week to limit Wisconsin to just one run over seven innings in a 7-1 win. He struck out eight and did not issue a walk. In all but one of his six starts, Reed has limited his opponent to one or no earned runs. He's fanned 47 against just three walks for Class A Kane County this year.
• Dodgers No. 16 prospect Willie Calhoun collected four hits Monday for his 10th multi-hit game of the season. He went a perfect 4-for-4 with three extra base hits (two doubles, one home run) and drove in a pair of runs as Double-A Tulsa beat Northwest Arkansas, 4-2.
MILB Video - Title: Watch: Calhoun goes yard - Url: http://www.milb.com/r/video?content_id=731696183
• Marlins No. 2 prospect Josh Naylor recorded his first multi-homer game as a professional, going deep twice for Class A Greensboro in a 9-2 win. The 2-for-4 performance snapped helped Naylor break out of a mini-slump; he was just 2-for-18 in his last five games. On the mound, Marlins No. 19 prospect Cody Poteet earned the victory with six scoreless innings. He allowed three hits, struck out three and walked three.
• Orioles No. 28 prospect John Means set the tone for Class A Advanced Frederick's doubleheader Monday, pitching seven shutout innings in the opener as his team won 1-0. Means gave up a season-low three hits and struck out eight in the shutout win. He's yet to allow more than two earned runs in any of his nine starts this year.
• Padres No. 7 prospect Logan Allen was at his best Monday for Class A Fort Wayne, tossing six scoreless innings and allowing just two hits. He struck out five and did not walk a batter in the TinCaps' 3-0 victory. Allen hasn't allowed an earned run in either of his last two starts (10 innings).
• Tigers No. 4 prospect Christin Stewart padded his Minor League-leading home run total with his 14th long ball in Class A Advanced Lakeland's 6-1 win against the Charlotte Stone Crabs. It was Stewart's first home run since May 14th. In the same game, Jairo Labourt, Detroit's No. 11 prospect, tossed five shutout innings, allowing just one hit. He struck out six and walked five batters.