Bumgarner eyeing big number in 2019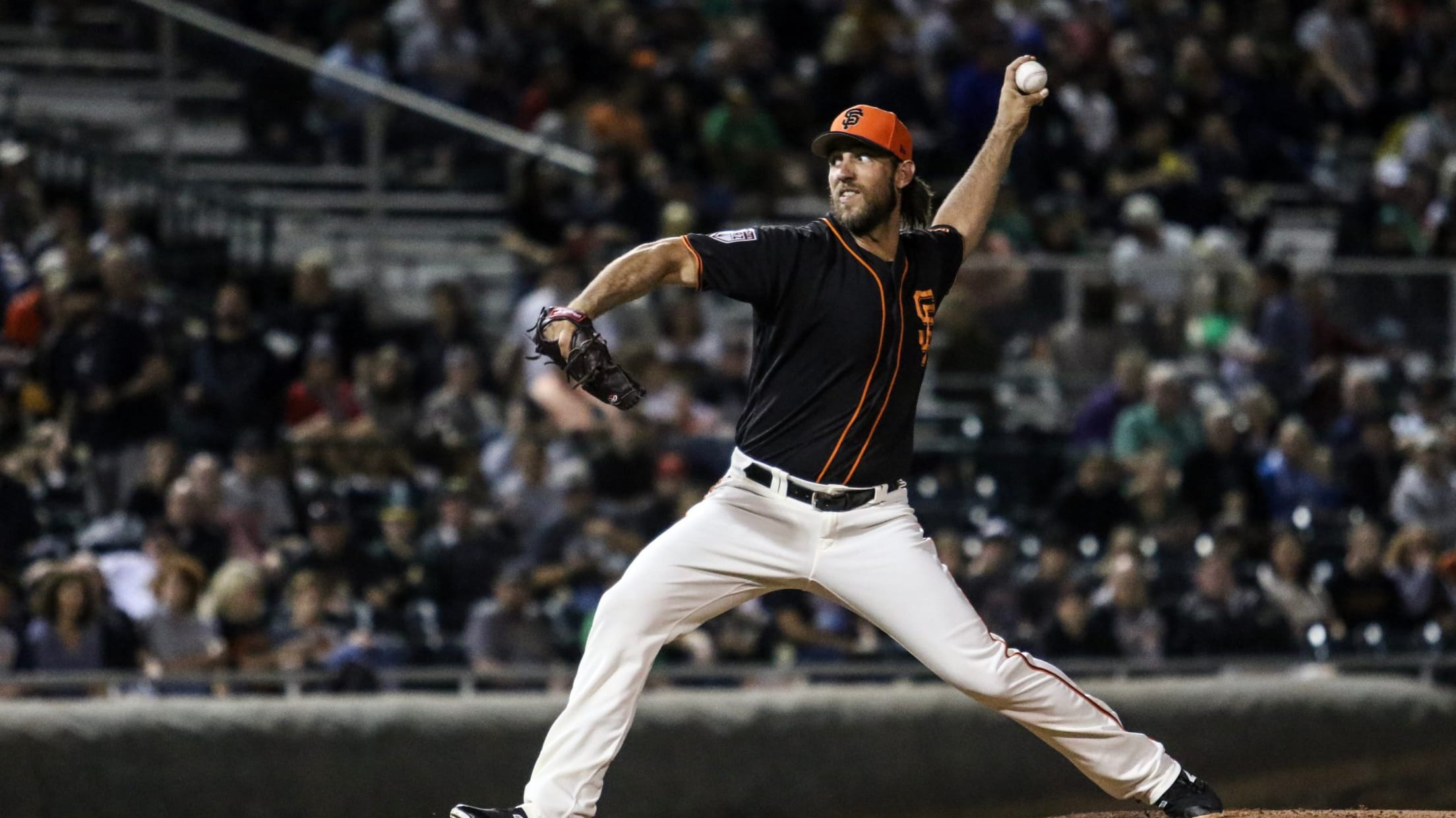 SCOTTSDALE, Ariz. -- From 2011-16, Giants left-hander Madison Bumgarner distinguished himself as one of the premier workhorses in baseball, reaching the 200-inning threshold in six consecutive seasons. Bumgarner has fallen short of 200 innings in each of the last two seasons due to injury, but he's aiming to return to
SCOTTSDALE, Ariz. -- From 2011-16, Giants left-hander Madison Bumgarner distinguished himself as one of the premier workhorses in baseball, reaching the 200-inning threshold in six consecutive seasons. Bumgarner has fallen short of 200 innings in each of the last two seasons due to injury, but he's aiming to return to that level of durability in 2019.
Bumgarner's quest for another 200-inning campaign could put him in rare company. In an age of super bullpens, teams are more comfortable than ever pulling their starting pitchers earlier in games to avoid having them face hitters a third or fourth time through the order. While 50 Major League pitchers threw 200 innings in 2005, only 13 pitchers reached the milestone last year.
"That part has definitely changed a lot," Bumgarner said after making his third exhibition start in the Giants' 5-1 loss to the A's on Thursday night at Scottsdale Stadium. "But I don't think it's any less valuable. If anything, it's the other way. If somebody is effective throwing 200-plus, why would you not want them out there?"
While the Giants have told right-hander Jeff Samardzija, who made only 10 starts last season because of shoulder issues, that they aren't necessarily expecting a 200-inning workload from him this year, Bumgarner said no such conversations have been held with him. He doesn't expect them to happen, either.
"Definitely not," Bumgarner said. "I don't know [Samardzija's] situation. I know he had some shoulder trouble last year. But in my case, no. I'm looking to throw 200-plus every year."
Bumgarner gave up two runs on five hits over three-plus innings against the A's. He walked one, struck out two and threw 63 pitches.
"Today was just more of a grind," Bumgarner said. "Nothing really came easy today. It didn't really feel how I wanted it to. It's good to have games like that, especially right now. You've got to find a way to grind it out."
The 29-year-old ace now has an 11.57 ERA over seven Cactus League innings, but he's never put too much stock in his results during Spring Training.
"I just want to make sure that by the end of camp everything is sharp and where it needs to be," Bumgarner said. "That's the main thing here, just being able to throw 100-plus pitches at game speed with the command being there and the breaking ball doing what it should. Regardless of the results, if by the end of camp I feel that way, that's perfect."
Giants celebrate Powell
The Giants held a celebration in the clubhouse for hitting coach Alonzo Powell, who finished his radiation treatments for prostate cancer Thursday. Powell, 54, was diagnosed with cancer last January and had been driving to Peoria five times a week prior to morning workouts to receive treatment this spring.
"He's been through a lot, battling this prostate cancer," manager Bruce Bochy said. "He finished his last day of radiation. We had a little moment for him in the clubhouse, had a cake for him. He said, 'Hey I'm going to beat this,' and he had such a positive attitude. He never talks about it, never complains about it. It's a lesson we all can learn."
Beede dominates
Right-hander Tyler Beede has emerged as one of the major revelations of this spring, and he continued his impressive run by by striking out three over three scoreless innings against the A's on Thursday. The 25-year-old has now logged a 1.29 ERA with eight strikeouts over seven Cactus League innings.
"He's had a terrific spring," Bochy said. "It looks like he's on a mission to show that he's put a lot of hard work in and doing all he can to open eyes again. He's got the equipment. This guy, it's his time. He's really taking advantage of this spring and showing that he's a different guy."
Melancon still searching
Right-hander Mark Melancon surrendered a pair of solo home runs to Matt Chapman and Marcus Semien in the fifth inning, causing his Cactus League ERA to rise to 13.50 over 2 2/3 innings. He has allowed at least one run in each of his first three appearances this spring.
"He's not there, obviously," Bochy said. "Looks like the cutter, he hasn't gotten the feel on that yet. That's the ball that's not moving like it normally does. Part of it is Arizona, but he's trying to find his way with that pitch. And he just needs some work. He's getting some rust off soon."
Up next
Left-hander Drew Pomeranz will make his third Cactus League start Friday when the Giants face the Indians at Goodyear Ballpark at 5:05 p.m. PT. Right-hander Jefry Rodriguez is scheduled to pitch for Cleveland.
Maria Guardado covers the Giants for MLB.com. She previously covered the Angels from 2017-18. Follow her on Twitter.