Who's next in ending Series title drought?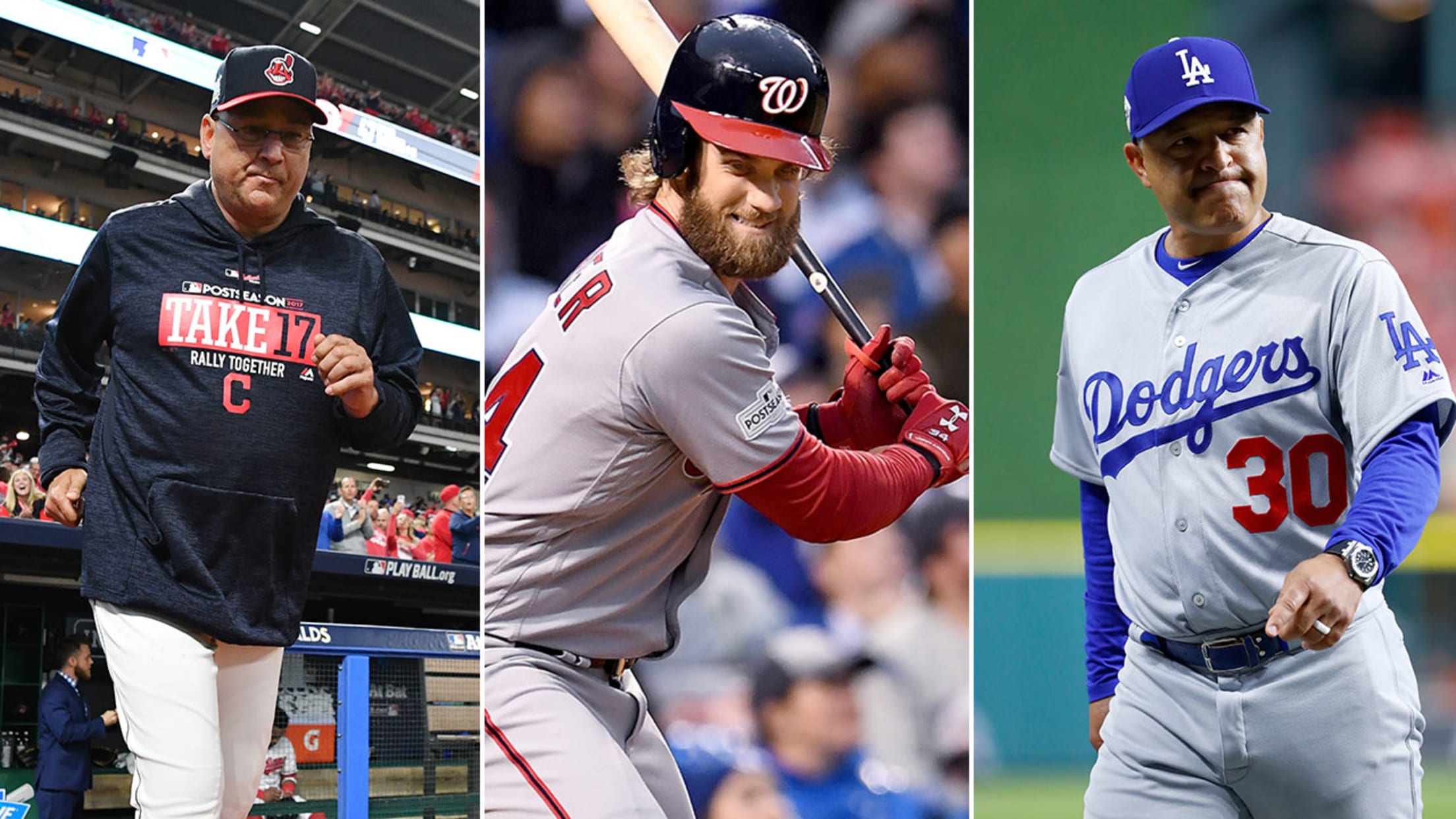 The Indians, Nationals and Dodgers should have similar roster makeups for the 2018 season. (Getty)
It wouldn't shock anyone if the Astros repeated as World Series champions next season. Nor if the Cubs avenged their National League Championship Series loss to the Dodgers and made it two titles in three years.But in following the Royals' win in 2015 with titles the past two seasons, the
It wouldn't shock anyone if the Astros repeated as World Series champions next season. Nor if the Cubs avenged their National League Championship Series loss to the Dodgers and made it two titles in three years.
But in following the Royals' win in 2015 with titles the past two seasons, the Cubs and Astros have created a trend that could easily grow longer next time around.
The past three World Series winners have had championship gaps of at least 30 seasons. So let's handicap the 13 franchises that continue this pattern in 2018, from the least likely to break through to the ones knocking loudly on the door:
13. Tigers (last title 1984)
After a run of close calls beginning with the World Series loss to the Cardinals in 2006, they cried "uncle" last summer. This is the start of a rebuilding mode post-Justin Verlander, and it wouldn't be surprising if more veterans followed Verlander, J.D. Martinez and Justin Upton out of Detroit this offseason.
12. Padres (never won WS)
Andy Green's team made strides in 2017, with Hunter Renfroe, Manuel Margot, Austin Hedges and Jose Pirela hitting the ground running. But if sought-after closer Brad Hand nails down the last out in the next World Series, he'll be doing it in another uniform. This season is about improving a rotation that was 12th in the NL with a 4.83 ERA.
11. Mets (last title 1986)
It's hard to believe that it was only in 2015 that we all thought Sandy Alderson had assembled a rotation that would keep the team from Queens in the postseason picture for years. Management hopes new manager Mickey Callaway, who had been the Indians' pitching coach, can rebuild hope with Noah Syndergaard, Jacob deGrom and Matt Harvey still in place. Shortstop Amed Rosario and first baseman Dominic Smith could lead the way back.
10. Orioles (last title 1983)
The Orioles are coming off a rare last-place finish, but they were only five games out of third place in the always rought-and-tumble American League East. The 2018 season could be their best shot for awhile with Manny Machado due to be a free agent after the season. Jonathan Schoop is coming off a breakout year and Baltimore still has other mashers like Adam Jones, Chris Davis and Mark Trumbo. The O's rotation will need an upgrade if they want to make a serious run.
9. Mariners (never won WS)
Ichiro Suzuki's old team has only reached the 80-win level twice in eight seasons, but it has an intriguing mix of name players in its stable. Lefty James Paxton has supplanted Felix Hernandez as the ace on a potentially solid staff. But GM Jerry Dipoto must fill holes at first base and in the outfield.
8. Rays (never won WS)
Tampa Bay fans have watched the teams that hired away Joe Maddon (Cubs) and Andrew Friedman (Dodgers) in the past two World Series. The Rays quietly made strides of their own last season, when they entered September in the crowded AL Wild Card race. A full year of Adeiny Hechavarria's defense will help, but the time may be right for the front office to deal Chris Archer for a big bat or two.
7. Pirates (last title 1979)
This could be the last stand for the Pirates behind Andrew McCutchen, who will be on the trading block if they're not seriously in contention by midseason. Gerrit Cole will be heavily sought after this offseason, but he is likely to stay put at least as long as McCutchen. Outside of a strong rookie season for Josh Bell, little went right in Pittsburgh last year. Ownership was wise to stay the course with Clint Hurdle and his staff, as the pieces are still in place for a 90-win season.
6. Rangers (never won WS)
It had to be tough for Texas' front office to watch Nolan Ryan ride in the Astros' World Series parade. It wasn't that long ago when North Texas was the place to be for October baseball. There's a ton of talent on this roster, but it's not getting any younger. General manager Jon Daniels knows he needs to add impact pitching, which is why the Rangers are following the Shohei Ohtani situation as closely as any team. He and Joey Gallo could make a great middle-of-the-order combination, when Ohtani isn't pitching, that is.
5. Rockies (never won a WS)
Free agency seems likely to take a heavy toll on the 87-win club, with Greg Holland, Mark Reynolds, Jonathan Lucroy and Carlos Gonzalez among those no longer on the roster. But don't sell a team with Nolan Arenado, Charlie Blackmon and a promising young rotation short. They're working to re-sign Lucroy, and they are excited about what they'll get from first baseman Ryan McMahon and a healthy Tom Murphy.
4. Brewers (never won WS)
Milwaukee arrived as serious contenders in 2017, at least one year ahead of schedule. The key is to pick up where it left off, with a 27-17 record after Aug. 11. The lineup is dangerous, especially in Miller Park, and Chase Anderson and Zach Davies can carry heavy loads in the rotation. Lefty Josh Hader is likely to move into the rotation, but a veteran arm could go a long way. It's easy to see the Brewers as a possible landing spot for Jacob Arrieta. He'd be a game-changer there.
3. Nationals (never won WS)
Dave Martinez inherits a team that is ready to get the October monkey off its back. Stephen Strasburg and Max Scherzer are the best 1-2 combination of starters going, and the bullpen is better than it's ever been, thanks to the 2017 additions of Sean Doolittle and Ryan Madson. Look for big things from Adam Eaton, who'll play alongside Bryce Harper and Michael A. Taylor in the outfield.
2. Indians (last title 1948)
It was stunning to see these guys lose three straight games to the Yankees after taking a 2-0 lead in the AL Division Series. The 2017 Cleveland team was better than the one that almost won the World Series in '16, and it could be just as good next season. Re-signing Carlos Santana and getting Jason Kipnis back on track would be major steps.
1. Dodgers (last title 1988)
This is a powerhouse that has gone one step deeper into the postseason each of the past two years, winning the NLDS in 2016 and the NLCS in '17. There's only one more step to take. It's going to be interesting to see how aggressive the front office is after losing Game 7 to Houston. The arrival of Walker Buehler offsets the loss of Yu Darvish to free agency, but count on Friedman and GM Farhan Zaidi to make a major move for help, either this offseason or at midseason. Barring an extension, Clayton Kershaw may opt out of his contract after next season. Is it now or never?
Phil Rogers is a columnist for MLB.com.