Classic departures giving De Jong added exposure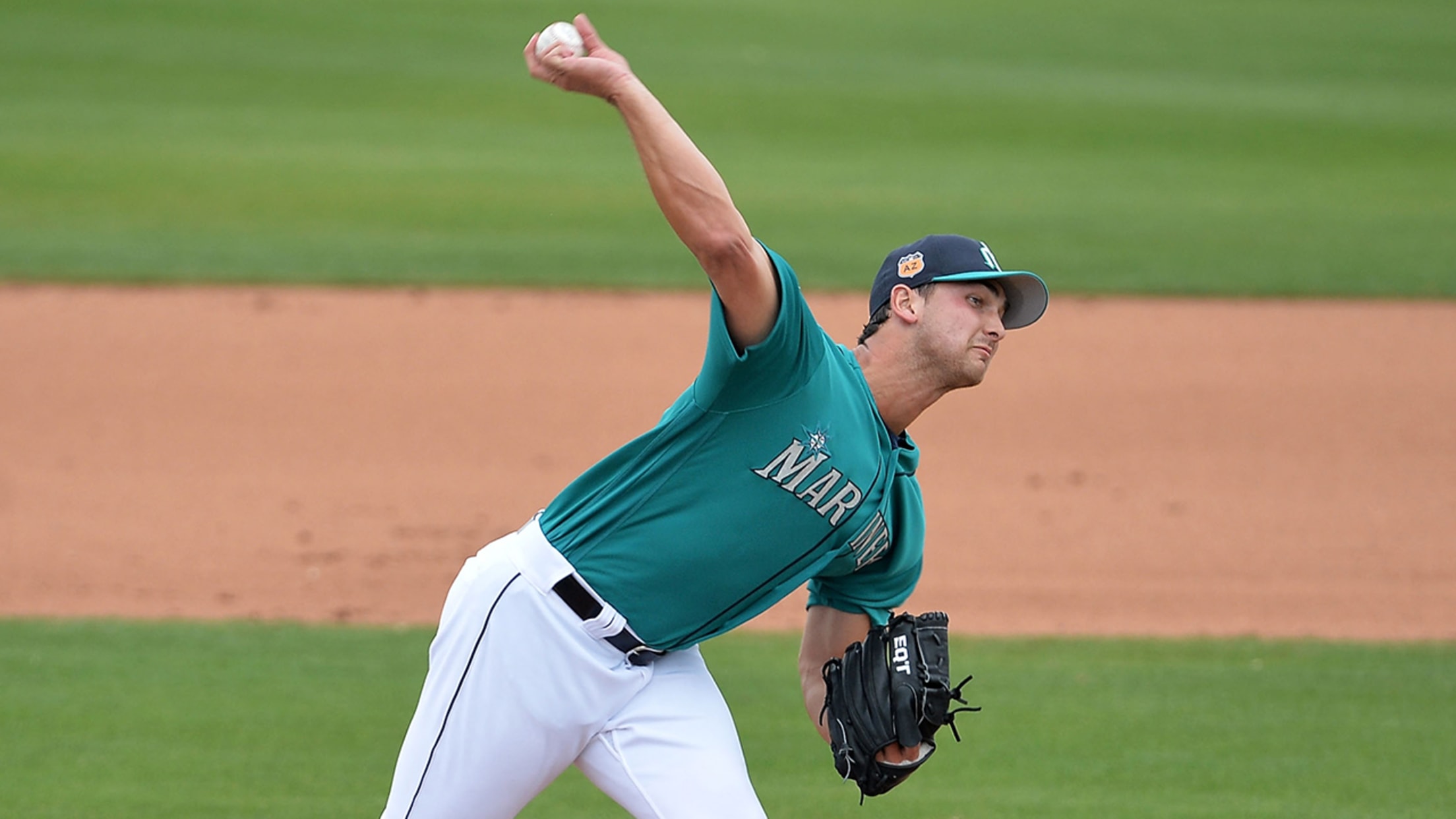 Chase De Jong ranks as the 15th-best prospect in the Mariners' system, per MLB Pipeline. (Getty Images) (Jennifer Stewart/Getty Images)
PEORIA, Ariz. -- The departure of three starting pitchers to the World Baseball Classic has opened up opportunities for some of Seattle's young arms to show their stuff and one of those, newly acquired right-hander Chase De Jong, will get the first Cactus League start of his career on Saturday
PEORIA, Ariz. -- The departure of three starting pitchers to the World Baseball Classic has opened up opportunities for some of Seattle's young arms to show their stuff and one of those, newly acquired right-hander Chase De Jong, will get the first Cactus League start of his career on Saturday when the Mariners host the Reds.
De Jong was the latest trade target of general manager Jerry Dipoto after being named the 2016 Texas League Pitcher of the Year for Double-A Tulsa in the Dodgers' organization.
The California native turned down his own chance to pitch for the Netherlands in the Classic because he wanted to focus on his first time being on a 40-man roster in Major League camp with the Dodgers. That decision seems even wiser now, since he would have had to leave the Mariners immediately upon arrival following the March 1 trade that brought him to Seattle for Minor League shortstop Drew Jackson and reliever Aneurys Zabala.
"That would have been very strange," De Jong acknowledged. "I'm happy with the way things worked out. There's a lot of people here that have to see me pitch."
The 23-year-old threw two innings in relief against the A's on Sunday, allowing three hits and two runs (one earned). He's eager to get his first opportunity in a starting role in the 12:10 p.m. PT contest with the Reds at Peoria Stadium.
"It'll be nice to go through my full routine as a starter," De Jong said. "I think it might be a little more comfortable for me. It's a good opportunity to be able to be on the same page with the catcher I'm with from the very start, and I'm supposed to cover three innings, so that will be a good work load. I'm really looking forward to it."
De Jong went 15-5 with a 2.82 ERA in 25 starts for Tulsa and one for Triple-A Oklahoma City last season, and he will likely open this year with Triple-A Tacoma. He ranks as Seattle's No. 15 prospect, according to MLB Pipeline.
"He's got all four pitches and throws a ton of strikes," manager Scott Servais said. "He doesn't back off, he doesn't try to overpower the ball. I think he kind of knows who he is. There's still room for growth. He is young and had a very nice year last year. He probably slides right into our Triple-A rotation and hopefully provides some depth as we move along."
De Jong sees the opportunity for some added exposure with Felix Hernandez, Yovani Gallardo and Drew Smyly all missing for now, but he understands the situation.
"I try not to play GM," De Jong said. "The only thing I can do is make sure I've prepared myself to be able to help out when my name is called. That's my mindset, just be prepared and able to help out the team."
And that approach, De Jong said, is something he has gradually learned since being drafted in the second round by the Blue Jays in 2012.
"My first couple years, I was very selfish and it was all about me and putting up good numbers," De Jong said. "But this game humbles you very quickly. And once I switched my mindset from 'me, me, me' to 'I'm here to try to help out a team and cover my innings and do what I can to put us in the win column,' then the success started to follow. I think the different mindset is the reason that's been happening the last couple years."
Greg Johns has covered the Mariners since 1997, and for MLB.com since 2011. Follow him on Twitter [
---
@GregJohnsMLB]() and listen to his podcast.