Inbox: Who will pitch for Mariners in 2019?
Beat reporter Greg Johns answers questions from fans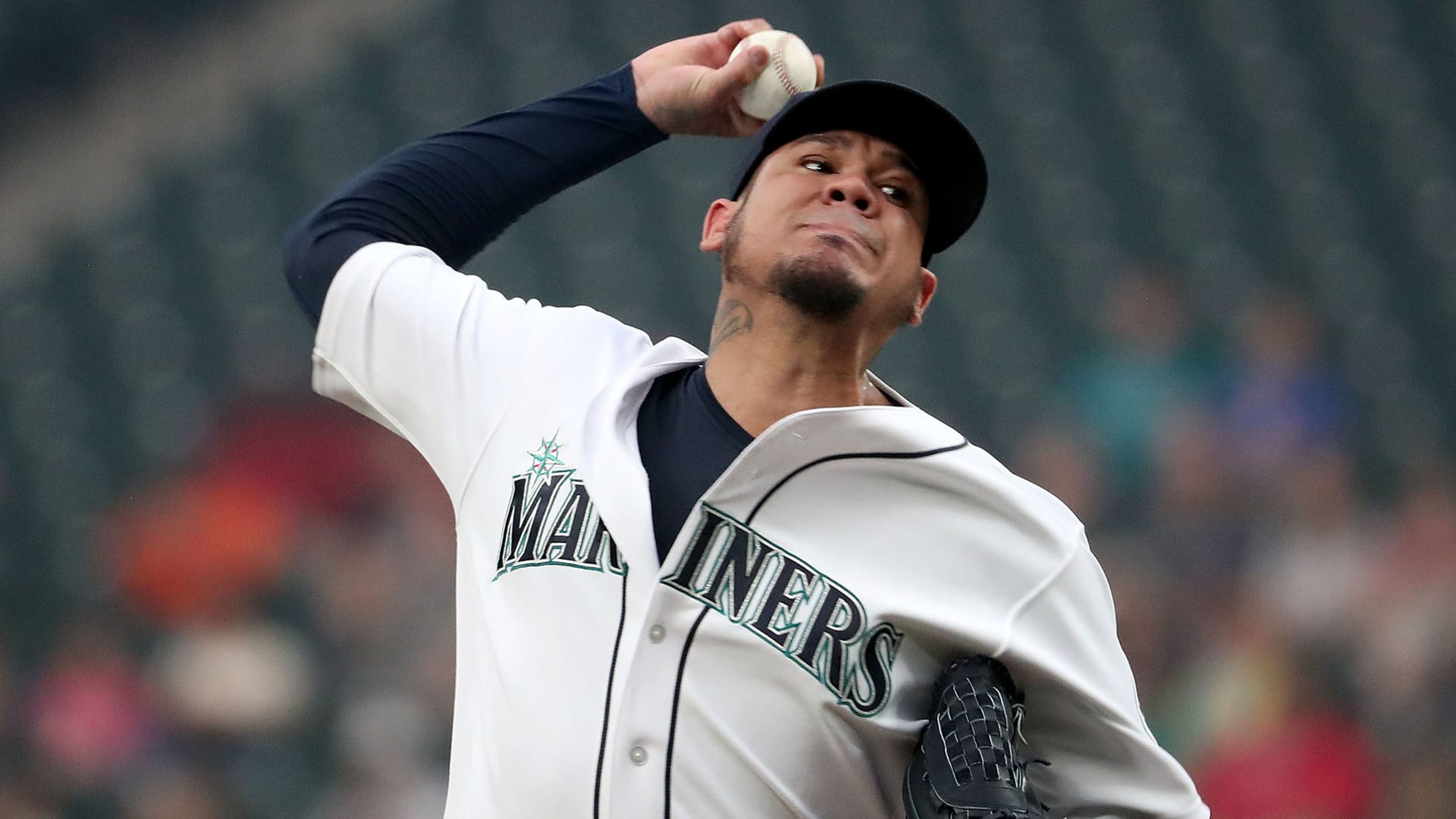 SEATTLE, WA - AUGUST 20: Felix Hernandez #34 of the Seattle Mariners pitches against the Houston Astros in the first inning during a game at Safeco Field on August 20, 2018 in Seattle, Washington. (Photo by Abbie Parr/Getty Images) (Abbie Parr/Getty Images)
Now that the Mariners got rid of their best starter and most of their best relievers, who's going to pitch for them next season? -- Garry S., Spring Lake, Mich.That is a good question that figures to be answered better in the coming weeks. After six trades already to start
Now that the Mariners got rid of their best starter and most of their best relievers, who's going to pitch for them next season?
-- Garry S., Spring Lake, Mich.
That is a good question that figures to be answered better in the coming weeks. After six trades already to start the "step back" plan by general manager Jerry Dipoto with a focus on 2020 and beyond, the Mariners still could field a relatively competitive offensive club next year, though their pitching has some large holes.
Admittedly, there are some big "ifs" involved on the offense, but if newly acquired veterans Carlos Santana and Jay Bruce remain, and holdovers Dee Gordon and Kyle Seager (as well as Bruce) bounce back from injury-challenged 2018 seasons, there is some power and speed to go along with Mitch Haniger and Ryon Healy as well as young newcomers Mallex Smith, J.P. Crawford and Omar Narvaez. Four of those players have been All-Stars, while five have had 25-plus homer seasons, so the cupboard isn't bare.
:: Submit a question to the Mariners Inbox ::
The rotation now looks like Marco Gonzales, Mike Leake, Wade LeBlanc and Felix Hernandez, with top prospectsJustus Sheffield and Erik Swanson -- the two starters acquired from the Yankees in the James Paxton trade -- waiting in the wings. I expect Dipoto will add another starting candidate in the coming weeks to bolster that group.
The bullpen is an even bigger question, given the trades of Edwin Diaz, Alex Colome, James Pazos and Juan Nicasio, and the release of Nick Vincent, eliminated five pitchers who combined for 268 innings, 59 saves and a 3.06 ERA in 2018. Of the nine Seattle relievers who made more than 20 appearances last season, the only returners are Chasen Bradford and Dan Altavilla.
So, yes, Dipoto will undoubtedly focus now on some help for the pitching staff beginning on Monday at the Winter Meetings in Las Vegas.
What do you think they will honestly end up doing with Felix?
-- Dan W., Seattle
As noted, Hernandez pencils into the rotation out of necessity. There is no trade market for his $27 million contract after coming off a rough 2018 season, so the Mariners will give their longtime ace the opportunity to show where he's at this spring.
If things don't go well, Sheffield and Swanson could get the call quicker than expected. I don't envision Hernandez being the Opening Day starter, but I do suspect he'll at least begin the 2019 season in the rotation if he's healthy.
With the additions of Santana and Bruce, where does that leave room for Healy? I'm noticing another log jam of players if we don't do another trade?
-- Mason L., Portland, Ore.
Either of those veterans could be flipped in another deal by Spring Training. Santana, in particular, is a player who could be moved soon to a team looking for a capable run producer. Bruce, a three-time All-Star who is only a year removed from a 36-homer, 101-RBI season, seems more likely to open the year in left field with a chance to see if he can bounce back from an injury-plagued season to improve his trade market.
If both stay, Bruce would play left field, leaving Santana and Healy to split the duties at first base and designated hitter, with Daniel Vogelbach also in that mix. And, yes, there's still plenty of time for further moves.
What happened with Art Warren? Why not protect him when they had 40-man roster room?
-- Sean F., Seattle
The big right-hander indeed will be available to other teams in the Rule 5 Draft on Thursday, Dec. 13, but there are reasons the club's No. 19 prospect, according to MLB Pipeline, wasn't promoted to the 40-man roster. After a breakout 2017 in Class A Advanced ball, Warren pitched just 14 games last year at Double-A Arkansas due to shoulder issues, and he was completely shut down in early July. Any team taking him in the Rule 5 Draft would need to guarantee a 25-man roster spot for the entire season to a guy with just 15 2/3 innings of experience above Class A who has been dealing with a troublesome shoulder.
Now that the Mariners traded Cano, do you think that opens the door for Nelson Cruz to be brought back as designated hitter?
-- C.J., Grand Prairie, Texas
No, that ship has sailed. As much as the Mariners love Cruz as a person and an offensive producer, the plan being put into place now clearly is focused on getting younger and more financially flexible with their roster while regrouping for a more realistic playoff push in 2020 and beyond.
Re-signing a 38-year-old designated hitter to a sizeable one- or two-year free-agent contract doesn't fit into that approach for either side, as Cruz likely will seek a team in win-now mode in what well could be his final MLB contract.
Any word on when tickets for the Japan series go on sale?
-- Henry F., Melbourne, Australia
The club just announced on Wednesday that a limited number of fan travel packages that include five nights of hotel, airfare, tickets and other benefits are available for $2,999 per person.
Single-game tickets for the two regular-season games in Tokyo against the A's as well as two exhibition games against Japanese teams will be available to Mariners season-ticket holders starting on Jan. 25, and to the general public on Feb. 1. More information is available at www.mariners.com/Japan.
The Mariners have a history of high prospect busts. Will Dipoto's scouting and development team be better?
-- Tim A., Vancouver, Wash.
Not hitting on a string of high Draft picks and prominent prospects in the past indeed has haunted the Mariners. But there have been a few recent success stories. Dipoto and his crew deserve full credit for seeing the potential in Haniger and Gonzales, and also identifying Diaz's strengths and developing him quickly into an All-Star closer.
Without question, Dipoto also traded away some quality prospects in the past three years in an effort to bolster the veteran core he inherited. His focus now has shifted. For this rebuild to succeed, drafting and development will be even more critical. And only time will tell.