Paxton crisp early in Minors start
Mariners' lefty in race for final spot in team's rotation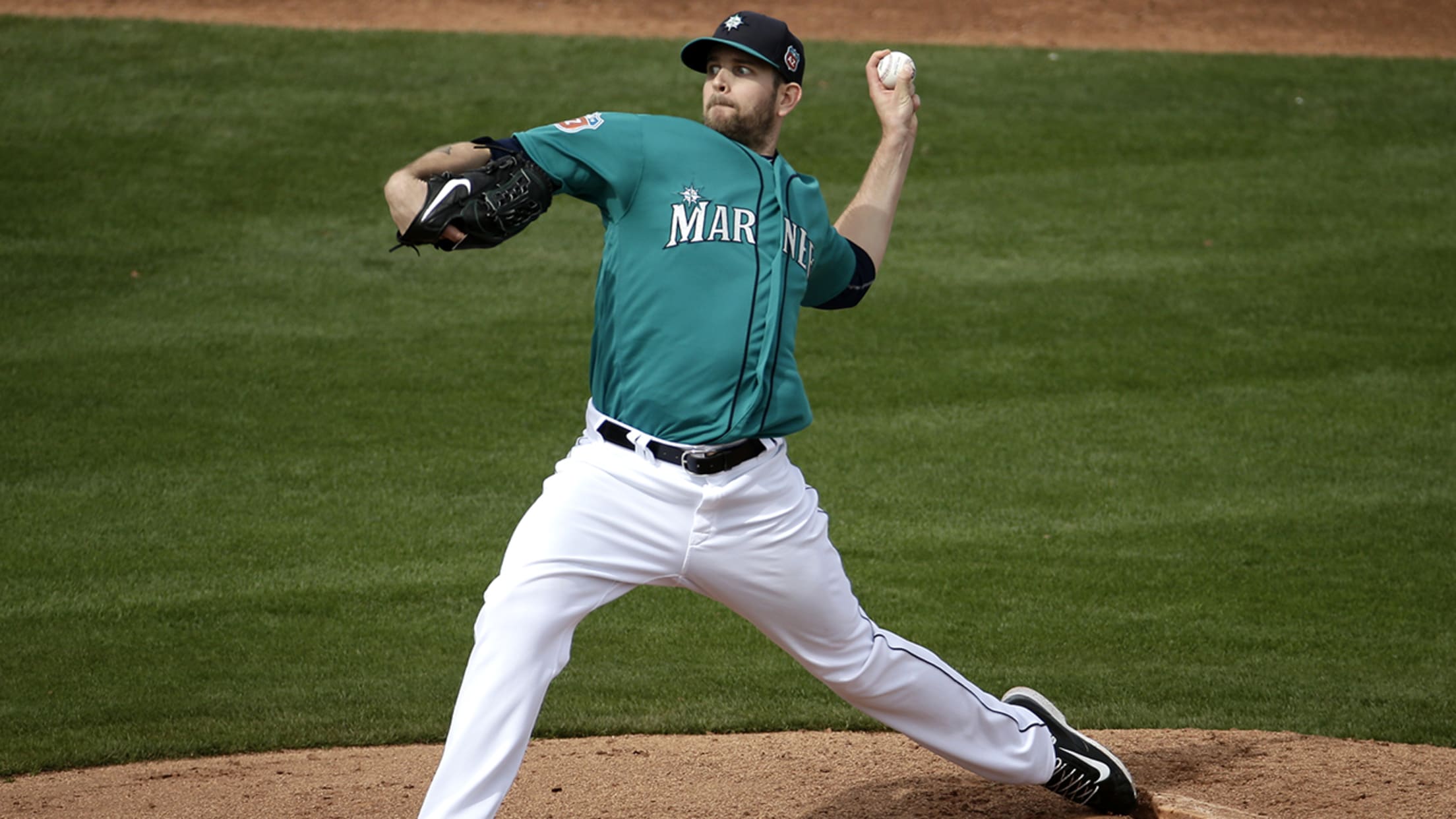 Mariners pitcher James Paxton showed dominant stuff Tuesday in a Minor League game. (Charlie Riedel/AP) (Charlie Riedel/AP)
PEORIA, Ariz. -- Though the crowd was limited to a few dozen spectators and some interested scouts and media members, Mariners left-hander James Paxton put on a solid display for his manager and coaching staff on Tuesday with five innings of two-run ball against the White Sox's Triple-A club.While the
PEORIA, Ariz. -- Though the crowd was limited to a few dozen spectators and some interested scouts and media members, Mariners left-hander James Paxton put on a solid display for his manager and coaching staff on Tuesday with five innings of two-run ball against the White Sox's Triple-A club.
While the rest of the Mariners' Major League roster was enjoying their first off-day of Spring Training, Paxton took the hill on a practice field at the Peoria Complex in order to stay on schedule and get his work in as he continues competing with right-hander Nathan Karns for the team's final rotation berth.
• Servais in no rush to name fifth starter
Though Paxton gave up a pair of home runs in his final two frames, he struck out eight with just one walk while allowing four hits in a 73-pitch performance. And that was a welcome showing after the 27-year-old Canadian had allowed seven runs on six hits with four walks in a two-plus-inning struggle in his previous Cactus League outing last Thursday against the A's.
"It felt really good," Paxton said. "I was just working on getting extension. That's what I was working on in the bullpen this week, to get my curveball spinning a little tighter. Really kind of reaching out there for the glove and getting that tight spin back."
Paxton zipped through his first three frames with just one hit -- a two-out double in the third -- while racking up six strikeouts. He gave up a one-out homer in the fourth on a fastball after falling behind 3-1, then surrendered a leadoff shot to center in the fifth on a first-pitch heater.
His fastball was clocked at 93-94 mph on scouts' radar guns. While he's been known to throw harder than that in the regular season, that's a couple ticks up from his early Cactus League outings.
"I think definitely reaching toward the mitt a little more and getting that extension has helped my fastball velocity," he said. "It's forcing me to get through the ball a little more. But Spring Training, it's not really about velocity. You start to ramp it up a little now, but you get that big adrenaline when you get out under the lights and get everything started."
Paxton said he wasn't bothered by the lack of atmosphere pitching in a Minor League game on the backfields of Peoria.
"I was just focused on executing pitches and just being focused out there," he said. "That was it."
Paxton said he's in a good spot with his pitch count, figuring he's on track to reach 90-100 pitches in his final two spring starts and then be ready to roll for the regular season.
And for a guy who has had injury issues limit his workload to 13 starts each of the last two seasons, the most important thing is he's at full strength physically as the countdown nears.
"I feel great," he said. "Healthy and ready to go."