Classic participation an honor for Mariners
11 players from organization will represent their country in tournament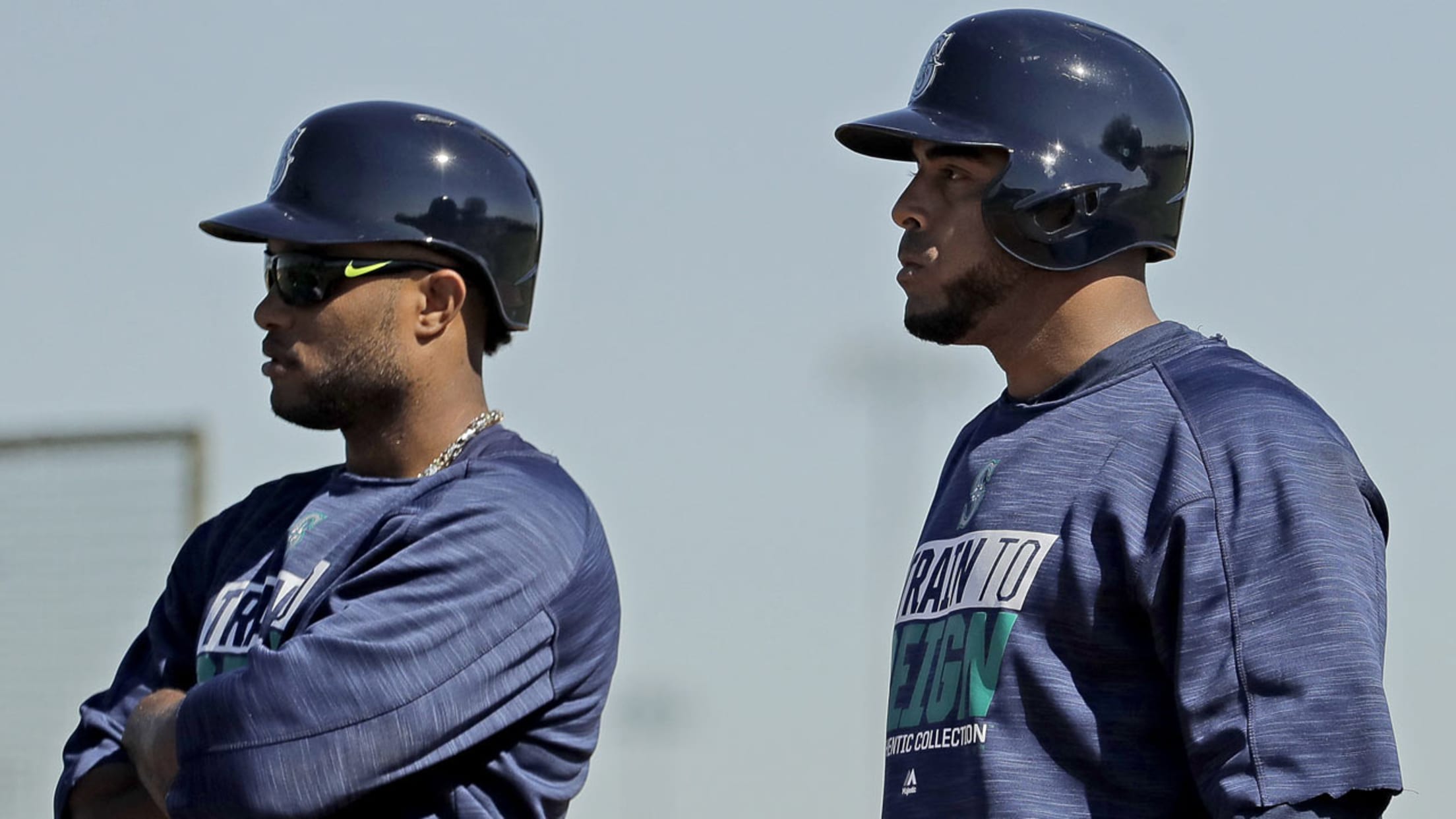 Robinson Cano and Nelson Cruz are among the 11 Mariners who will participate in the 2017 World Baseball Classic. (AP)
PEORIA, Ariz. -- Inside the Seattle Mariners' clubhouse, participating in the World Baseball Classic isn't a decision."It's an honor," pitcher Felix Hernandez said.That's the bottom line for dozens of Major Leaguers -- especially those from smaller countries like Hernandez's native Venezuela.• World Baseball Classic ticketsAnd there are those players from
PEORIA, Ariz. -- Inside the Seattle Mariners' clubhouse, participating in the World Baseball Classic isn't a decision.
"It's an honor," pitcher Felix Hernandez said.
That's the bottom line for dozens of Major Leaguers -- especially those from smaller countries like Hernandez's native Venezuela.
• World Baseball Classic tickets
And there are those players from the Dominican Republic, the Classic's 2013 champions.
"We have dreams in the Dominican," Mariners designated hitter Nelson Cruz said. "One is to play in the big leagues. The other is to represent our country."
Another Mariner, second-year reliever Edwin Diaz of Puerto Rico, attended Classic games with his family as a youngster and vowed to be part of the event one day.
"I've used the WBC to motivate myself," he said. "To be able to represent Puerto Rico and to play and see our fans happy would be great."
The World Baseball Classic is a particularly big deal around the Mariners -- with 11 players, including Minor Leaguers, participating. That includes the franchise's three biggest stars: Hernandez, Cruz and second baseman Robinson Cano, also of the Dominican.
"This is the only chance you get to represent your country," said Cano, who batted .469 in the 2013 WBC and was named Most Valuable Player. "And it's the only time Dominican fans get to see all of us together. Even in winter ball, we play all over the place."
Since the quality of the baseball in the Dominican is so good, just being invited to participate is an achievement in itself.
"Oh yeah, for sure," Cano said. "We have guys in the Minor Leagues that are really good players. To be part of this team is an honor."
Cano and Cruz are playing in the Classic for the third time. They led the Dominicans to an 8-0 record in 2013, and both remember it fondly.
:: 2017 World Baseball Classic ::
"It's like going to the World Series," Cruz said. "You have that much passion for the game. We breathe baseball 24/7 in the Dominican, and the expectations for the country are so high."
And there's the joy of being around some of his closest friends.
"It's like winter ball," Cruz said. "We have so much fun. We're from the same culture. We don't have to limit ourselves, [or worry] that maybe the other team doesn't like [what we're doing]. We have the same culture. We play free."
Cruz means that the crowds will be noisy and that players feel free to show more emotion than they're sometimes comfortable with in the Major Leagues. He has a ticket list of more than two dozen family and friends to take care of for the opening round.
For Yovani Gallardo, this is his second Classic.
"Just to get together with other guys from the same country, it's a one-time deal," said Gallardo, who will play for Mexico. "It's a different kind of baseball. Obviously, you've got countries going at it, so it's like a soccer game -- nonstop noise from the first pitch to the last out. It's fun."
Mariners manager Scott Servais, who won a gold medal as part of the USA team in the 1988 Olympics, understands why players want to participate.
"It was a great honor, awesome," Servais said. "I was a much, much younger player, obviously. It was even bigger feelings at that point, because I didn't know if I was ever going to play in the big leagues. I thought it might be the ultimate thing I ever do in baseball."
Servais said having so many players in the WBC 2017 might even help his club in the American League West, which might be the most competitive division in baseball.
"With as tight as our division is going to be this year, every game is important -- and it helps if you get off to a good start," Servais said. "Hopefully, by those guys playing in the [highly competitive] games early, maybe that helps."
• Rules for 2017 WBC
Beyond that, though, is the idea of playing for one's country. That's the thing every player mentions over and over.
"It's not a secret that our country is not in a good situation," Hernandez said. "Just to give our fans some happiness by winning the WBC, that would be special for them. It's just going to be fun -- and we want to win."
The World Baseball Classic runs from March 6-22. In the U.S., games will air live exclusively in English on MLB Network and on an authenticated basis via MLBNetwork.com/watch, while ESPN Deportes and WatchESPN will provide the exclusive Spanish-language coverage. MLB.TV Premium subscribers in the U.S. will have access to watch every tournament game live on any of the streaming service's 400-plus supported devices. Internationally, the tournament will be distributed across all forms of television, internet, mobile and radio in territories excluding the U.S., Puerto Rico and Japan. Get tickets for games at Marlins Park, Tokyo Dome, Gocheok Sky Dome in Seoul, Estadio Charros de Jalisco in Mexico, Petco Park, as well as the Championship Round at Dodger Stadium, while complete coverage -- including schedules, video, stats and gear -- is available at WorldBaseballClassic.com.
Richard Justice is a columnist for MLB.com. You can follow him on Twitter @richardjustice.