Mariners make promotions in baseball operations
Hollander named assistant GM; Manning to be assistant farm director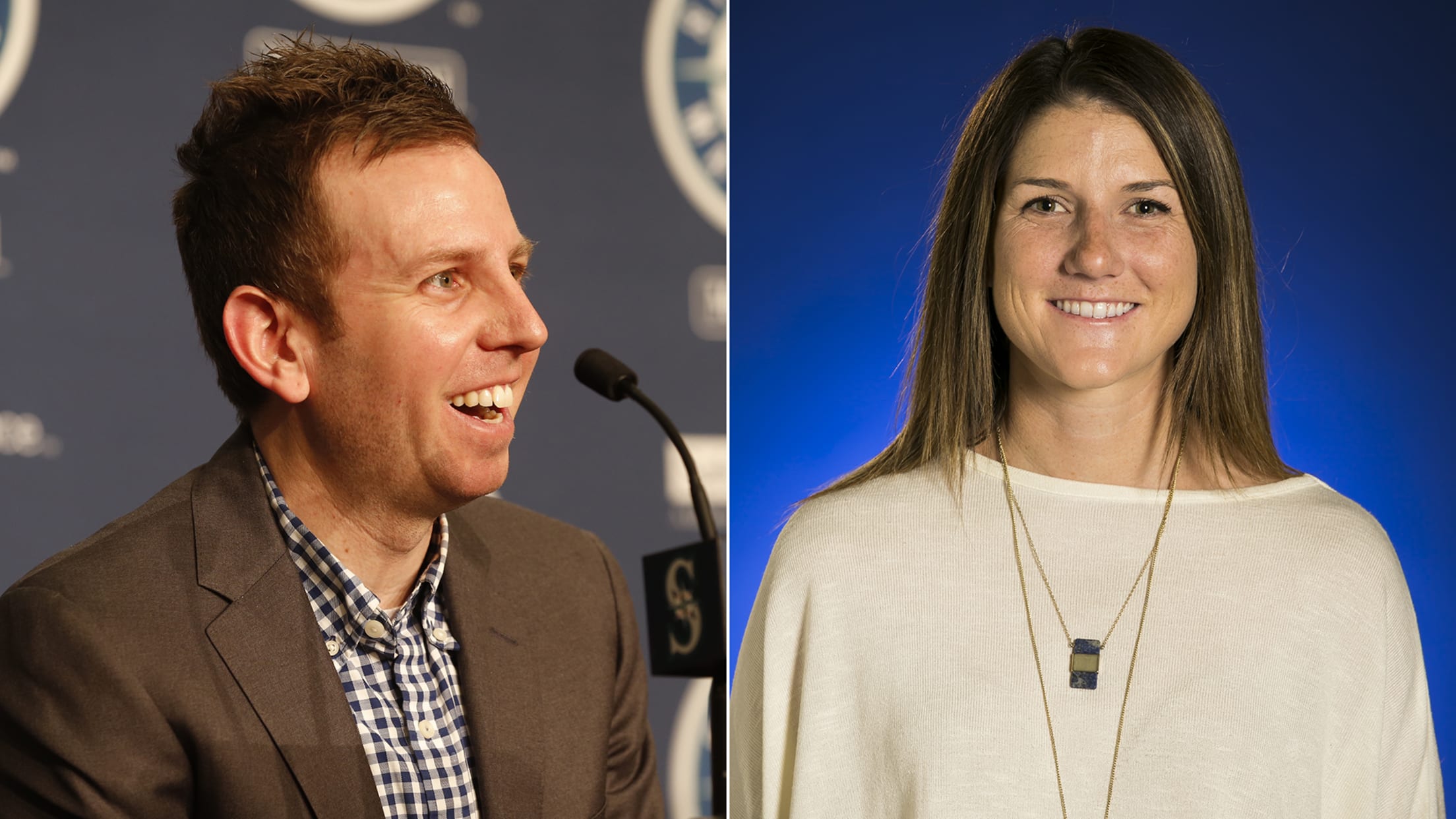 SEATTLE -- Justin Hollander and Leslie Manning, two key members of the Mariners' front office, were among a dozen members of the club's baseball operations department who received promotions on Thursday.Hollander, Seattle's director of baseball operations the past two years, was promoted to assistant general manager under GM Jerry Dipoto.Hollander
SEATTLE -- Justin Hollander and Leslie Manning, two key members of the Mariners' front office, were among a dozen members of the club's baseball operations department who received promotions on Thursday.
Hollander, Seattle's director of baseball operations the past two years, was promoted to assistant general manager under GM Jerry Dipoto.
Hollander was hired from the Angels' front office in 2016 to work with Dipoto and vice president and assistant GM Jeff Kingston on acquiring players, negotiating contracts and coordinating the 40-man roster and statistical research.
"Justin has made real impact in all aspects of our operations since coming aboard in 2016," Dipoto said in a statement. "This promotion is much deserved and better defines his contributions to the organization. Justin, Jeff and the rest of our baseball operations team will continue to collaborate in our ongoing effort to build a championship organization."
Manning, after two years as coordinator of professional development, will now expand her duties to include assistant director of player development under Andy McKay, making her the assistant farm director.
Before coming to Seattle, Manning was the director of baseball operations at Santa Clara University in 2016-17. She also is the founder of NextStep Baseball and previously worked in the Office of the Commissioner of Baseball in New York as well as in baseball operations for the D-backs and for Short Season and Class A Advanced affiliates for the Rockies and Red Sox.
"Over the past two years, Leslie has earned the trust and respect of our staff and players," McKay said. "Her ability to create clarity and bring accountability to our process is unparalleled. In her new position, she will have a wider reach and will ensure that our actions meet our words throughout the entire organization."
Additional promotions announced by the club:
• Emanuel Sifuentes promoted to player personnel manager from coordinator of video advanced scouting.
• Joel Firman promoted to manager of analytics from analyst.
• Tim Stanton promoted to manager, baseball operations from coordinator, amateur scouting.
• David Hesslink promoted to coordinator, baseball operations from assistant, baseball operations.
• Andrew Herrera promoted to coordinator of scouting from assistant, baseball operations.
• Ty Bowman promoted to assistant coordinator of scouting from Midwest area scout.
• Frankie Piliere promoted to coordinator of advanced scouting from the Mariners Scout Development Program.
• Skylar Shibayama promoted to assistant advanced scout from analytics intern.
• Ben Aronow promoted to analyst from analytics intern.
• Forrest Diamond promoted to analyst from analytics intern.