Mariners prospects honing skills in winter ball
Outfielder Miller, first baseman White among names to watch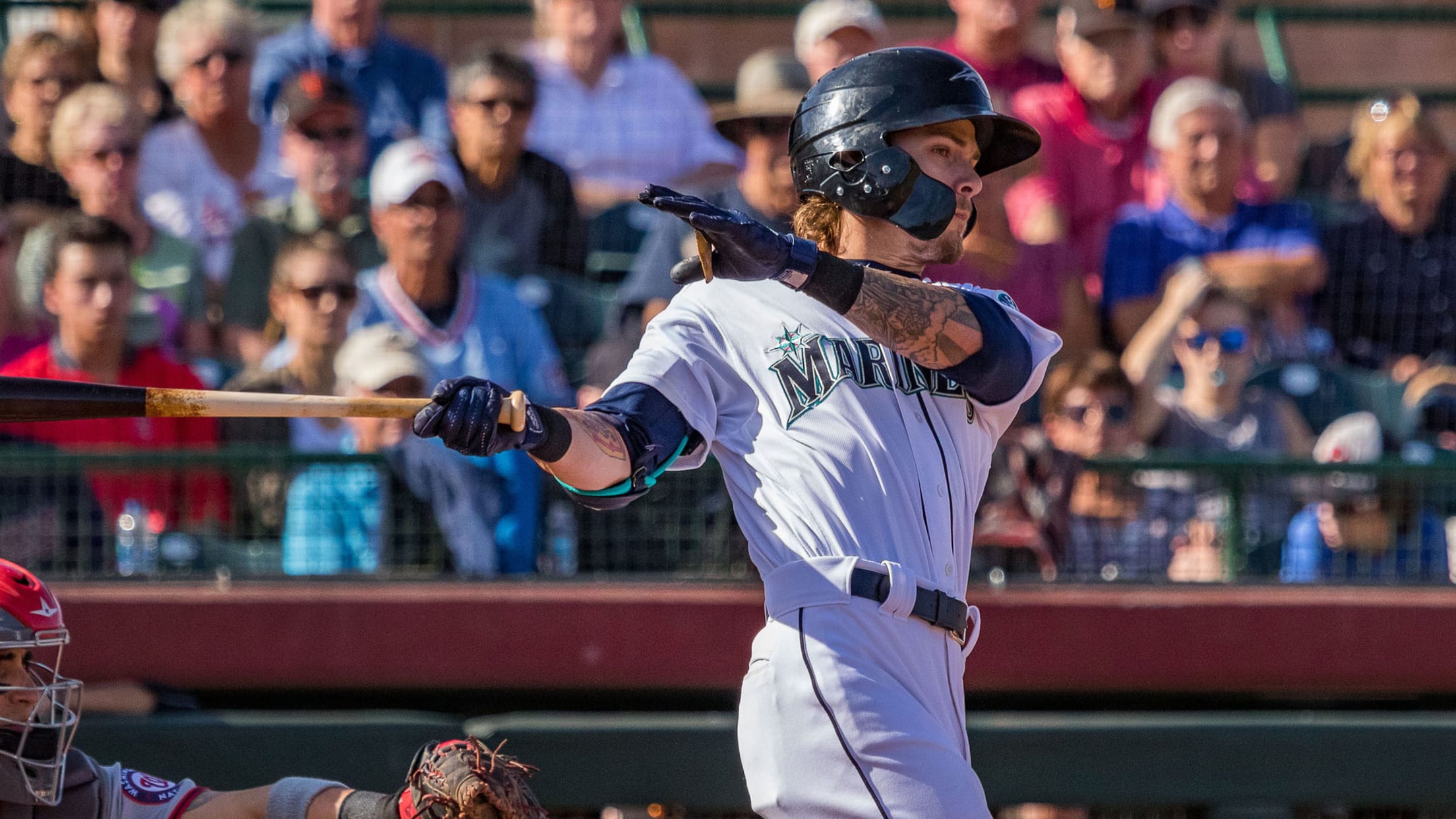 SEATTLE -- While the Mariners don't have a large group of youngsters taking part in winter ball this offseason, those that have gotten in extra work have made the most of their opportunities, including seven prospects who recently helped Peoria win the Arizona Fall League championship.Outfielder Ian Miller, ranked by
SEATTLE -- While the Mariners don't have a large group of youngsters taking part in winter ball this offseason, those that have gotten in extra work have made the most of their opportunities, including seven prospects who recently helped Peoria win the Arizona Fall League championship.
Outfielder Ian Miller, ranked by MLB Pipeline as the Mariners' No. 23 prospect, has continued on to the Mexican Winter League after his AFL experience and is off to a hot start for Culiacan, batting .423 (11-for-26) with three doubles and a home run in his first six games.
The 26-year-old center fielder hit .261/.333/.327 with 33 stolen bases in 114 games for Triple-A Tacoma last season, then batted .246/.368/.351 in 18 games in the AFL before venturing on to Mexico.
"Ian continues to make solid progress," said Mariners director of player development Andy McKay.
First baseman Evan White was the biggest Mariners name in the AFL group. Seattle's No. 3 prospect posted a .257/.333/.429 line with two homers and 14 RBIs in 18 games, though he was slowed by a sore hip in the final weeks.
It was a solid showing for the 22-year-old defensive standout, who made the jump from Class A Advanced Modesto and held his own in the AFL against some of the top prospects in baseball.
"Evan definitely showed he can compete with those players," said McKay. "Everybody we talk to keeps saying, 'Wow, this is a really good baseball player.' He opens eyes every time he goes out there."
Chris Mariscal, a 25-year-old infielder, took advantage of his AFL experience to hit .381 (16-for-42) in 11 games. The Fresno State product posted a .261/.343/.360 line with seven homers and 60 RBIs in 120 games for Double-A Arkansas last season and while he's not ranked among the Mariners' Top 30 Prospects, he remains a player to watch.
"Chris has been a really good player for us and certainly is on our radar," McKay said. "He's a real prospect and he's proved it by his performance every year. In limited playing time, he really took advantage of his opportunities [in the AFL]."
The Mariners were also pleased by the progress of converted catcher Joe DeCarlo, who hit .262/.418/.333 with 12 walks in 14 games for Peoria. DeCarlo was drafted in the second round in 2012 as a high school third baseman but moved to catcher two years ago. He played this past year at Double-A.
"He's getting more and more catching reps, which is really what he needs," McKay said. "When you watch him catch now, he doesn't look like a converted infielder anymore. He looked like a Fall League-caliber catcher, which is great."
Seattle also had several pitchers perform well in the AFL, led by young side-arming reliever Wyatt Mills out of Gonzaga. Mills, a third-round Draft pick in 2017, posted a 1.93 ERA with eight hits in 9 1/3 innings over eight relief outings for Peoria. The 23-year-old right-hander is the Mariners' No. 11 prospect.
Anthony Misiewicz (No. 30 prospect) rebounded from a rough first outing to post a 2.76 ERA in five AFL starts. The lefty allowed just one run on 10 hits over 15 innings in his final four appearances.
David McKay went 2-1 with a 3.72 ERA in 10 relief appearances for Peoria, striking out 11 in 9 2/3 innings, while Matt Walker struggled with a 10.00 ERA in nine relief appearances after pitching well for Arkansas in the regular season.
"Every one of the pitchers had enough positive things going on that they can walk out feeling very confident that this is about the highest level you can get to outside of Majors and they all did some good things," said Andy McKay.
Liberato heats up
Outfielder Luis Liberato, the Mariners' No. 27 prospect, finally warmed up over the weekend in the Dominican Winter League as he went 4-for-7 with a double, triple, home run and three RBIs in back-to-back games for Leones del Escogido.
The 22-year-old native of the Dominican Republic, who played for Modesto last season, is batting .233/.298/.419 with one homer and four RBIs in 19 games for Escogido.