Mariners don't take chances with Simmons' forearm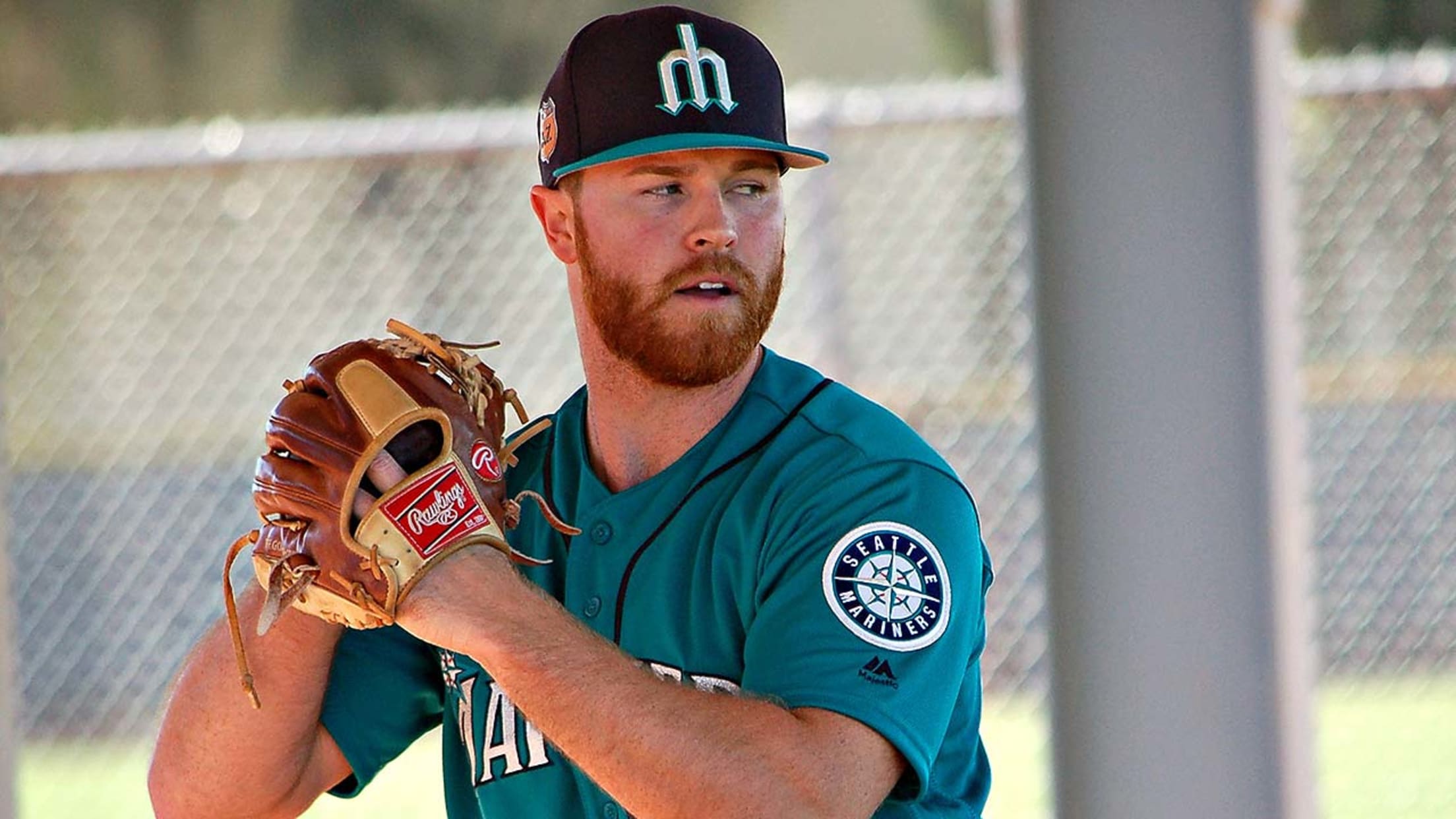 Bullpen hopeful Shae Simmons was shut down at the end of '16 with a sore forearm. (Greg Johns)
PEORIA, Ariz. -- Right-handed reliever Shae Simmons was taken out of Saturday's 7-6 win over the Reds in the middle of the seventh inning due to tightness in his forearm, but manager Scott Servais said the move was precautionary."Our trainer noticed it right away, and now is not the time
PEORIA, Ariz. -- Right-handed reliever Shae Simmons was taken out of Saturday's 7-6 win over the Reds in the middle of the seventh inning due to tightness in his forearm, but manager Scott Servais said the move was precautionary.
"Our trainer noticed it right away, and now is not the time to take any chances," Servais said. "There are no heroes at this time of year. We'll take a look at him and see how he is."
Simmons allowed a leadoff homer in the seventh and then a one-out single before being removed. He was also hit hard in his last outing, giving up three hits and four runs (three earned) with two walks in two-thirds of an inning in a "B" game against the Padres.
The hard-throwing 26-year-old is competing for a spot in the Mariners' bullpen after being acquired from Atlanta, where he missed all of 2015 and part of last season following Tommy John surgery.
Simmons, who posted a 2.91 ERA in 26 outings for the Braves as a rookie in '14, pitched in seven games for Atlanta in September 2016 but was shut down again in the final weeks with a sore forearm. It's not certain yet if Saturday's issue is related.
"He did have Tommy John at one point, but he got back last year and he's been fine all camp and feeling good," Servais said. "We don't want to get out ahead of ourselves. We'll see how it feels tomorrow and see what the doctors say."
De Jong looks to learn from first start
Chase De Jong wanted to leave a better impression in the first Cactus League start of his career, but the newly acquired Mariners right-hander battled through three innings against a pretty representative Reds lineup on Saturday and chalked it up as a good learning experience.
The 23-year-old allowed four hits and three runs in his 48-pitch day, and he is projected to get another start in five days for the Mariners' short-handed rotation, unless reinforcements arrive back soon from the World Baseball Classic.
"I worked behind a lot and that gets me into predicable counts and that's when I get hurt," De Jong said. "So I'll just try to be better at that. Getting ahead and staying ahead is my whole game. I strayed a little away from that. I made a few pitches when I needed to and got hurt when I didn't. That's just how it went today."
Worth noting
• Former Yankee prospect James Pazos bounced back from a rough outing Thursday with a 1-2-3 ninth Saturday, which included two strikeouts. Pazos remains in the battle for a left-handed relief spot.
• Servais was pleased again by the at-bats of catcher Mike Zunino, who went 1-for-2 with a double and a walk and is hitting .368 on the spring.
• Single-game tickets for the regular season went on sale Saturday morning through all outlets, and team officials said initial sales were brisk. Tickets are available online at mariners.com.
Greg Johns has covered the Mariners since 1997, and for MLB.com since 2011. Follow him on Twitter [
---
@GregJohnsMLB]() and listen to his podcast.