Walker's next start in doubt as foot injury flares up
Seattle righty exits after allowing 5 runs on 3 HRs vs. Astros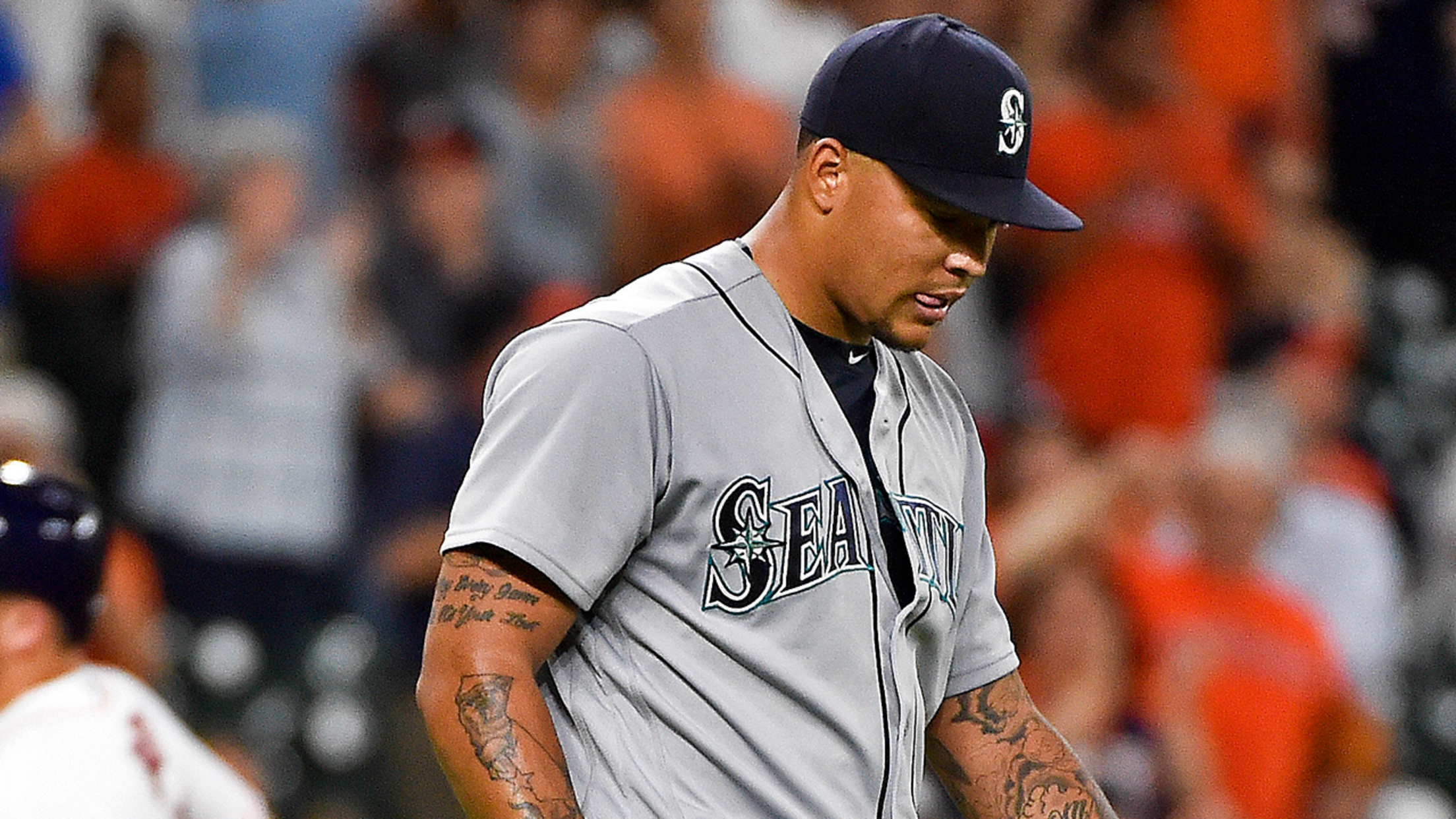 Mariners lefty Taijuan Walker reacts after giving up his third home run against Houston on Tuesday night. (AP)
HOUSTON -- Taijuan Walker was removed after four-plus innings in Tuesday's 5-2 loss to the Astros at Minute Maid Park and it appears the Mariners will need to shut down the right-hander due to ongoing problems with his right foot.Walker has dealt with tendinitis in his right arch for the
HOUSTON -- Taijuan Walker was removed after four-plus innings in Tuesday's 5-2 loss to the Astros at Minute Maid Park and it appears the Mariners will need to shut down the right-hander due to ongoing problems with his right foot.
Walker has dealt with tendinitis in his right arch for the past three weeks and had skipped one start, but tried to work through the problem without going on the disabled list. He was removed Tuesday after giving up five runs on five hits -- including three home runs -- on 67 pitches.
"It's obviously not right," manager Scott Servais said. "He's trying to battle through it, but it's just not there. He's trying to drive off that back leg. He's a big, strong kid, very athletic and all that other good stuff and he's trying to get through it. But it's just hard for him to repeat. When you're not using your legs and you have an extended inning and have to throw that many pitches, it kind of catches up with him. That's what happened tonight."
The 23-year-old was replaced by Mike Montgomery in the fifth inning with Seattle trailing, 5-2.
"It's the same thing," Walker said. "The first two innings, I was able to drive, but after the second inning I just had no legs and everything was up and running back to the plate. I just couldn't drive it in there. It's frustrating. I don't really know what I can do to make it better yet. We'll find out more later this week. But just trying to pitch through it stinks."
Servais said Walker would likely be sent to a specialist for further tests. A recent MRI in Seattle didn't reveal any structural issue, so he continued trying to pitch and threw 6 1/3 innings of one-run ball in a win over the Orioles in his previous outing.
But Walker acknowledged the foot hurt in that start even after a 10-day rest and hasn't gotten any better.
"I feel like I just haven't had my best stuff," he said. "My velo is down, my changeup isn't as sharp. Nothing is really as sharp just because I can't really get into my legs and get after it. It's probably not best for me to go out and pitch right now just because I can't really give it 100 percent."
Walker is scheduled to make one more start before the All-Star break on Sunday against the Royals in Kansas City, but Servais acknowledged he doesn't know how the team will proceed with that game yet.
"Every time he goes out there, you kind of have your fingers crossed that he's going to get over the hump with it," Servais said. "But he hasn't been able to feel good about being on his legs. This game is about your lower half and being able to use it on the mound or in the batter's box.
"He's struggling. He's trying to pitch through it, but we probably have to re-evaluate where we're at here and have it looked at it again."
Greg Johns has covered the Mariners since 1997, and for MLB.com since 2011. Follow him on Twitter [
---
@GregJohnsMLB]() and listen to his podcast.