Mattingly sees improvement in baserunning
Manager emphasized making better decisions on the basepaths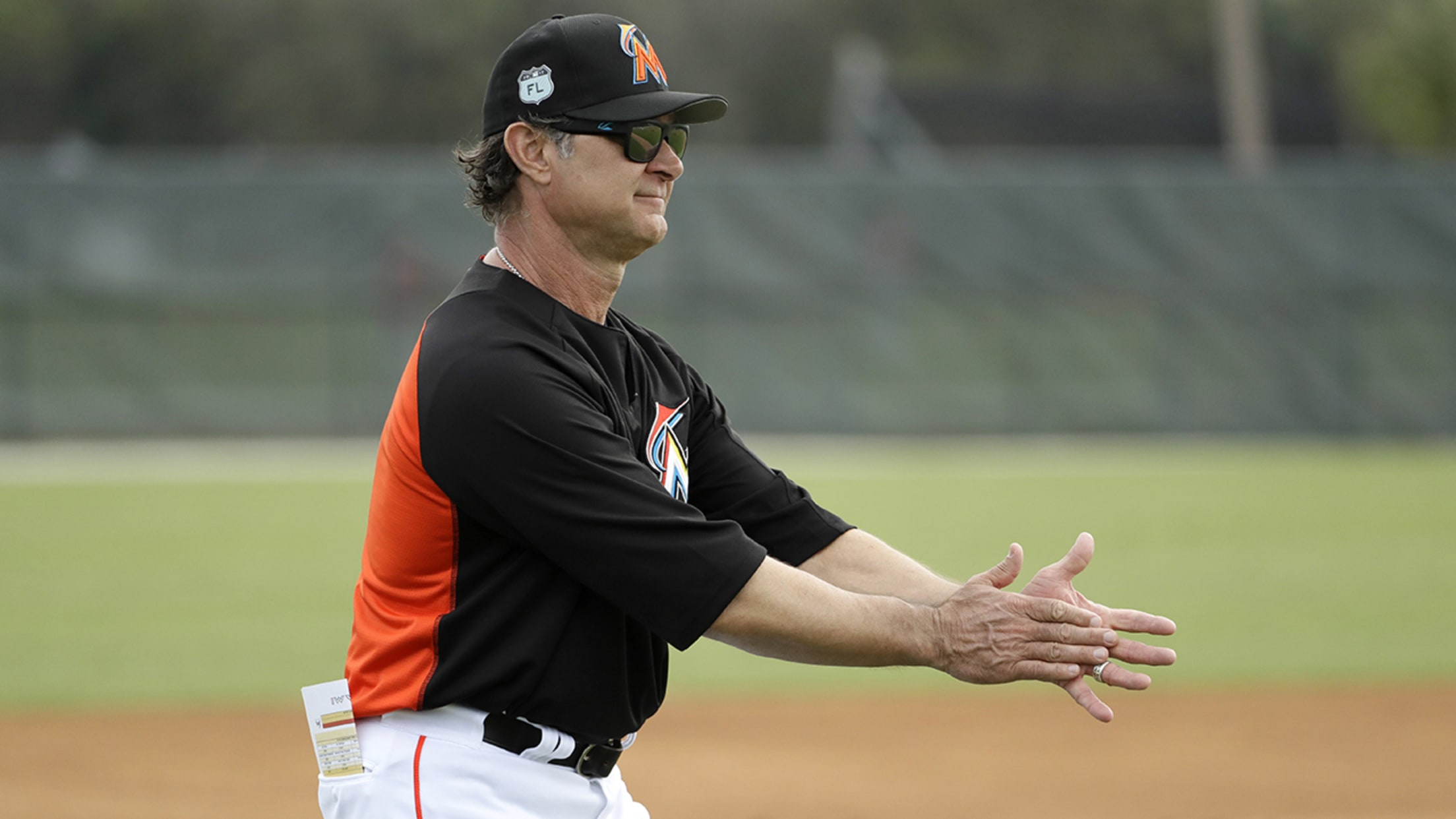 "We've emphasized baserunning," Mattingly said. "Everybody does it every spring, but we've tried to take a little bit of a different approach. We put a video together." (AP) (David J. Phillip/AP)
JUPITER, Fla. -- Frustrated by watching baserunners get doubled up, and other baserunning blunders, Marlins manager Don Mattingly has taken matters into his own hands.Baserunning has been given a special amount of emphasis this spring."We've emphasized baserunning," Mattingly said. "Everybody does it every spring, but we've tried to take a
JUPITER, Fla. -- Frustrated by watching baserunners get doubled up, and other baserunning blunders, Marlins manager Don Mattingly has taken matters into his own hands.
Baserunning has been given a special amount of emphasis this spring.
"We've emphasized baserunning," Mattingly said. "Everybody does it every spring, but we've tried to take a little bit of a different approach. We put a video together."
Mattingly said he's been increasingly disappointed in baserunning, not just last year, but years before, and not just the Marlins.
"It's all over the league," Mattingly said. "I'm tired of complaining about it, so I decided to do something about it. If I don't do something about it, then it's my fault. Sitting here complaining about it doesn't do any good.
"So we put together a whole package of baserunning things with video that we wanted to go over. It's kind of the template for baserunning principles."
Mattingly said he feels the Marlins' baserunning has been good so far this spring.
"We wanted to be aggressive and take advantage of everything that they give us," he said. "We're not necessarily a team with flying speed. Dee Gordon can steal a bag, but more than that, it's the pure baserunning -- the first-to-third stuff, the principles of knowing what you should be doing when you're out there and things that shouldn't happen on the field if you're thinking right."
Mattingly said he sees a trend of poor baserunning in the Major Leagues, but hasn't yet put his finger on the actual cause for it.
"I think whatever it is, it could be better, and that's why we wanted to change our approach to the teaching part of it," he said.
Mattingly was instrumental in piecing together video of what he believed could help provide teaching moments.
"We just think more visual learning is probably going to help us better than just talking about it," Mattingly said. "There's some good stuff [in the video] too. Obviously we want to show the positives. When our guys are doing it the right way, we want to show that."
Mattingly has also relied on the baserunning knowledge of veteran Ichiro Suzuki, one of the better minds in the game today when it comes to running the bases.
"He's really good," Mattingly said. "I think the guys know that, too. So if he has comments, we want him to be a part of that."
Glenn Sattell is a contributor to MLB.com and covered the Marlins on Tuesday.