Kids 'Play Ball' in Miami, hope to return in July
Young athletes compete for chance at national finals at ASG at Marlins Park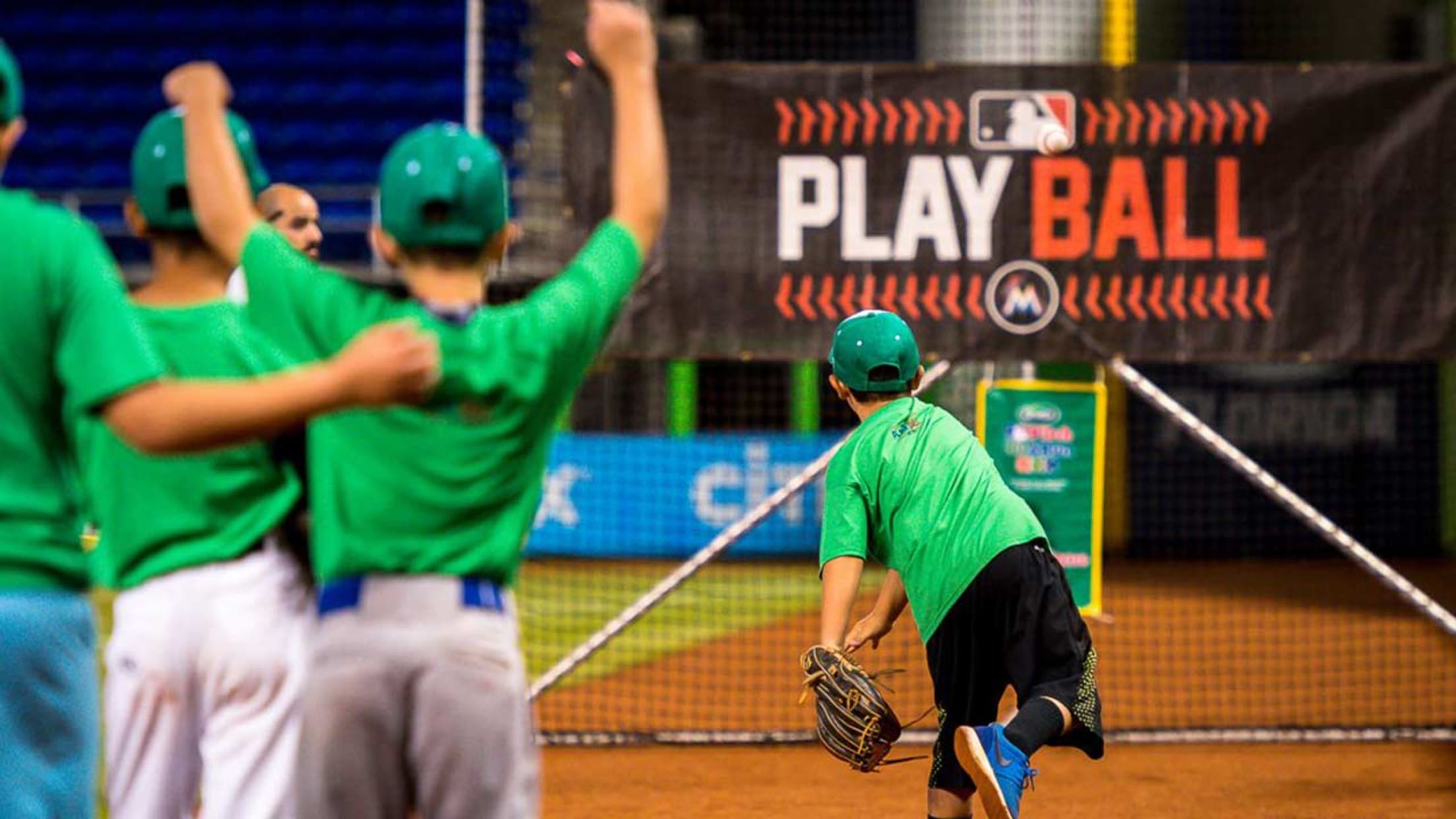 Kids threw to a target on a net, hit off a tee and ran from second to home plate on Saturday. (Marlins)
MIAMI -- When Drake Flowers flew out to San Diego last year for the Scotts MLB Pitch, Hit & Run National Finals, he caught more than just MLB's All-Star Game."I caught one of Giancarlo Stanton's balls [in the Home Run Derby]," Flowers said. "It was really cool."On Saturday morning, the
MIAMI -- When Drake Flowers flew out to San Diego last year for the Scotts MLB Pitch, Hit & Run National Finals, he caught more than just MLB's All-Star Game.
"I caught one of Giancarlo Stanton's balls [in the Home Run Derby]," Flowers said. "It was really cool."
On Saturday morning, the 13-year-old won first place in the Miami Marlins age 13-14 baseball division in the MLB Team Championships at Marlins Park. Flowers and seven others' scores will be matched up against kids from across the country for a chance at an all-expense paid trip to this year's Midsummer Classic in July at Marlins Park.
The event Saturday was part of MLB's Play Ball Weekend. About 20 kids participated in the competition at Marlins Park, which involved throwing to a target on a net, hitting off a tee and running from second to home plate.
#PlayBall Weekend has begun! ⚾️#LetsPlay pic.twitter.com/vZ49iadQWV

— Miami Marlins (@Marlins) June 3, 2017
The second annual Play Ball Weekend features a variety of youth engagement activities by nearly 200 Major League and Minor League clubs to highlight the fun of youth baseball and softball. It is a complementary program of the Play Ball initiative, designed by MLB to celebrate youth baseball and softball participation. MLB has provided clubs with more than 300,000 youth plastic bat and ball sets to distribute in both ballparks and at community events.
Many MLB clubs are hosting skills and physical fitness clinics as well as surprise "takeovers" of youth baseball and softball games or practices featuring appearances by Major League players, alumni, mascots, public address announcers and more. Activities will include kids participating in special news conferences, pregame meet-and-greets and catches with players, ceremonial first pitches, public address duties, lineup card exchanges, taking the field with players, postgame running the bases and more. Major League players, coaches and managers will wear Play Ball Weekend patches during the weekend's games, and players on home clubs will wear custom T-shirts during batting practice on the date of their club's activations.
Teams that are on the road Saturday and Sunday will host their Play Ball Weekend activities during another homestand.
After hauling in a fly ball from the 2016 Home Run Derby winner, Flowers hopes to track down more fly balls this July in Miami. He's also hoping to take first place in the National Finals, a round in which he placed second last year.
"It was amazing," he said. "I got second place. We went all over."
For 14-year-old Becka Mellor, the event's become a routine for her every summer. The age 13 & 14 softball division winner has appeared in several national competitions.
Mellor attended the 2013 All-Star Game at Citi Field in New York, an experience she said helped her confidence. But a berth to the national finals at Marlins Park in July would be a dream come true.
"It would be amazing," the Nokomis, Fla., native said. "I was kind of thinking it would be full circle finishing my Pitch, Hit & Run journey here."
Pitch, Hit & Run, the "Official Youth Skills Competition of Major League Baseball," invites kids to demonstrate their pitching, hitting and running abilities in baseball and softball. The competition coincides with the "PLAY BALL" initiative between Major League Baseball, USA Baseball and USA Softball, which encourages widespread participation in all forms of baseball/softball activities among all age groups, especially youth.
One participant who didn't have to travel far to win his division was 12-year-old Bruno Tenjido.
A Miami native who frequented Marlins games growing up, Tenjido was one of three participants who advanced out of the Marlins junior RBI program, which hosted a local Pitch, Hit & Run competition at a youth baseball field outside of Marlins Park. Tenjido was happy to set foot on the field of his favorite players: Christian Yelich, Marcell Ozuna and Ichiro Suzuki.
Tenjido, Flowers, Mellor and five others were also celebrated on the field before Saturday's Marlins-D-backs game. While Flowers and Mellor took part in the ceremony last year, it was an experience Tenjido cherished.
"It feels great to be next to Major League players," he said.
Juan Garciga, the Marlins' community outreach and player relations manager, said it's rewarding to see the excitement in each participant, especially a local fan like Tenjido.
"It's a really unique experience and something that I'm sure they're going to remember for the rest of their lives," he said. "The time they came to Marlins Park and got to hit at home plate in the same batter's box as Giancarlo Stanton."
Great #PlayBall event at @MarlinsPark @marlins @MiamiBeachNews @MLB pic.twitter.com/dlHc8siKWH

— Mayor Philip Levine (@MayorLevine) June 3, 2017
Upon earning their plaques at the conclusion of the event, participants were congratulated by a guest: Miami Beach Mayor Philip Levine. Mayor Levine shared his excitement for the program and for the Marlins hosting their first All-Star Game.
"We love MLB and we love baseball in Miami," Levine said. "To have all these kids here, right in Marlins Park is such a thrill, not only for them and their families. It's a thrill for us, the city and the Marlins. Major League Baseball does so much to help our communities. We love the Marlins, we love baseball, we love MLB."
Patrick Pinak is a reporter for MLB.com based in Miami.