Urena's fastball shows life in first spring start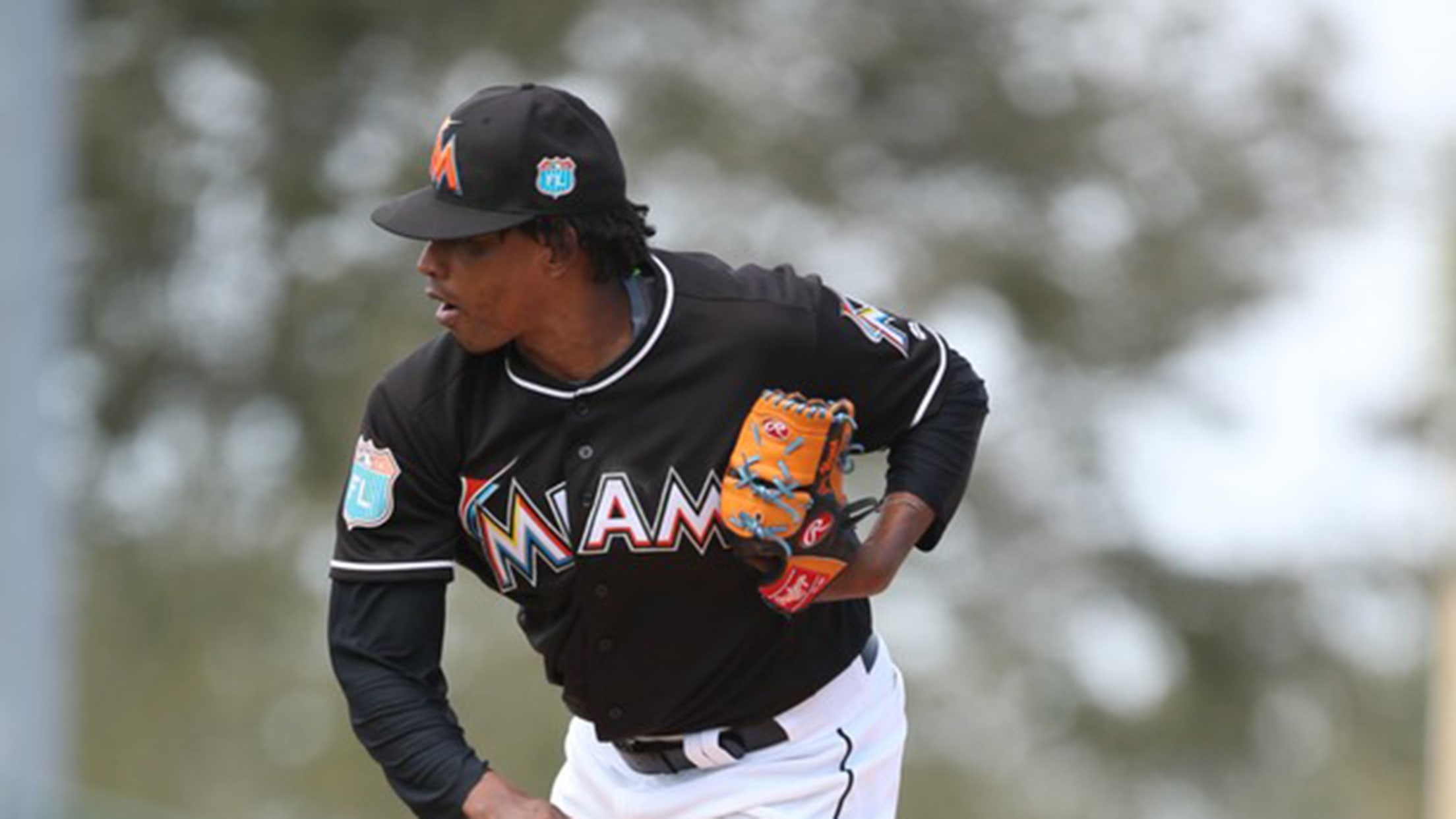 Jose Urena allowed one run over 2 2/3 innings in his first spring start. (Denis Bancroft)
JUPITER, Fla. -- At this point, Jose Urena is more of a work in progress than a front-runner for a rotation spot, but the 24-year-old remains one of the more promising pitchers in the organization.Urena showed glimpses of his vast potential in the Marlins' 5-2 loss to the Braves on
JUPITER, Fla. -- At this point, Jose Urena is more of a work in progress than a front-runner for a rotation spot, but the 24-year-old remains one of the more promising pitchers in the organization.
Urena showed glimpses of his vast potential in the Marlins' 5-2 loss to the Braves on Thursday at Roger Dean Stadium. In 2 2/3 innings, he gave up one run and his fastball topped out at 97 mph.
The Marlins continue to groom Urena as a starter, but they are open to moving him to the bullpen if there is a need. With an upper-90s fastball, he has the kind of power to be impactful in the late innings, plus he can throw in long relief.
• Spring Training:Tickets | Schedule | More
Those decisions are down the line.
"I see him as a starter, for the most part," manager Don Mattingly said. "Everybody is looking for starter depth. This is a guy that they've worked on keeping him closed up a little bit more, so you don't see the ball quite as well, which we think will help his breaking ball eventually."
Urena got a taste of the big leagues in 2015, logging 61 2/3 innings and going 1-5 with a 5.25 ERA. He appeared in 20 games, posting a 4.86 ERA in nine starts.
The rangy right-hander isn't getting caught up in where he will open the season.
"I don't think about it. I am just playing," Urena said. "We're fixing some of the things we need to fix. I think we can get better. At the end of the day, it's all I can do. Wherever I end up playing, it's up to them."
Like a number of pitchers in camp, Urena is polishing up his mechanics a bit. Keeping his front side closed longer should help with his deception and also allow him to generate more power.
His fastball on Thursday had plenty of life, ranging from 93-97 mph. He struck out Gordon Beckham swinging through a 96 mph heater.
• Stanton set to return Sunday | Rojas learning first base
Establishing fastball command was his first-inning objective, and he fell into a trap of being predictable. Adonis Garcia made him pay with a two-out RBI double. After that, Urena mixed things up and was effective, reaching 42 pitches before exiting.
"I started working with the fastball early in the game," Urena said. "After that inning, we started working the breaking ball a little more."
To his repertoire, Urena sprinkled in some 89 mph changeups, and his slider was 86-88 mph, so all of his radar readings were impressive.
It's now a matter of consistency.
"He's a guy with a good arm, quality stuff, and a worker," Mattingly said. "Speaking with people in the organization, they love this kid. What we've seen, there's nothing not to like."