Monday's game rained out; twin bill Wednesday
Brigham tabbed to start Game 1; Richards to take mound for Game 2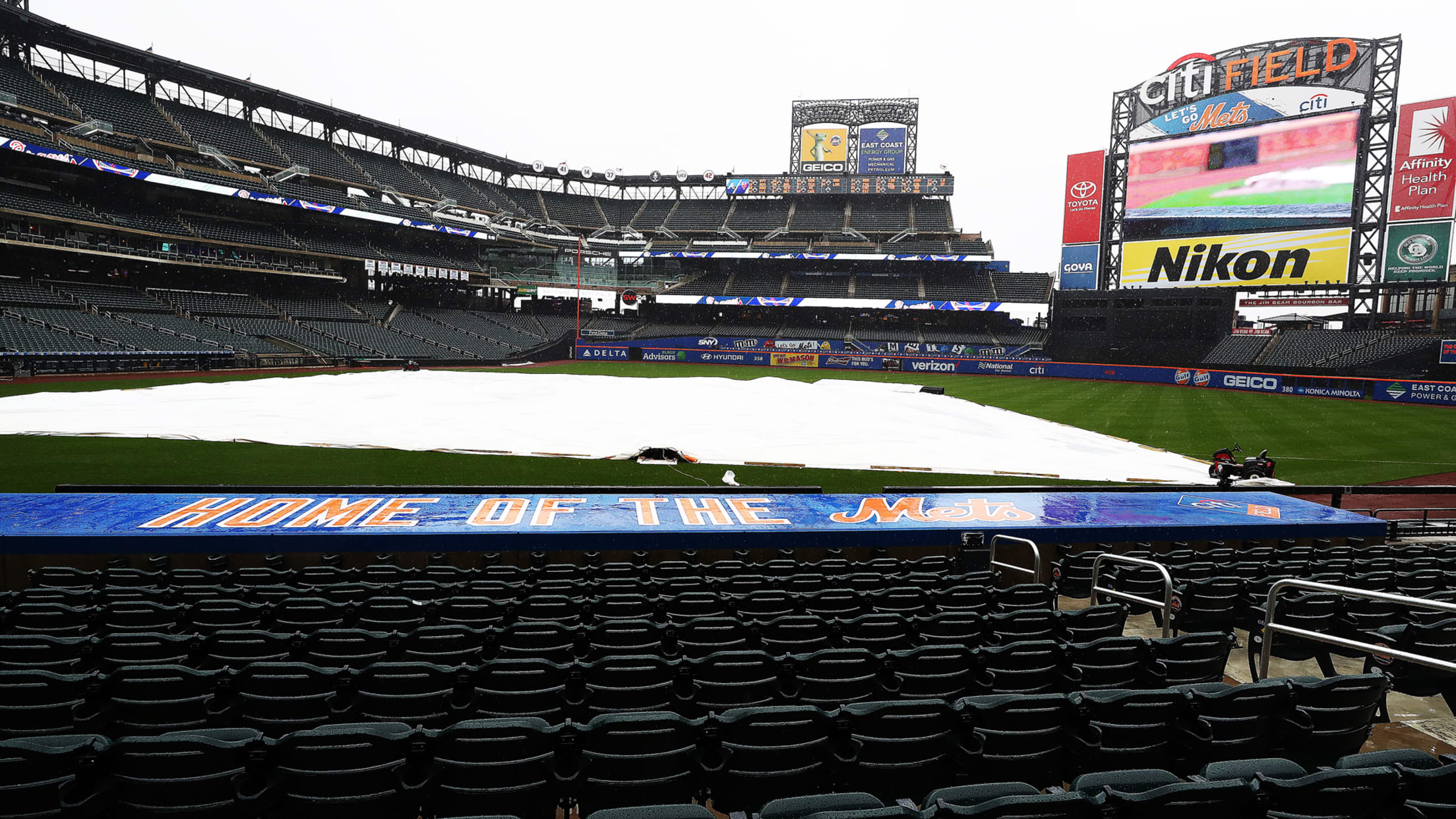 NEW YORK -- Inclement weather has disrupted the Marlins' schedule yet again.Unrelenting rain prompted the postponement of Monday's series opener between the Mets and Marlins at Citi Field. The game is scheduled to be made up as part of a doubleheader on Wednesday, with the first game scheduled for 4:10
NEW YORK -- Inclement weather has disrupted the Marlins' schedule yet again.
Unrelenting rain prompted the postponement of Monday's series opener between the Mets and Marlins at Citi Field. The game is scheduled to be made up as part of a doubleheader on Wednesday, with the first game scheduled for 4:10 p.m. ET.
Making the start for Miami on Tuesday at 7:10 p.m. ET will be Jose Urena, who will stay on schedule. New York counters with Jacob deGrom, who was initially slated to start Monday.
"It gets a little rest for guys," Marlins manager Don Mattingly said of the rainout. "Other than that, I don't think it's that big a deal. Honestly, this time of year, guys have played so much that their swings are there. It's not going to feel like they're rusty or anything else. It goes back to normal once you get back out there."
The Marlins have now been washed out the past two days. On Sunday, their series finale against the Pirates in Pittsburgh was rained out and tentatively rescheduled for Oct. 1, which is the day after the regular season ends. However, that game may not be played if the Pirates are eliminated from postseason contention.
Tonight's game vs. Miami has been postponed. The make-up game will be rescheduled as part of a single-admission doubleheader on Wednesday, September 12 at 4:10 p.m. https://t.co/7RbAn2TZ8G

— New York Mets (@Mets) September 10, 2018
Rookie Jeff Brigham was initially scheduled to make his second big league start Monday for the Marlins. New York was countering with deGrom. Both right-handers were initially scheduled to start on Sunday, but due to weather, they had their starts pushed back one day.
Brigham now will start one of the two games in Wednesday's doubleheader, with Trevor Richards throwing the other. Mattingly did not say which of the two rookies would start Game 1.
Sandy Alcantara will start for Miami in the series finale on Thursday.
The Mets' rotation revises to deGrom on Tuesday, with Zack Wheeler in Game 1 on Wednesday and Jason Vargas in Game 2. Steven Matz is slated for Thursday.
Before the game was rained out, a number of Marlins pitchers completed their throwing programs on the Citi Field outfield while the tarp covered the infield.
Worth noting
• Right-hander Dan Straily, dealing with a strained left oblique, is expected to do some weight conditioning in the next day or two. The hope is for Straily to pitch again this season, but as of now, nothing has been scheduled.
"Still day to day with him," Mattingly said. "He was feeling better."
• Shortstop JT Riddle (left wrist) is making progress, and barring any setbacks, he is expected to play at some point in the series with the Mets.