Roster nearly set; injuries raise questions
Pitching staff, infield need reinforcements to begin season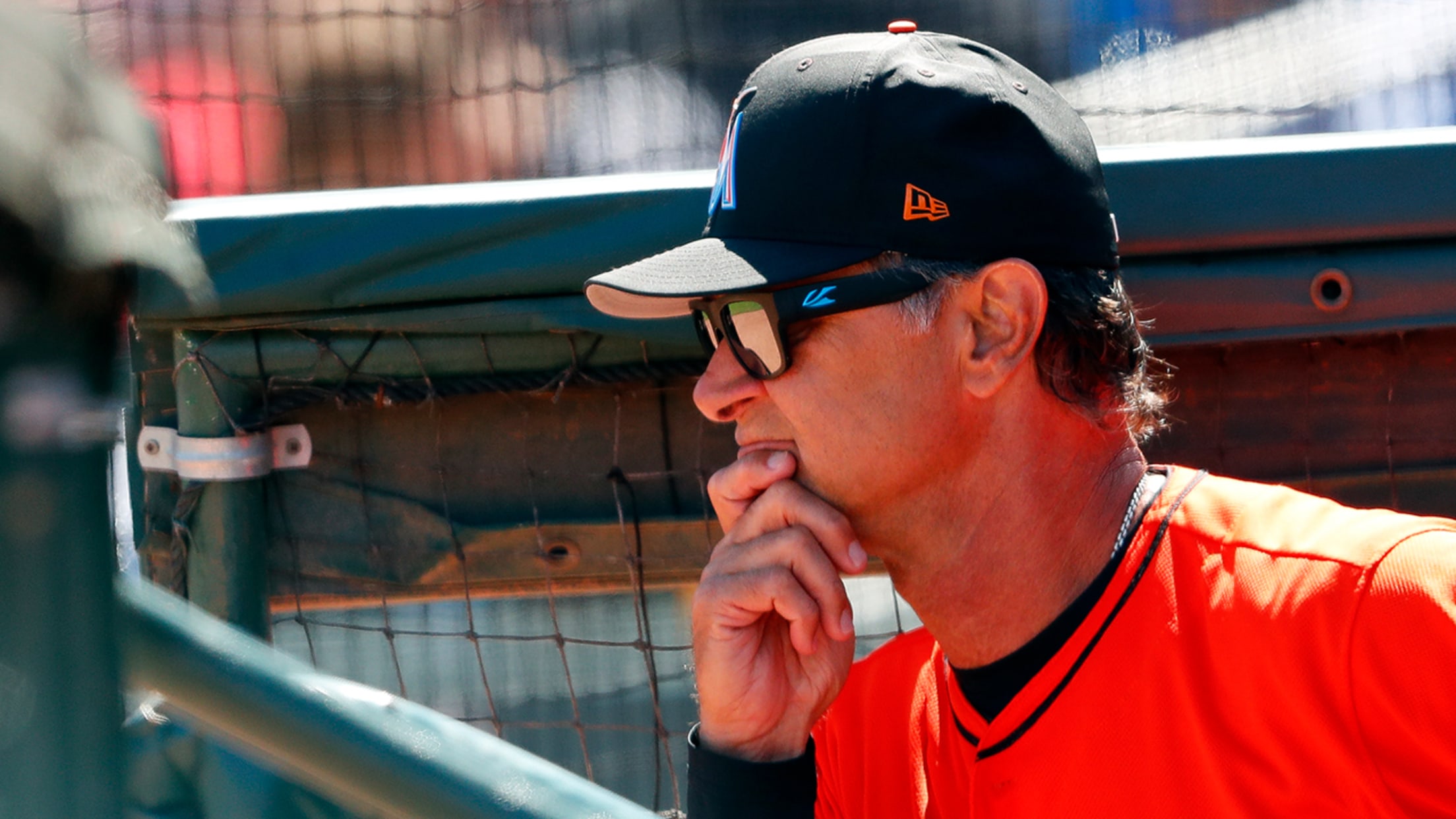 MIAMI -- There's some more clarity, but some questions remain regarding how the Marlins' 25-man roster will look on Opening Day on Thursday against the Cubs.Shortly after defeating the University of Miami 22-2 on Tuesday at Marlins Park, the team announced left-handers Dillon Peters and Jarlin Garcia and outfielder Braxton Lee have
MIAMI -- There's some more clarity, but some questions remain regarding how the Marlins' 25-man roster will look on Opening Day on Thursday against the Cubs.
Shortly after defeating the University of Miami 22-2 on Tuesday at Marlins Park, the team announced left-handers Dillon Peters and Jarlin Garcia and outfielder Braxton Lee have been recalled from the Minor Leagues.
Due to a late surge of injuries, the three were brought back to the big leagues after being sent down during Spring Training.
The 25-man roster must be set by 11:30 a.m. ET on Thursday, a little more than an hour from when the Marlins face the Cubs at 12:40 p.m. ET at Marlins Park.
Also on Tuesday, the team announced four pitchers -- Wei-Yin Chen (left elbow), Dan Straily (right forearm inflammation), Elieser Hernandez (dental surgery) and Brett Graves (left oblique) -- will start the season on the 10-day disabled list.
Three position players will be on the DL -- catcher J.T. Realmuto (low back contusion), third baseman Martin Prado (right knee) and shortstop JT Riddle (sore right shoulder). They are retroactive to Monday, and could be reinstated as early as the fifth game.
"I'm excited about our club, in general, and what we're doing," manager Don Mattingly said. "Obviously, this is not the way we had planned to start the season. We would not have been sending guys out of camp just to be doing this later. But with some injuries, and things that have happened, it's nice to know what you're doing is bringing guys that have some experience and are going to be quality for you, if not now, then in the near future."
Also on Tuesday, the team announced right-hander Brian Ellington and outfielder Magneuris Sierra were optioned to Triple-A New Orleans.
Frontrunners for roster spots are:
Catcher: Tomas Telis, Chad Wallach.
Rotation: Jose Urena, Caleb Smith, Odrisamer Despaigne and Peters.
Relievers: Brad Ziegler, Kyle Barraclough, Drew Steckenrider, Junichi Tazawa, Tayron GuerreroChris O'Grady, Jacob Turner and Garcia.
Infielders: Justin Bour, Starlin Castro, Miguel Rojas, Brian Anderson.
Outfielders: Derek Dietrich, Lewis Brinson, Cameron Maybin.
Bench candidates: Garrett Cooper, Lee, Yadiel Rivera, Chad Wallach and John Holaday.
Turner, Rivera and Holaday are not on the 40-man roster, which is at 39.