Marlins note 4-year mark of Fernandez debut
Righty made his first MLB appearance at Citi Field on April 7, 2013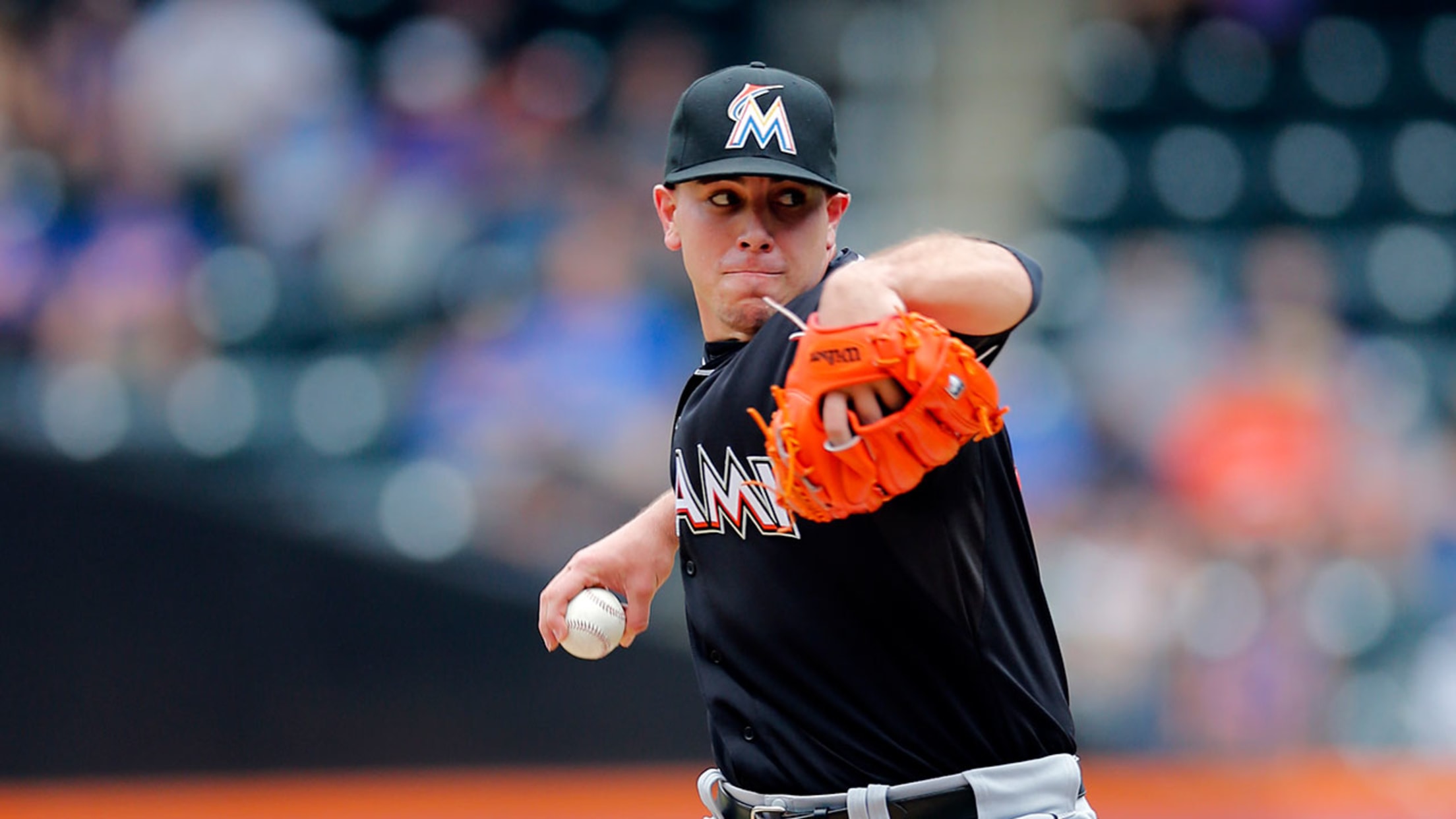 Jose Fernandez struck out 8 batters and gave up one run over 5 innings in his Major League debut. (AP)
NEW YORK -- The beaming confidence jumped out at his teammates, as well as the 95-mph fastballs and wipeout sliders. The talent was so abundant and evident four years ago to the day on Friday when Jose Fernandez made his Major League debut for the Marlins against the Mets at
NEW YORK -- The beaming confidence jumped out at his teammates, as well as the 95-mph fastballs and wipeout sliders. The talent was so abundant and evident four years ago to the day on Friday when Jose Fernandez made his Major League debut for the Marlins against the Mets at Citi Field.
Three players on the current Miami roster -- Giancarlo Stanton, Adeiny Hechavarria and A.J. Ramos -- were there on April 7, 2013, when Fernandez, then 20, gave up one run in five innings with eight strikeouts in his first big league outing.
"He made them look silly," Stanton said. "He made the opposition look like he was one level, one step ahead. I really remember the swings, and spin-arounds. It was more like varsity playing JV, is what I remember."
Fernandez, who was killed in a boating accident last September, came as advertised in his first MLB appearance. He exited with a 3-1 lead, but then-closer Steve Cishek gave up two runs in the ninth inning, and the Mets rallied to a 4-3 win.
Fernandez went on to become an All-Star in '13, and was named the 2013 National League Rookie of the Year.
On the fourth anniversary of Fernandez's first start, the Marlins happen to be back at Citi Field facing the Mets.
In reflecting on four years ago, Ramos recalls wondering how Fernandez would handle the moment.
"It was cold," Ramos said. "I was like, 'Let's see what we got here.' Once he pitched, we were like, 'This guy is special.'
"The moment wasn't too big for him. You see a lot of rookies, making their debuts, and they are kind of reserved and quiet. Jose was ready for the moment."
Like Fernandez, Hechavarria was born in Cuba. Still, the Marlins shortstop was curious to see if the pitcher could live up to the hype.
"Seeing him transition from Spring Training to a Major League game, and seeing him go out there the way he did, I was really caught off guard," Hechavarria said. "I was like, 'Wow.' That's when I knew what type of player he was going to be."
Christian Yelich, one of the young faces of the franchise, recalls watching Fernandez's debut from a restaurant in Jupiter, Fla.
Then 21, Yelich was initially supposed to be a teammate of Fernandez's at Double-A Jacksonville. But Yelich was on the Minor League disabled list with a foot injury. That team was expected to feature Yelich, Jake Marisnick and Marcell Ozuna in the outfield.
J.T. Realmuto was Jacksonville's catcher. at the time.
But Yelich, Ozuna and Marisnick were on the DL, as was big league catcher Jeff Mathis.
Yelich, Marisnick and Mathis watched Fernandez's debut on a Sunday afternoon at the "Thirsty Turtle," a popular Spring Training hangout for the players.
"We all knew he was going to do pretty well," Yelich said. "That's always what he did through his career."