Marlins contemplate using a four-man bench
Versatility of reserves may allow club to eschew signing an additional impact bat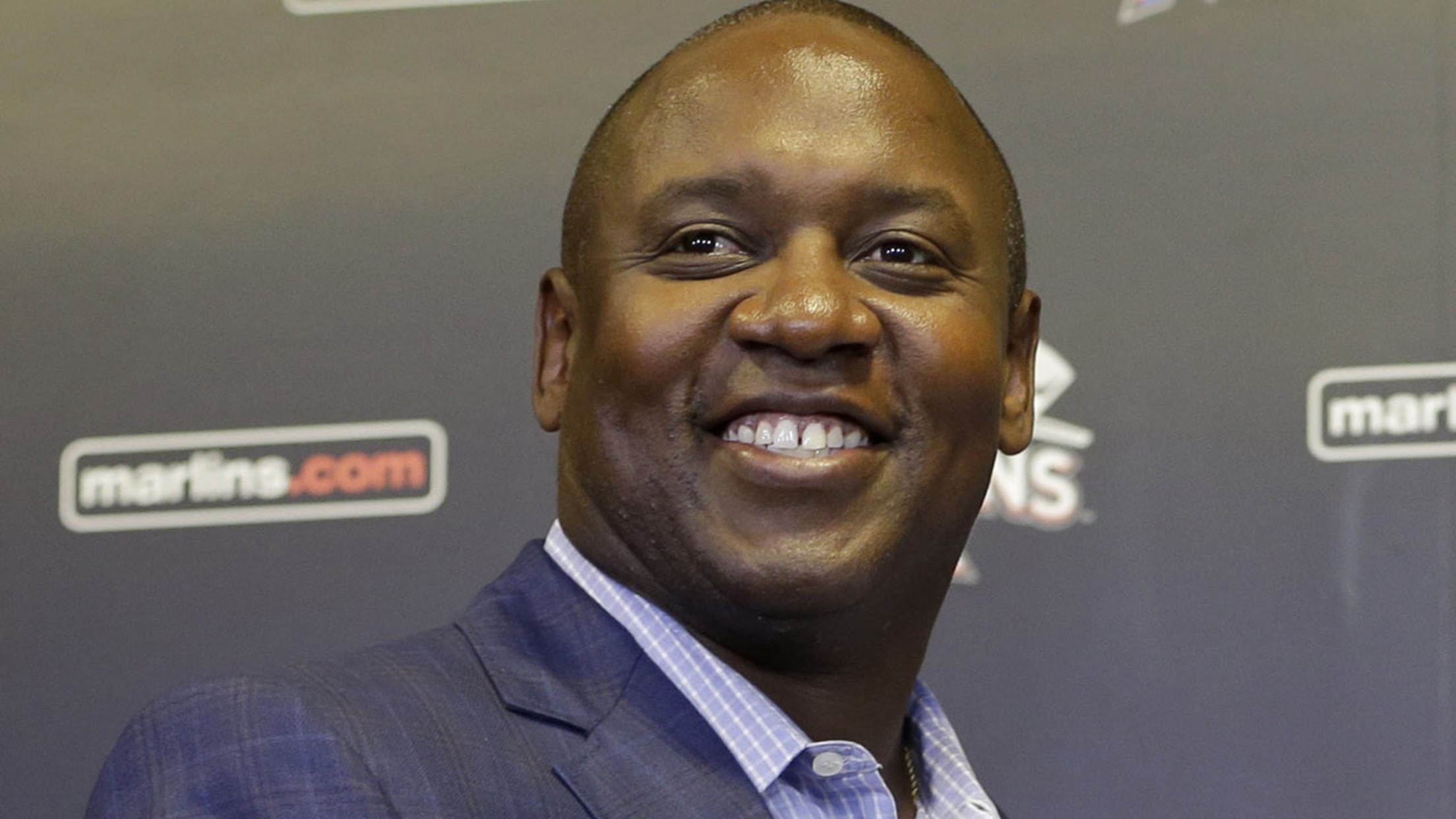 Marlins president of baseball operations Michael Hill said it is possible the team may use a 13-man pitching staff in 2017. (AP)
MIAMI -- The Marlins continue to monitor the free-agent market for another bench player, but signing an impact bat is not a high priority. The organization is seriously considering going with a four-man bench and carrying an additional reliever."The thought of eight relievers and carrying a 13-man pitching staff is
MIAMI -- The Marlins continue to monitor the free-agent market for another bench player, but signing an impact bat is not a high priority. The organization is seriously considering going with a four-man bench and carrying an additional reliever.
"The thought of eight relievers and carrying a 13-man pitching staff is a possibility," president of baseball operations Michael Hill said on Thursday afternoon.
The Marlins announced on Thursday they acquired right-hander Dan Straily from the Reds for three prospects. The 28-year-old is expected to secure a spot in the back of the rotation and, most likely, he is the final major addition to the roster.
• Hot Stove Tracker
According to ESPN.com's Jerry Crasnick, the Marlins have explored signing a right-handed first-base option -- either Chris Carter or Mark Reynolds.
But there are strong indications Miami is pretty much at its payroll limit, which projects to be more than $110 million. Allocating a guaranteed contract of more than $5 million to any position player at this point appears unlikely.
Jeff Francoeur and Chris Johnson, who both finished 2016 with the Marlins, could be right-handed-hitting possibilities. But neither is a guarantee to return.
The Marlins appear willing to go with a bench of backup catcher A.J. Ellis, outfielder Ichiro Suzuki, utility infielder Miguel Rojas and infielder Derek Dietrich.
A four-man bench would limit manager Don Mattingly's in-game decisions, but there is versatility on the bench.
The team is planning on giving left-handed-hitting first baseman Justin Bour more opportunities against lefties and occasionally using catcher J.T. Realmuto at first base.
"It would leave Donnie with a four-man bench," Hill said. "We haven't really actively tried to finish off anything in terms of a right-handed bat, knowing that we're going to give Bour every opportunity to be that everyday guy and face lefties and righties -- and occasionally getting Realmuto [time] over at first."
More than going for a player like Carter or Reynolds, the Marlins could wind up signing a veteran position player to a Minor League contract with an invitation to Spring Training.
"It's not at the forefront of things for us," Hill said of signing another position player. "Our goal was to create as much pitching depth and quality as we could."