Grissom Jr. carving his own path to big leagues
Son of former MLB veteran stands out at Breakthrough Series camp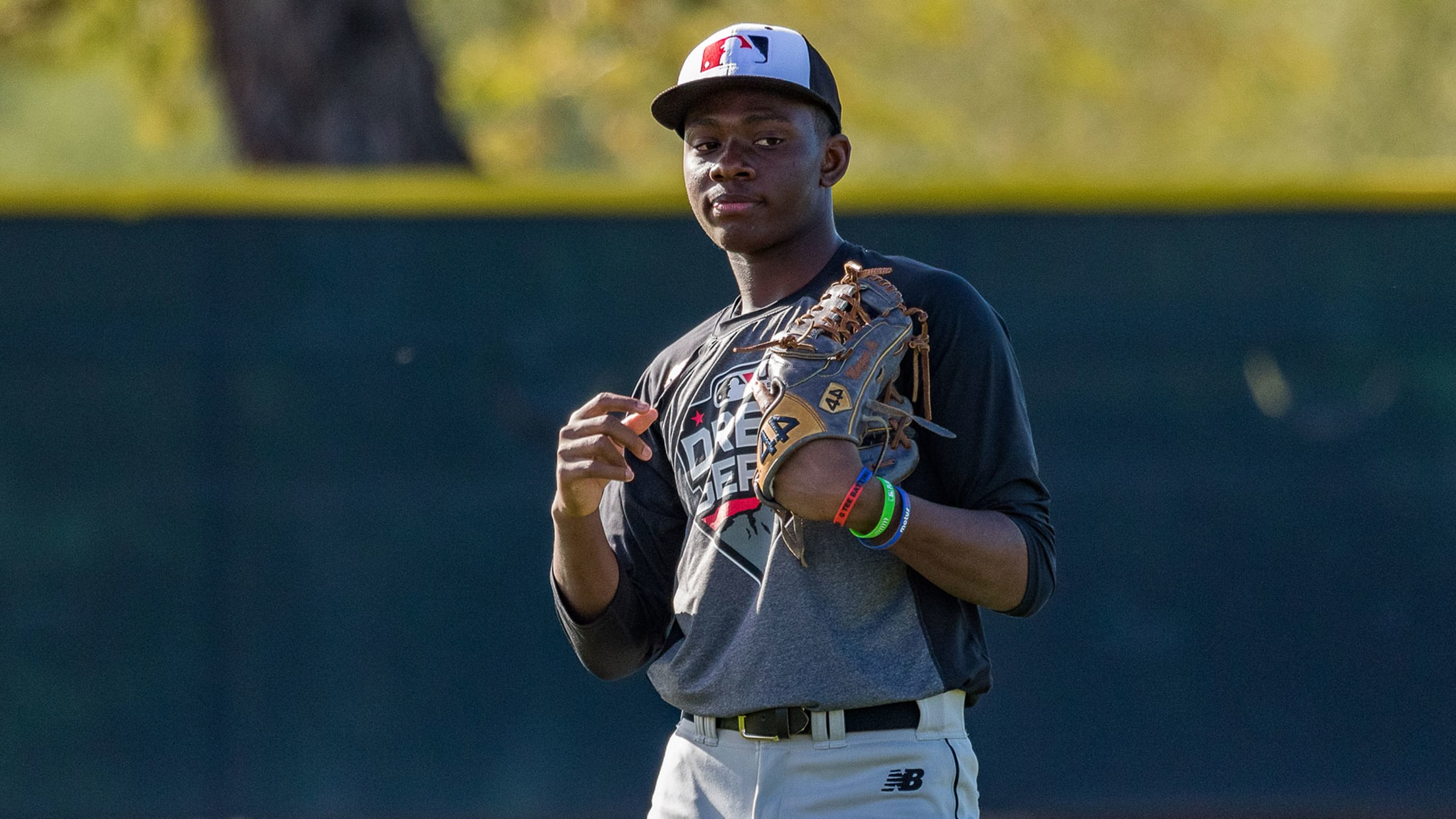 VERO BEACH, Fla. -- A look at the roster for this weekend's Breakthrough Series camp at the Jackie Robinson Training Complex has one name that definitely jumps out -- Marquis Grissom Jr. Yes, the son of that Marquis Grissom, who twice was an All-Star and a four-time National League Gold
VERO BEACH, Fla. -- A look at the roster for this weekend's Breakthrough Series camp at the Jackie Robinson Training Complex has one name that definitely jumps out -- Marquis Grissom Jr.
Yes, the son of that Marquis Grissom, who twice was an All-Star and a four-time National League Gold Glove Award winner during a 17-year playing career. The one who twice led all of baseball in stolen bases and roamed center field with laser-like focus on a pair of fleet feet.
However, Marquis Grissom Jr. is busy trying to carve a name for himself on the diamond, and the Class of 2020 prospect is doing a fine job of it so far.
"People tell me I have a lot of expectations to live up to, but I'm just trying to make my own name," the prep pitcher said on Sunday following morning games at JRTC.
Let's get this work! #BreakthroughSeries pic.twitter.com/GRpQXmAXfI

— MLBDevelops (@MLBDevelops) June 7, 2019
The 6-foot-2, 185-pound athlete plays in the Atlanta area at a number of positions, including shortstop for his club team, but his strength is on the mound.
His large frame and long limbs project out well for his eventual growth. His easy motion and over-the-top delivery also have scouts scribbling about the right-hander's potential as a front-end starter.
Grissom Jr. has been to this coastal Florida facility the last four summers for camps, honing his skills under the tutelage of a host of former MLB players.
"It's always a different learning experience every time I come to these type of events," said Grissom Jr., who operated a radar gun during his team's game on Sunday. "I just come here to learn and make me a better player."
In January, Grissom Jr. made his college choice, opting to commit to nearby Georgia Tech. The University of North Carolina's beautiful campus at Chapel Hill nearly lured the pitcher, but he decided to stay in Atlanta.
The senior-to-be celebrated the recent MLB Draft with his good friend, Nasim Nunez. The pressure even got to Grissom Jr. as he finally saw his friend, a defensive specialist at shortstop, picked in the second round by the Miami Marlins.
"It was a great experience," Grissom Jr. said. "It actually made me nervous for myself. I've never seen him make an error in my life," said.
"It makes me nervous just thinking about it. I know that could be me in 365 days."
On today's to-do list: Meet an @MLB legend. #BreakthroughSeries pic.twitter.com/X6xHlPtYc4

— MLBDevelops (@MLBDevelops) June 8, 2019
Former MLB pitcher Marvin Freeman lives in Atlanta and works with Grissom Sr. and his baseball association. Freeman, a 10-year veteran of the Majors, says the name on the back of Grissom Jr.'s jersey can work against him at times.
Freeman has been Grissom Jr.'s pitching coach for three years and said part of his job is monitoring emotions.
"First of all, he's got really good stuff, and second, he's got that name," Freeman said. "When he's got that name behind him and other teams know that, they're going to try a little bit harder.
"His thing right now is trying not to be too fired up or too nonchalant and find that happy medium. He's made tremendous strides."
Freeman, a strapping 6-foot-7, said Grissom Jr.'s size will be to his advantage, adding, "It's a grind. If you're a little small guy, sometimes you wear down at the end of the summer."
Former catcher Lenny Webster coached Grissom Jr. in Little League and said his good mechanics always made him a formidable option.
"We specifically worked on his mechanics -- he's always had a good arm -- and he was a kid at 10 or 11 that we could count on to throw strikes," Webster said. "When we needed a kid to throw strikes, he was the guy."
Grissom Sr. pitched and played outfield when he was drafted in 1988 by the Montreal Expos out of Florida A&M, and the younger Grissom said he actually listened to his father when his dad offered advice.
At first he may have disagreed, but he soon realized that his father knew best.
"He wants me to be better than him, and that's what we're working on," Grissom Jr. said. "I'm blessed to have him as my father. Earlier in my life, I might have been irritated [by his advice], but now I understand what he was saying and he knows what he's talking about."