Perez eyes big '17, starting with spring opener
Rangers left-hander wants to throw 200 innings this season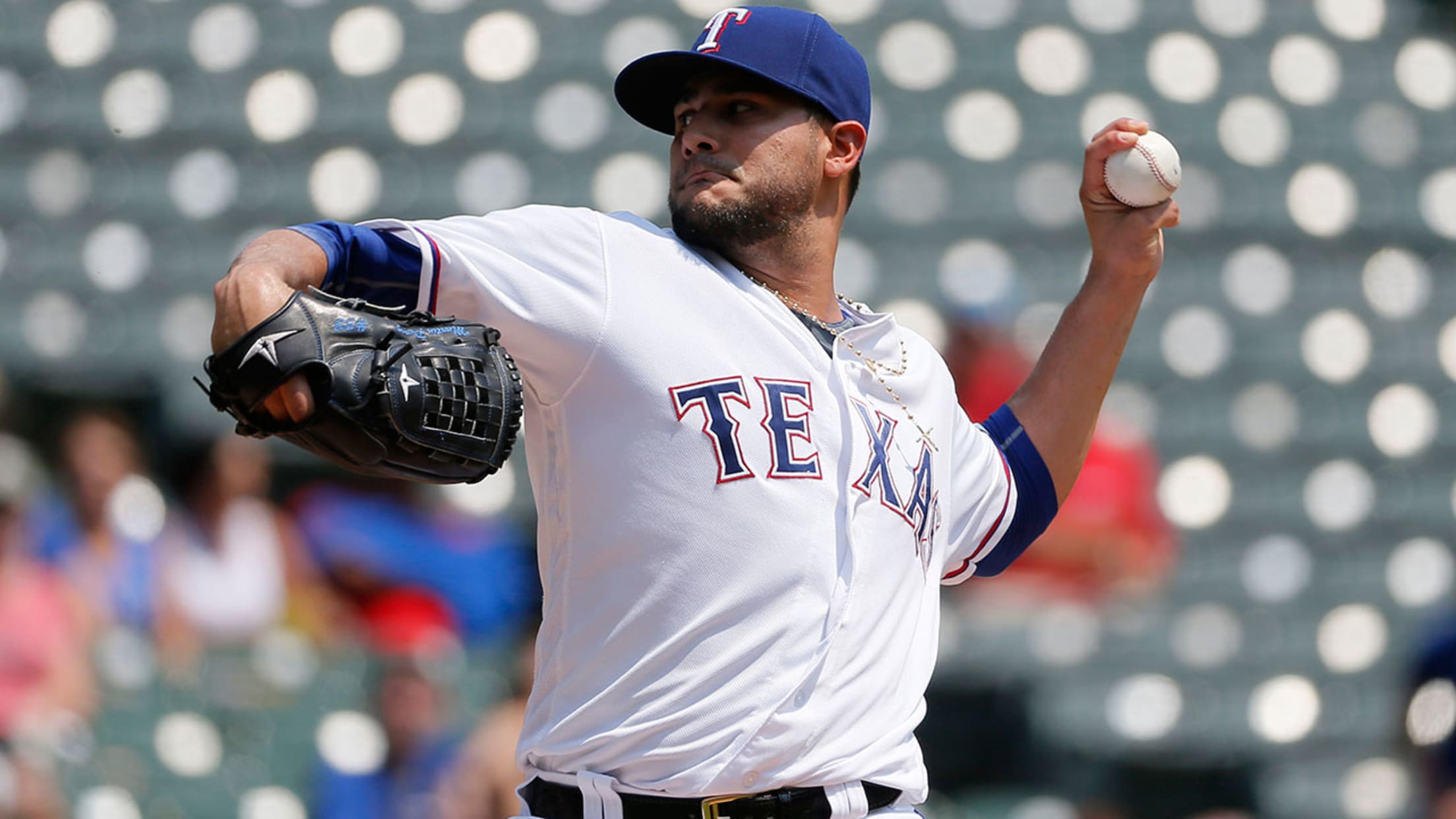 Left-hander Martin Perez's goal for 2017 is to throw 200 innings for the Rangers. (AP)
SURPRISE, Ariz. -- Martin Perez isn't afraid to say it. He believes this is going to be a big season for him on the mound and has a clear goal in mind."Last year was good, but this year, I'm going to throw more than 200 innings," Perez said. "That's my
SURPRISE, Ariz. -- Martin Perez isn't afraid to say it. He believes this is going to be a big season for him on the mound and has a clear goal in mind.
"Last year was good, but this year, I'm going to throw more than 200 innings," Perez said. "That's my goal. Just stay healthy. If I stay healthy, I'll be able to do what I want."
There is no doubt that he really wants it. That is the essence of Perez, who will start the Rangers' Cactus League opener against the Royals on Saturday (2:05 p.m. CT, live via Gameday Audio on rangers.com).
• Rangers Spring Training: Schedule | Information | Tickets
It's easy to talk about Perez's pitch arsenal, his home-road splits or his comeback from Tommy John surgery. But what stands out most is his open and sincere desire to be one of the best pitchers in the game. The Rangers see it in him.
"This is a guy who wants to be an elite pitcher," Rangers manager Jeff Banister said.
Sometimes Perez wants it too much, which is why he gets emotional on the mound.
"He does need to monitor that," Banister said. "He's made progress in that one. Last year in those situations and challenges, he was able to better settle down and make the adjustment."
Perez made 33 starts for the Rangers last season and pitched 198 2/3 innings. He was 10-11 with a 4.39 ERA while relying mainly on his sinking fastball. He threw that pitch 61.6 percent of the time, the highest rate of any pitch by a Rangers starter last season.
The result was a 54-percent ground-ball rate, the fourth highest in the American League. But his 4.67 strikeouts per nine innings was the lowest in the AL, which can be partly attributed to not inducing many swings and misses with his fastball.
That's why he has two goals this spring: Throw his fastball up in the strike zone and change the hitter's eye level, and throw his curveball more. Perez has a good changeup, but an effective curveball would give him more swings and misses.
"It has been really good," Perez said of his curveball. "I want to be able to dominate with that pitch. I'm throwing it and using it and believing in it. Spring Training is for working and making adjustments."
Perez is set for two innings and 30 pitches on Saturday. His next start will be March 11, but that will be for Venezuela in the World Baseball Classic. He follows Felix Hernandez in the rotation.