Martinez joins Pujols' mission, hosts golf tourney
Right-hander happy to help community at event's 15th year in St. Louis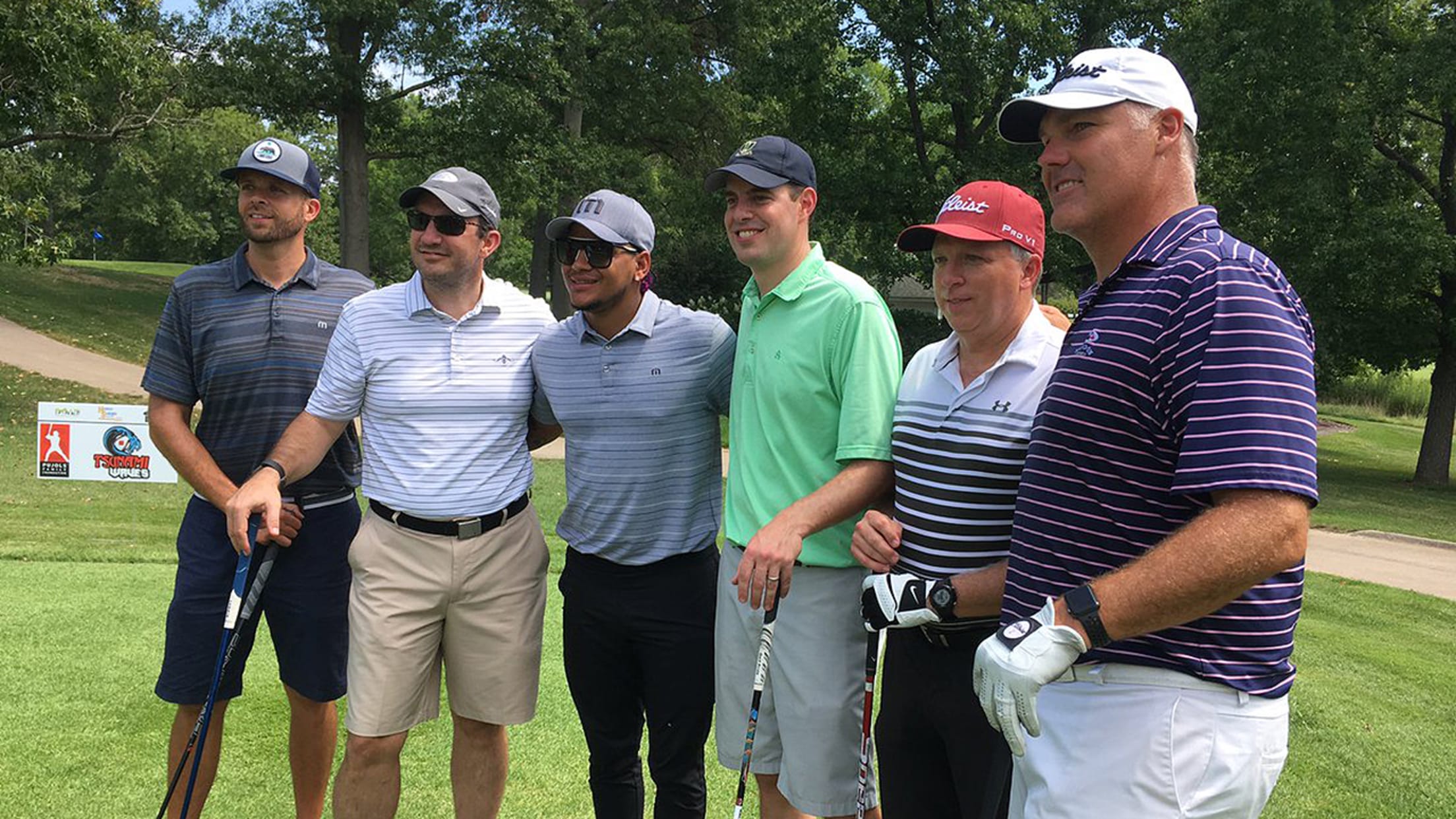 "It's so important to help the community, those that can't help themselves," Carlos Martinez said. (Cardinals)
ST. LOUIS -- Carlos Martinez has been following Jose Pujols on and off the field since he was a child growing up in the Dominic Republic. On Monday, he was able to assist the future Hall of Famer by hosting the Pujols Family Foundation Celebrity Golf Classic at Meadowbrook Country
ST. LOUIS -- Carlos Martinez has been following Jose Pujols on and off the field since he was a child growing up in the Dominic Republic. On Monday, he was able to assist the future Hall of Famer by hosting the Pujols Family Foundation Celebrity Golf Classic at Meadowbrook Country Club.
The tournament, celebrating its 15th year in St. Louis, is the foundation's biggest fundraising event of the year. Former Cardinal Matthew Holliday had primarily taken on the hosting duties after Pujols left St. Louis, but this year, Martinez stepped in for the first time. With Holliday now a member of the Yankees and Pujols needed elsewhere -- the Angels hosted the Rangers on Monday night -- the duties were entrusted to Martinez.
"It's so important to help the community, those that can't help themselves," Martinez said through an interpreter. "[I'm] happy to be partnered up with Albert Pujols, glad that [we'll] be helping the Dominican Republic as well. This is something deep in [my] heart that [I'm] thrilled to be doing."
Many other Cardinals, both past and present, came out to show their support for Pujols and the work his foundation does, including former manager Tony La Russa, current skipper Mike Matheny and players such as Jedd Gyorko, Zach Duke and Greg Garcia.
"Albert does an amazing job with his foundation," former Cardinal Jim Edmonds said. "They're really trying to make a big statement around the country. How can you not come out and support a friend, first of all -- a teammate -- and then a guy who does as much work as he does?"
The foundation works to help children and families who live with Down syndrome, including at least 800 in the St. Louis area, and assist impoverished people in the Dominican Republic. Both causes are close to Pujols' heart, as he and his wife, Deidre, have a daughter with the disorder, and Pujols grew up in the Dominican Republic under tough circumstances -- something he and Martinez have in common.
"With Albert and Carlos growing up in the Dominic Republic under similar conditions, they have very similar backgrounds, they have very similar stories," said Todd Perry, executive director/CEO of the Pujols Family Foundation. "Most importantly, they have very similar hearts. They come at this from an authentic position, and it's great to have them a part of this tournament."
At the sold-out event, participants took part in a golf tournament, an awards ceremony and other activities. They even took a break from the action to watch the solar eclipse.
While Pujols has not been a member of the Cardinals since 2011, the response to the event shows the lasting impact he and his foundation have had in the St. Louis area.
"On a day when there's a solar eclipse, there's probably 100 things people can do besides golf, but yet people come out -- not because it's a baseball event, but because it's a community event," Perry said. "We are doing more events and programs than we did when Albert even played here. … It still does amaze me to see how many people really do come out and to the level and sincerity they continue to support the mission."
Martinez's foundation, Tsunami Waves, which helps children in St. Louis and the Dominican Republic, will be teaming up with the Pujols Family Foundation in November to go on a mission trip to the pitcher's hometown of Puerto Plata to deliver a variety of medical services. The trip will be the Pujols Family Foundation's first to that part of the island, but most certainly not the last.
"The impact goes beyond just money," Edmonds said. "You see guys come out here from the Cardinals that never played with [Pujols], don't know him. That's one of those things that really speaks a lot of volumes for what kind of a guy he is and how much respect people have for him."
Alaina Getzenberg is a reporter for MLB.com based in St. Louis.