Carpenter hopeful of returning in 3-4 weeks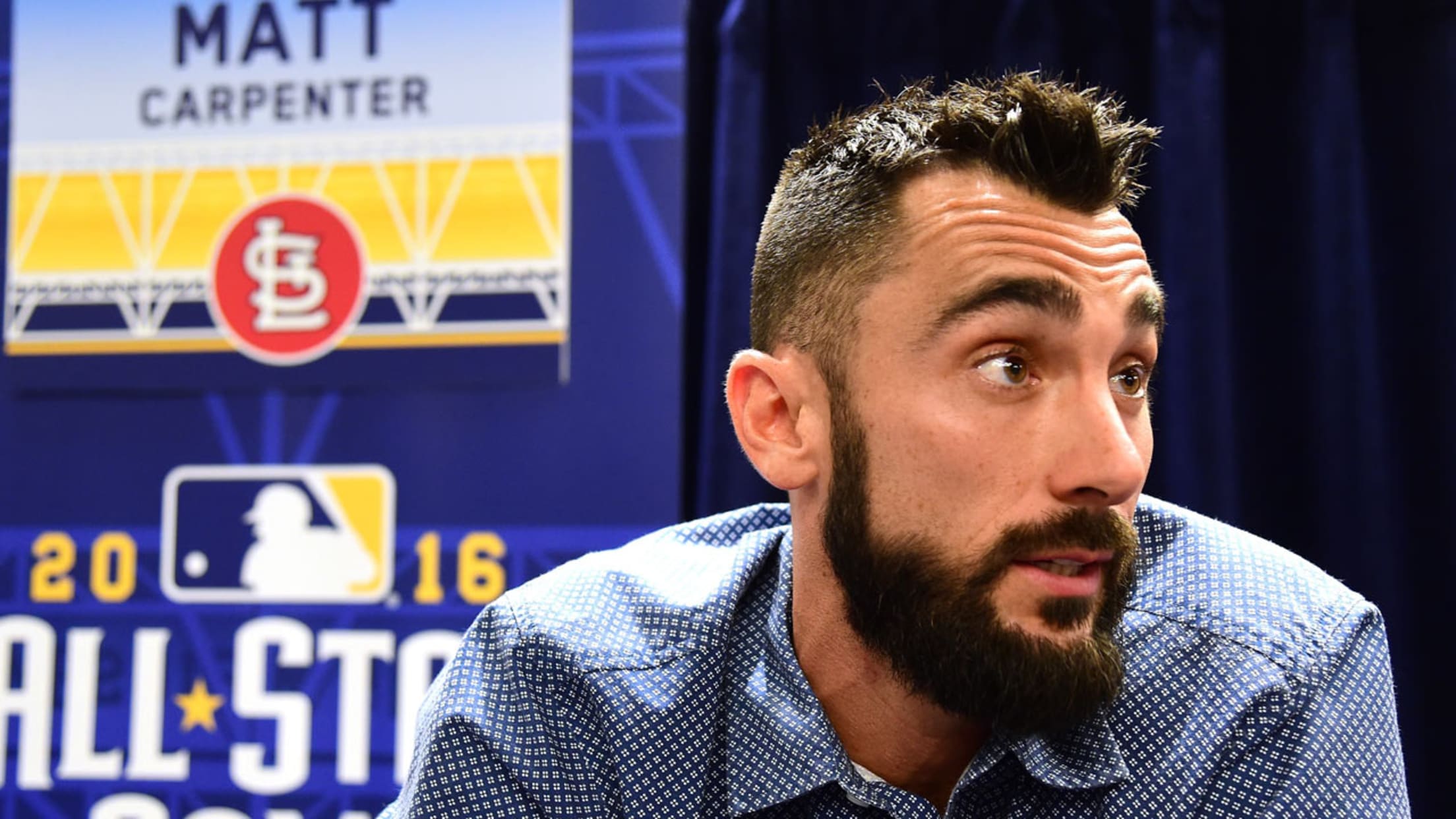 Matt Carpenter speaks to reporters during All-Star Media Day on Monday. (Harry How/Getty)
SAN DIEGO -- Five days after suffering an oblique injury that landed him on the 15-day disabled list and made him inactive for the All-Star Game presented by MasterCard, Matt Carpenter spoke optimistically about returning to the Cardinals within the next three to four weeks.Carpenter, who is attending this week's
SAN DIEGO -- Five days after suffering an oblique injury that landed him on the 15-day disabled list and made him inactive for the All-Star Game presented by MasterCard, Matt Carpenter spoke optimistically about returning to the Cardinals within the next three to four weeks.
Carpenter, who is attending this week's All-Star festivities despite the injury, said on Monday that he hopes to resume swinging in about 10 days. If his strained right oblique can handle that test, Carpenter believes he can be back on the field by the final week of July or first week of August.
:: Complete All-Star Game coverage ::
"It's going to be more than two weeks, we can guarantee that," Carpenter said. "Hopefully, it's less than four. I don't think it's going to be longer than five, but you just don't know."
Carpenter suffered a similar injury in 2012 and spent one month on the DL. The Cardinals' training staff told him that the MRI taken after Carpenter injured himself in the team's July 6 game against Pittsburgh showed a slightly more significant tear this time around. That surprised Carpenter, who initially thought the injury wasn't as serious.
He was prescribed two weeks of rest, and Carpenter won't know until he resumes baseball activities how quickly he's improving.
"It's so hard to tell, because I have to actually recreate that movement to feel it, and they don't want me to do that now," Carpenter said. "I know I'm still early in the healing, because if I can sneeze, I can feel it. If I cough loud, I can feel it."
Despite not being able to participate in Tuesday's All-Star Game, Carpenter said he never considered cancelling his trip to San Diego. He'll spend the next two days guiding first-time All-Star Aledmys Diaz through the experience and talking shop with his fellow All-Stars.
"I don't want to take it for granted," Carpenter said. "This isn't something that happens every day. There is no guarantee that you'll ever get to go back. Ninety-five percent of the enjoyment that I get from this is not even related to the game.
"The best part of this is going and being around the other guys, spending time with them, talking to other players, learning stuff from them. That was something I didn't want to miss."
On Tuesday, watch the 2016 All-Star Game presented by Mastercard live on FOX, and during the game visit MLB.com to submit your choice for the Ted Williams Most Valuable Player Award presented by Chevrolet via the 2016 MLB All-Star Game MVP Vote. The 87th All-Star Game, in San Diego, will be televised nationally by FOX, in Canada by Rogers Sportsnet and RDS, and worldwide by partners in more than 160 countries via MLB International's independent feed. ESPN Radio and ESPN Radio Deportes will provide national radio coverage of the All-Star Game. MLB.com, MLB Network and SiriusXM will also provide comprehensive All-Star Week coverage. For more information, please visit allstargame.com.