Chapman on Arenado: 'Best I've ever seen'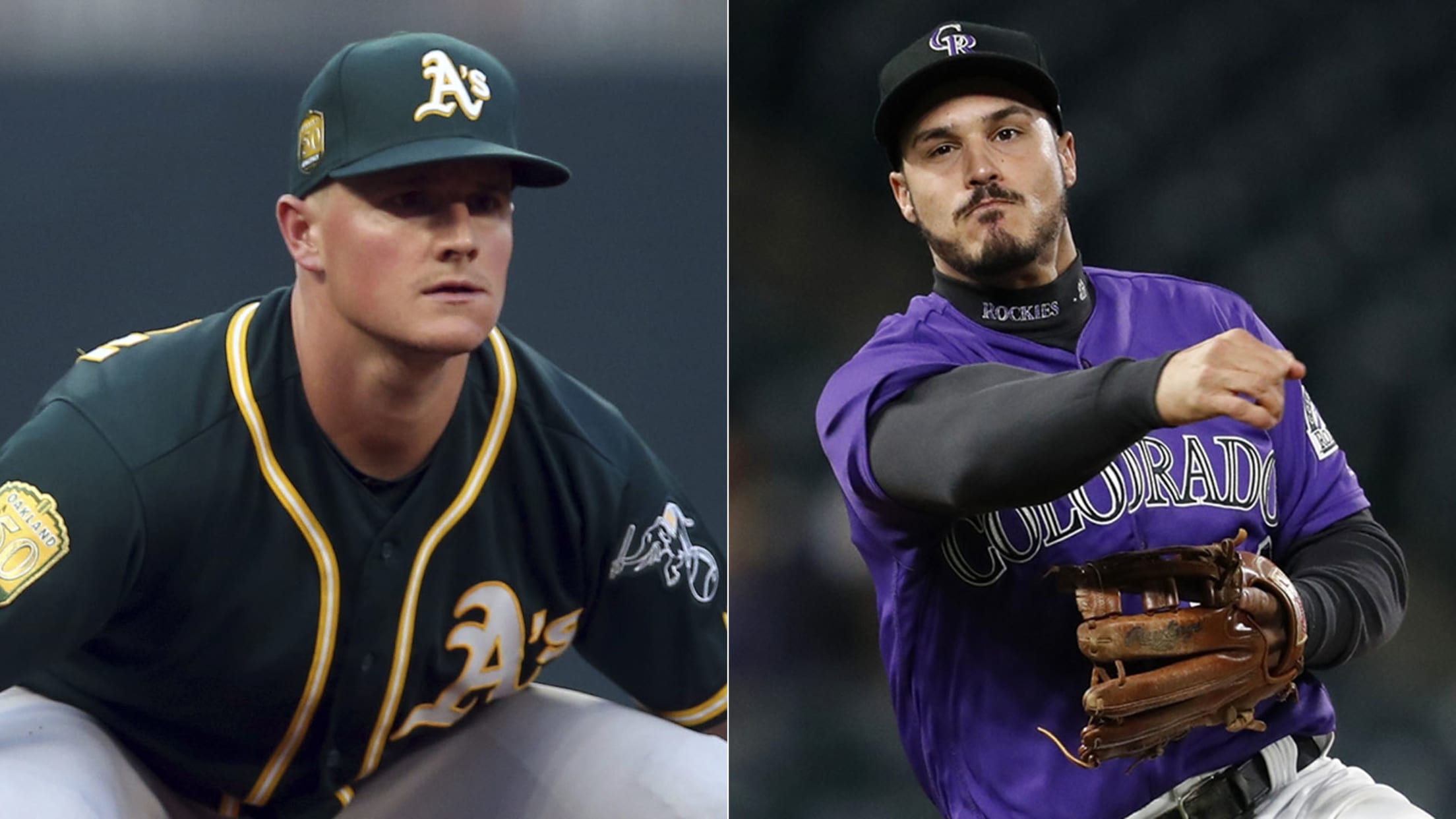 In the just-released first series of Full Account -- a new podcast that provides deep dives into baseball's best stories -- we tell the story of the 2009 Draft and its impact on the current game. How superstars Mike Trout, Nolan Arenado, J.D. Martinez and Paul Goldschmidt fell in that
In the just-released first series of Full Account -- a new podcast that provides deep dives into baseball's best stories -- we tell the story of the 2009 Draft and its impact on the current game. How superstars Mike Trout, Nolan Arenado, J.D. Martinez and Paul Goldschmidt fell in that Draft, with input from those who knew them then and knew them best.
One of my favorite interviews putting the series together was with A's third baseman Matt Chapman, who is a great story in his own right. Chapman has emerged as one of the best all-around talents in the sport, winning the Platinum Glove as the best overall defender in the American League last year and pairing that defensive talent with a booming bat that began to reach elite production levels in the second half of last season.
It is one of baseball's more amazing coincidences that Chapman and Arenado, arguably the game's two best defensive third basemen, not only played for the same school -- El Toro High School in Lake Forest, Calif. -- but at the same time. Arenado was a senior when Chapman was a freshman, and Chapman basically served as Arenado's understudy at shortstop. For two teammates from the same high school to one day win MLB's two Platinum Glove honors in the same season is fascinating, and Chapman's insight into Arenado as a high schooler was pretty fascinating, as well.
• Listen to the Arenado episode
Here are five takeaways from my interview with Chapman about Arenado, who was the 52nd overall pick (a second-rounder) by the Rockies in 2009. Be sure to check out the entire Arenado episode -- and the entire Full Account series -- for more fun details like these.
1. Chapman was in awe of Arenado in Little League, when Arenado was a shortstop and pitcher who once threw a perfect game.
"I was probably like 9 or 10 and he was 12," Chapman recalled. "I remember he threw so hard in Little League. Him and this kid Andrew Wellman -- I went to high school with both of them -- they both threw like 80 mph off the mound. I remember getting in the very, very, very back of the box like, 'Oh God.' We were all scared to face him at the time. So he was always talented. We knew he wasn't always going to be a shortstop. He was a big guy. But he caught everything he got to at shortstop. I don't think I ever saw him drop a ball."
2. Chapman was convinced of Arenado's superstar future in a way that Major League scouts weren't.
"He was so underrated even when he was getting a lot of attention," Chapman said. "I just knew how good he was going to be. Everything he does doesn't surprise me. I thought every team was going to regret it that passed him. You can ask my dad. We couldn't believe he wasn't getting picked. Especially behind guys in our area."
The first high school shortstop taken in the 2009 Draft was Jiovanni Mier by the Astros at No. 21 overall. He was from La Verne, Calif., about 40 miles north of Lake Forest. He never reached the big leagues. The first shortstop taken overall was another Southern Californian, Grant Green, out of USC. The A's took him at No. 13 overall, and he played just 129 games in the bigs.
Some scouts thought Arenado's future would be behind the plate, so they would ask to see him make throws as a catcher. And Chapman, who knew Arenado had the hands and arm to make it work at third base in the pros, would be the one receiving the throws in the infield.
"People try to label you, but if you work hard and do what you do, you can change a lot of opinions," Chapman said. "He's obviously done that, six Gold Gloves and two Platinum Gloves later."
3. Chapman would occasionally get to replace Arenado in games.
"If he got pissed off and threw his helmet or something, I got to go in," Chapman said with a laugh. "He was always fiery."
Another time, in the semifinals of the National Classic High School Baseball Tournament, where the El Toro Chargers were short-handed in the pitching department, Chapman got to start for a different reason.
"He told the coach he wanted to pitch, and he threw like a three-hit shutout," Chapman said. "That was the first time he had pitched, like, all season. He just got up on the mound, and he was just that good. He wanted to win so bad. And that was cool because I got to play shortstop."
4. Chapman looked up to Arenado in high school.
"It's hard, because he was only 17 or 18 and I was only 14 or 15," Chapman said. "It's hard for somebody that age to really be a mentor for somebody. He's trying to figure out his own stuff, and I'm just starting puberty and trying to figure out what the heck is going on with me. But I learned more from him from the way he went about his business. I looked up to him. He might not know that. Because he's the best player I've ever seen, and I wanted to be just like him. I just tried to copy how he took grounders. I tried to throw as hard as he could. I got better because of him. He led by example. The kid is just a horse. He's always been that way."
5. Which made it all the more special when the two El Toro alums both won the Platinum Glove in 2018.
"It's definitely lucky," Chapman said. "Obviously we took different routes to get where we were. I was a late bloomer [at Cal State Fullerton]. But to both win the Platinum Gloves last year was just a cool experience. It's just kind of funny, because that might not happen again. It might not happen to us or to any two kids. They announced me first and said, 'Unless you went to El Toro High School, I don't think you're winning a Platinum Glove this year. So that was cool. And it's a credit to Cal State Fullerton, too."