Here's why Matt Harvey could rise again in 2019
Matt Harvey's fresh start on the West Coast is sure to draw plenty of attention, given the heights of his stardom with the Mets and how far he fell. If Harvey can build on what he started with the Reds last season and revitalize his career with the Angels, it'd
Matt Harvey's fresh start on the West Coast is sure to draw plenty of attention, given the heights of his stardom with the Mets and how far he fell.
If Harvey can build on what he started with the Reds last season and revitalize his career with the Angels, it'd be one heck of a comeback story. But is there reason to believe in Harvey in 2019? Will he ever look anything like the bulldog he used to be on the mound?
He's got a chance. Here's why.
Harvey started to get velocity back
Harvey's injuries sapped the life from a once-overpowering fastball. In his last great season in 2015, his fastball was averaging a career-high 96.6 mph. By the early goings of 2018, it had dropped all the way to 92.6 mph, a career low. It was a steady decline, traveling through the focal points of Thoracic outlet syndrome in '16 and a stress fracture to the scapula in his throwing shoulder in '17.
But after the Mets traded Harvey to the Reds in May, he started to recover some of what he'd lost. His average fastball velocity jumped by 1.7 mph to 94.3 mph for his Reds tenure overall, including reaching a season-high 94.6 mph in September.
Harvey's average fastball velocity by season
Combined four-seamer/two-seamer
2015: 96.6 mph
2016: 95.2 mph (Thoracic outlet surgery)
2017: 94.0 mph (scapula stress fracture surgery)
2018 - Mets: 92.6 mph
2018 - Reds: 94.3 mph
On June 21, Harvey hit 97 mph for the first time in over a year -- retiring Kris Bryant on fastballs that clocked at 97.6 mph, 97.6 mph and 97.5 mph. On July 28, he struck out the Phillies' Odubel Herrera with a 97.9 mph fastball -- his fastest pitch of the season -- and got Rhys Hoskins at 97.1 mph. The last time Harvey had gotten multiple swings-and-misses at that level of velocity was the most famous (and infamous) start of his career: Game 5 of the 2015 World Series.
He made a counterintuitive adjustment
Harvey's four-seamer has been a root cause of his struggles. And as FanGraphs' Jeff Sullivan noted in December, his loss of spin rate on the pitch could be the reason. Higher spin on a four-seamer produces the "hop" or "carry" or "rise" effect that makes it a swing-and-miss pitch.
Harvey used to have above-average four-seam spin -- in 2015, the first year of Statcast tracking, his 2,338 rpm spin rate was 100 rpm higher than MLB average. But he's lost nearly 200 rpm since then -- in 2018, Harvey's four-seamer averaged just 2,163 rpm, 100 rpm below league average.
Along with that came fewer swings-and-misses and more solid contact allowed. In 2015, Harvey's four-seam whiff rate was 25.4 percent; in 2018, it was 18 percent. In 2015, hitters' expected wOBA against Harvey's four-seamer -- a stat that reflects the overall contact quality allowed, factoring in walks and strikeouts -- was .279; in 2018, it was .369.
Harvey seemed to realize this, whether it was by looking at data or just having a feel for what was happening with his fastball. And he changed his approach. As the 2018 season went on, Harvey shifted from using his four-seamer as his primary fastball to using his two-seamer as his primary fastball.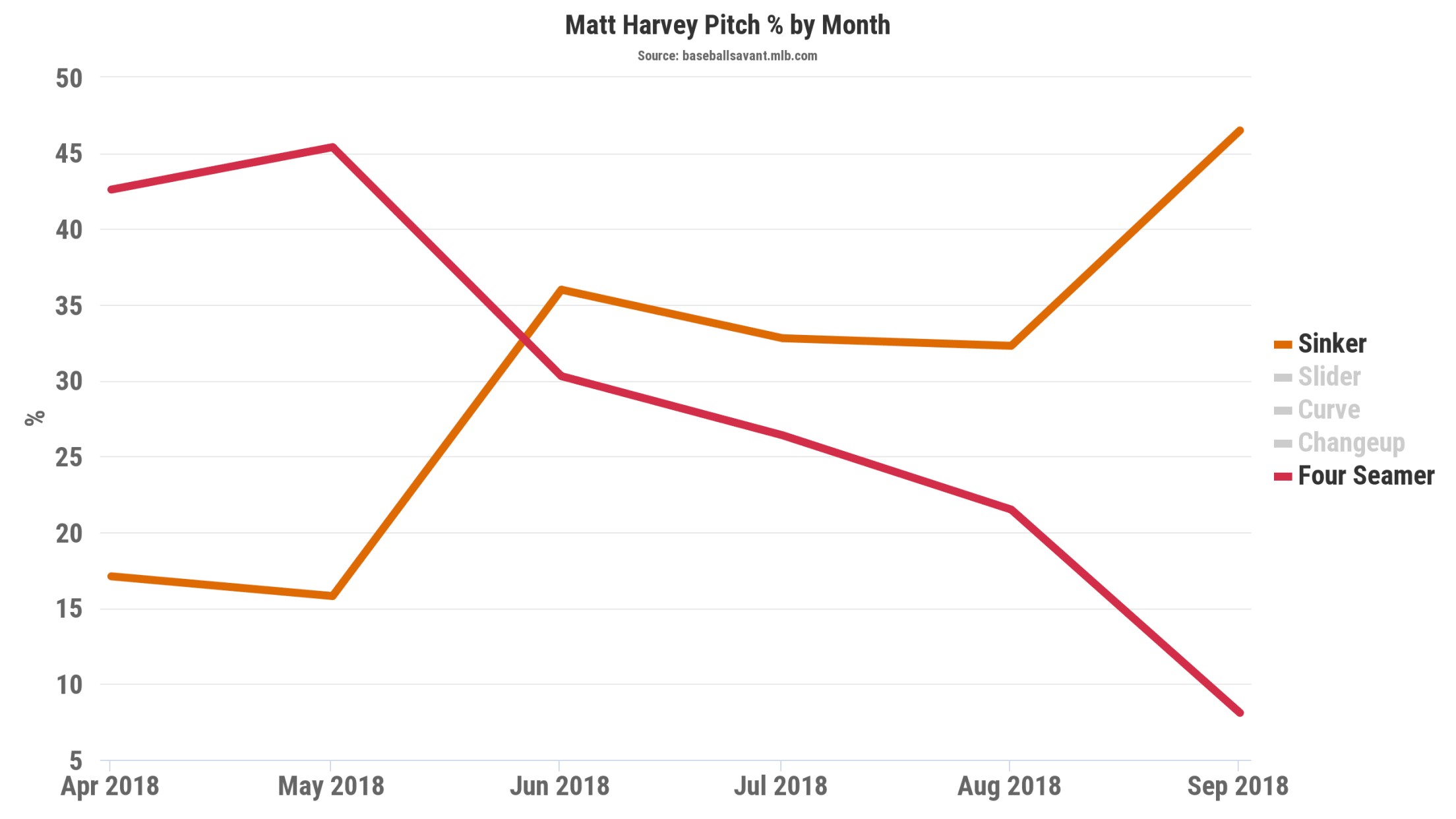 That actually cuts the opposite way from the trend in the Majors of scrapping two-seam fastballs in favor of four-seam fastballs, a change implemented by power pitchers like Justin Verlander and Gerrit Cole. But in Harvey's case, two-seamers make a lot of sense.
High-spin fastballs might be good for getting swings-and-misses, but low-spin fastballs are good for getting ground balls. That fits the two-seamer/sinker profile -- the profile Harvey adopted. And as Harvey threw more two-seamers late in the season, he got his best results. In September, he generated a season-high 63.2 percent ground-ball rate on his two-seamer. His xwOBA allowed was a season-low .225. Even his swing-and-miss rate rose to 26.4 percent, higher than the 22.2 percent he got on his four-seamer.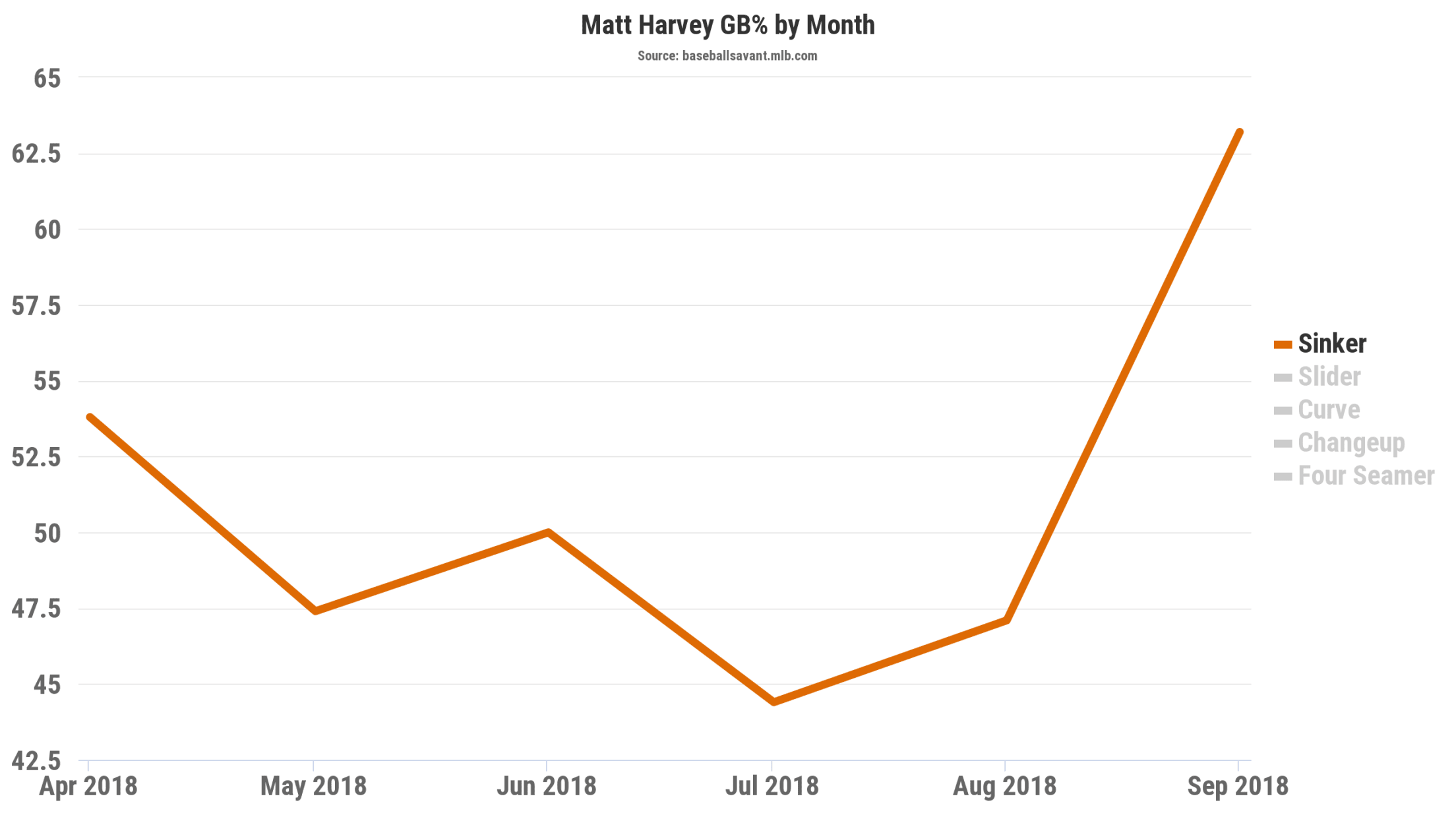 His curveball looks promising
Harvey's improved stuff post-arrival in Cincinnati wasn't limited to fastball velocity. There was also an interesting development with his curveball.
Harvey has added significant curveball spin. Higher spin rate on a curve tends to produce more movement and yield better outcomes for the pitcher, and Harvey's was by far his highest since Statcast began tracking.
Harvey's average curveball spin rate by season
2015: 2,186 rpm
2016: 2,261 rpm
2017: 2,307 rpm
2018 - Mets: 2,443 rpm
2018 - Reds: 2,544 rpm
The curveball could be Harvey's greatest opportunity. It's his least-used pitch type; his slider's always been his chief breaking ball. He threw just 5.4 percent curves in 2018 vs. 24.1 percent sliders. But his curveball was actually his best swing-and-miss pitch -- Harvey got whiffs on 32.7 percent of the swings against it, compared to 25.9 percent against his slider.
Harvey has been working on his curve this spring, to make it a more prominent part of his repertoire. The earliest indications were promising. In his first Spring Training start on March 6, Harvey threw 22.7 percent curveballs (10 total out of 44 pitches). His average spin rate was 2,653 rpm.
While Harvey's slider and changeup have shown flashes in certain respects, they haven't consistently resembled their pre-Thoracic outlet iterations. He'll need those, too, if he's ever going to look like his old self. But there's a clear space for the curveball if Harvey can take advantage of it, and it could be just the new tool he needs to succeed in his Angels debut.