Holliday set out to return in time to face Cards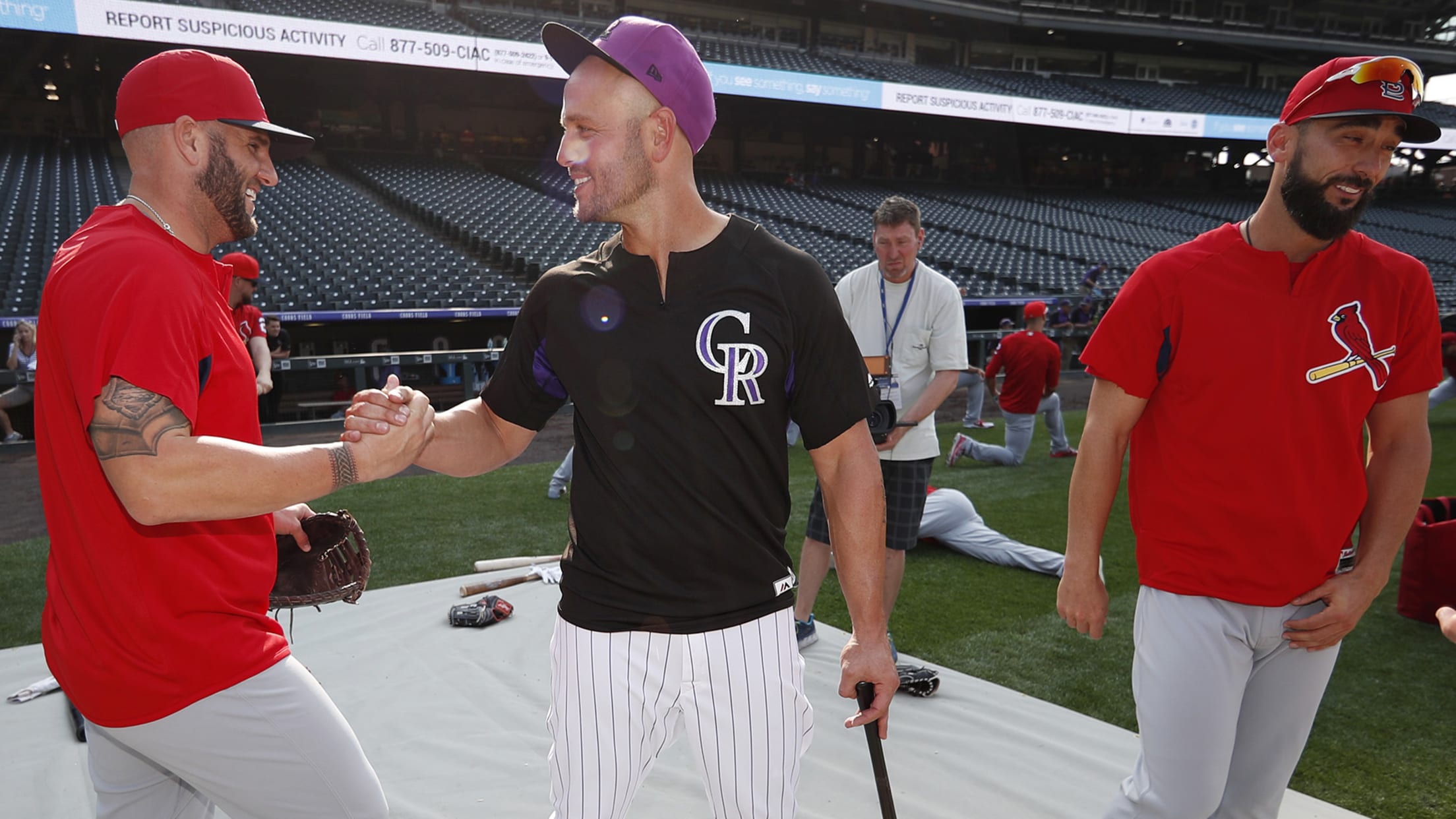 From left, St. Louis Cardinals first baseman Matt Adams greets Colorado Rockies left fielder Matt Holliday as Cardinals first baseman Matt Carpenter looks on as the teams warm up before a baseball game Friday, Aug. 24, 2018, in Denver. (AP Photo/David Zalubowski) (David Zalubowski/AP)
DENVER -- In the month since re-signing with the Rockies, the team that drafted, developed and with which he became a star, Matthew Holliday (Holliday) repeatedly eyed this day on the calendar. As he climbed back up Colorado's farm system, this time as a 38-year-old, Holliday hoped he'd arrive in Denver
DENVER -- In the month since re-signing with the Rockies, the team that drafted, developed and with which he became a star, Matthew Holliday (Holliday) repeatedly eyed this day on the calendar. As he climbed back up Colorado's farm system, this time as a 38-year-old, Holliday hoped he'd arrive in Denver by the time the Cardinals did.
"I thought it would be cool," Holliday said from the home dugout at Coors Field on Friday, before the start of an important three-game set between the two teams that have defined the slugger's career. "To get here by this series."
• Cardinals Players' Weekend gear
Across the field, Holliday eyed the familiar red and white jerseys, in which he spent parts of eight seasons. But fewer familiar faces bounced out of the visiting dugout than he'd have expected.
:: Players' Weekend presented by Valspar Stain ::
"There has been quite the turnover," Holliday said. "I don't even know too many of the guys."
Of those remaining with the Cardinals from 2016, when Holliday's seven-plus year tenure in St. Louis ended, are two of his closest baseball confidants: Matt Carpenter (Carp) and Adam Wainwright (Waino). Holliday has kept tabs on them in the two years since, along with the Cardinals organization as a whole. After all, Colorado was where "I kinda grew up," Holliday said. But St. Louis is "where I spent the bulk of my career."
• Cardinals' nicknames for Players' Weekend
While the timing of his promotion -- Holliday was as activated by the Rockies on Thursday, a day before the Cardinals rolled into town -- might feel coincidental, that Holliday reemerged in Denver at this point in his career is not. After spending 14 years mostly with the Cardinals and Rockies, Holliday said he planned to continue his career this spring, but on his own terms. When neither the Rockies nor Cardinals called, he waited.
"I just really enjoyed both places," Holliday said. He didn't sign until July 29, and says he doesn't know if he wants to play next year.
"I was looking for the right fit. There just wasn't anything that got me going," Holliday said. "I was OK with where I was, with my kids, watching games, and trusting God had a plan for me. If it was not playing anymore, I was OK with that this was an opportunity that felt like the right time.
"I'm trying to enjoy it," he said. "I had no expectations going into this thing"
Wacha, Waino nearing returns
Back in the Cardinals clubhouse a day after throwing 49 pitches in a rehab start, Michael Wacha (Wachamole) is set to throw a bullpen session Sunday at Coors Field. He'll then head out for Double-A Springfield, where he'll hope to throw 75 pitches in a rehab start Tuesday, according to Cardinals manager Mike Shildt. Both Shildt and Wacha indicated the righty could return to the Cardinals' rotation after that.
Wacha was working on a career year when he sustained a moderate oblique strain June 20 in Philadelphia. He was 8-2 with a 3.20 ERA in 15 starts at the time of the injury.
"It's definitely getting close for sure," Wacha said. "Getting a little bit closer to where I need to be with my timing and mechanics-wise."
The rehab start in Springfield on Tuesday will be Wacha's third. He tossed 3 2/3 scoreless innings on Thursday for Class A Palm Beach. He threw 27 pitches in his first rehab appearance, when he allowed three earned runs in 2/3 of an innings.
The Cardinals won't need a fifth starter again until Sept. 1, but lining up Wacha to pitch Tuesday would mean he's on short rest when that date comes around.
"He's in the conversation for being able to come back and pitch in early September," Shildt said.
The Cardinals are planning the same for Wainwright (elbow), who has thrown eight scoreless innings across four rehab appearances. His workload has increased incrementally: one inning in his first appearance, then two appearances of two innings apiece, then a three-inning effort Wednesday. Wainwright will shoot for four innings Sunday in at Triple-A Memphis. The Cardinals' goal is to stretch Wainwright out enough to start if needed in September, though whether the 36-year-old's potential role will be in the rotation or in relief remains to be determined.
"Right now we can't rule out either one," Shildt said. "We're talking about Adam Wainwright. The ball is coming out good. The breaking ball is as nasty as its been. Now, it's about volume and recovery and execution."