Moore (right knee) hopes to avoid surgery
Tigers won't rush Jones back; Martin returns to Detroit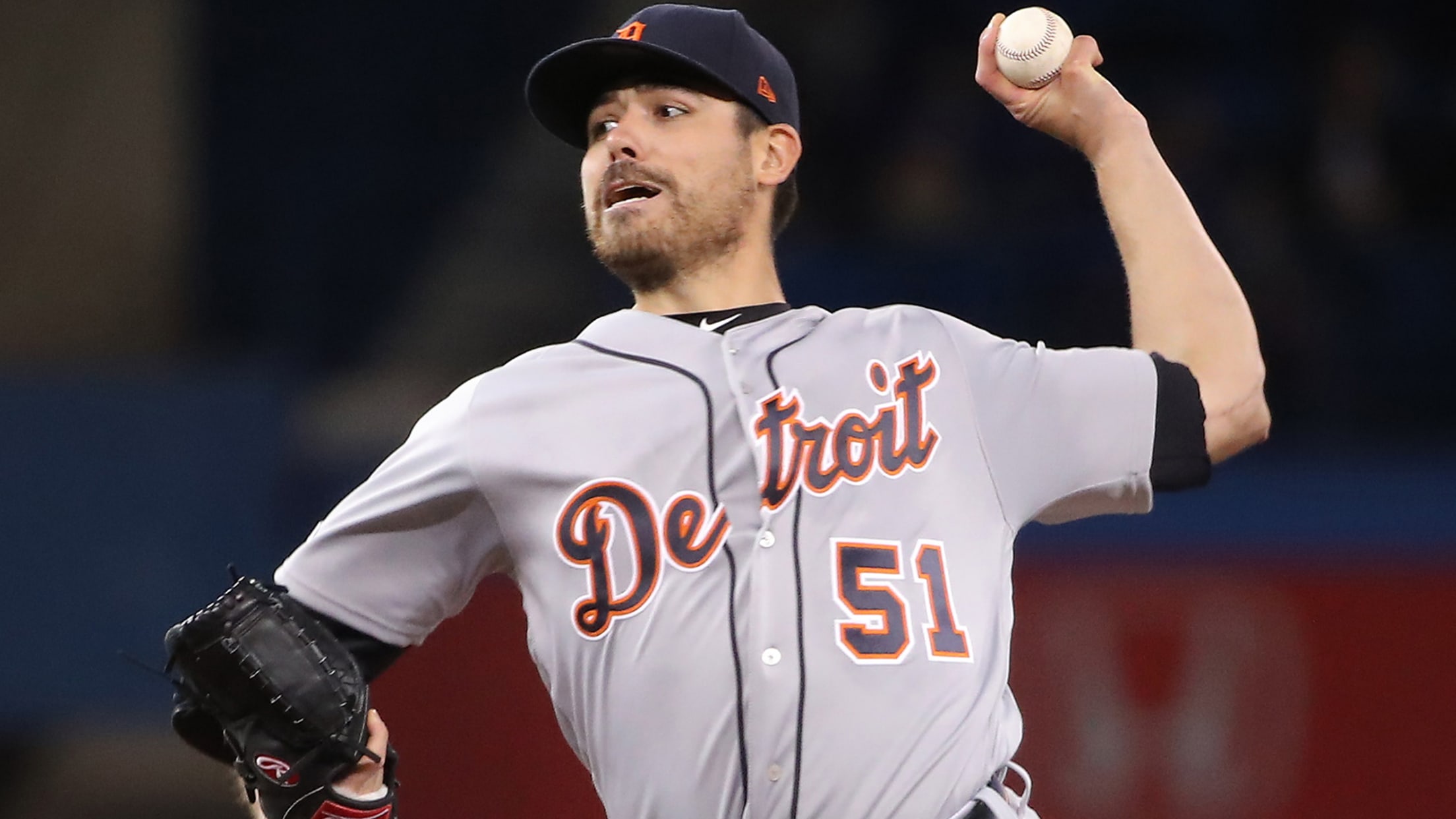 DETROIT -- The feeling was like waking up in the morning and feeling your knee pop, Matt Moore said. It didn't feel like anything catastrophic, which is one reason the Tigers left-hander is hoping he can rehab his right knee injury and avoid surgery. "It's not really swollen up very
DETROIT -- The feeling was like waking up in the morning and feeling your knee pop, Matt Moore said. It didn't feel like anything catastrophic, which is one reason the Tigers left-hander is hoping he can rehab his right knee injury and avoid surgery.
"It's not really swollen up very much," Moore said on Tuesday morning, "so I think that's kind of why rehabbing, at least giving it a shot, makes so much sense. I think it's the type of thing that they don't really know the severity until they go in there."
The injury involves the meniscus, Moore said, but three surgeons have looked at the MRI results without recommending surgery unless he's feeling more significant pain. For now, it's more a matter of minor swelling and discomfort. Moore said he felt soreness on Tuesday morning after a heavier workout to test the knee on Monday.
"The first few days have been great," he said. "After pushing it yesterday a little bit, I'm still encouraged by that route, going through the rehab."
Contrary to the way it looked, Moore said he didn't suffer the injury going to ground to field Billy Hamilton's bunt single Saturday. It was on his final pitch of that third inning, a curveball that Whit Merrifield hit on the ground to first base, that he felt the pop, kind of like air moving in the knee as he moved to get ready to field or cover the bag.
"I kind of pulled up because I felt something," Moore said, "but it wasn't like, 'Oh my gosh, I just blew my knee out.' I flexed it a little bit and walked off slow, because I wasn't really sure. And at that point, it didn't really make much sense to keep going on it. Because if it was something serious, it's probably only going to get worse out there. That was completely unexpected."
Moore has no history of meniscus problems. For that matter, he has no history of major injuries that don't involve his arm. He suffered a minor tear of his medial collateral ligament while playing with his dogs a couple offseasons ago, but he was able to handle that without surgery. Moore missed a week and a half with the Rangers last May when his knee swelled up on a flight, but the issue abated with rest.
Ideally, Moore said, he could resume a throwing program in the next day or two if he doesn't have any issues. If he isn't ready, he'll keep trying to rehab it for the next week or two before looking at surgical options. If Moore were to have the meniscus repaired rather than reconstructed, the typical timetable for recovery is four to eight weeks.
"If there's something there that I don't think I'll be able to get through 90-110 pitches, then my hands will probably be tied," Moore said. "If it's the case where you'll probably deal with a little bit of inflammation in Day 1 or Day 2 [after a start] and you just kind of have to squish it out of there, there's a lot of guys that are still able to go about their business handling stuff like that."
Tigers patient with Jones
Though JaCoby Jones and his sprained left shoulder apparently feel fine through four games of a Minor League rehab assignment, the Tigers will continue to exercise patience with their center fielder. A return from the 10-day injured list isn't expected until next week at the earliest. His 3-for-15 performance at the plate at Class A Advanced Lakeland, with four walks and six strikeouts, might play into that.
"Jacoby's doing fine. He's having better at-bats, not great but better," manager Ron Gardenhire said. "[General manager Al Avila] is adamant about not just bringing somebody back just to bring him back. Make sure they're ready to come back, and that's important with JaCoby as far as getting at-bats."
The Tigers are pondering whether to move Jones up to Triple-A Toledo to face more advanced competition as well as to handle some of the cooler weather he'll have to handle in Detroit.
Martin returns to Detroit
The smile on Leonys Martin's face looked familiar as the former Tigers outfielder stood in the visiting clubhouse. After all he has endured since his trade to the Indians last July, he has all the more reason to appreciate being on a baseball field.
Martin's smile was even bigger as he rounded the bases in the first inning. On the second pitch of the Tigers' 8-2 loss to the Indians at Comerica Park on Tuesday, the center fielder hit his first home run of the season off right-hander Jordan Zimmermann.
Martin played just six games for Cleveland in 2018 before being hospitalized with a life-threatening bacterial infection. He lost 40 pounds and missed the rest of the season, but he returned in Spring Training and was in center field for the Indians on Opening Day.
"This is what I've done all my life, so every time that I put my uniform on, every time that I go out for batting practice, step on home plate, whatever, it's something that I really enjoy," Martin said. "And then since last year, I enjoy it a little bit more. I've got my second chance at life. To see my life turn around so quick last year, I've gotta enjoy life, man."
Good to see our friend back and healthy at Comerica Park. pic.twitter.com/It3UxyGnpf

— Detroit Tigers (@tigers) April 9, 2019
Though last year was Martin's only season with the Tigers, the experience stuck with him, beyond the restart it meant for his career. He remains close with Gardenhire, hitting coach Lloyd McClendon and players like Nicholas Castellanos, all of whom kept in touch with him during his hospitalization last August and September.
"I really love the time that I spent here with the Tigers," Martin said. "It's an awesome group of guys, great group of coaches. It was fun, man. It was really fun. I really liked the organization, I really liked the fans. We didn't play that good last year, but the city, the ballpark, the crowds, it was awesome. The people love the ballpark. And then when I got sick, the support that I got from the fans here in Detroit was impressive. That's something that I'll never forget. It's awesome to be back here."