Lucroy 'very thankful' for military's sacrifice
Crew catcher volunteers with veterans, provides scholarships to families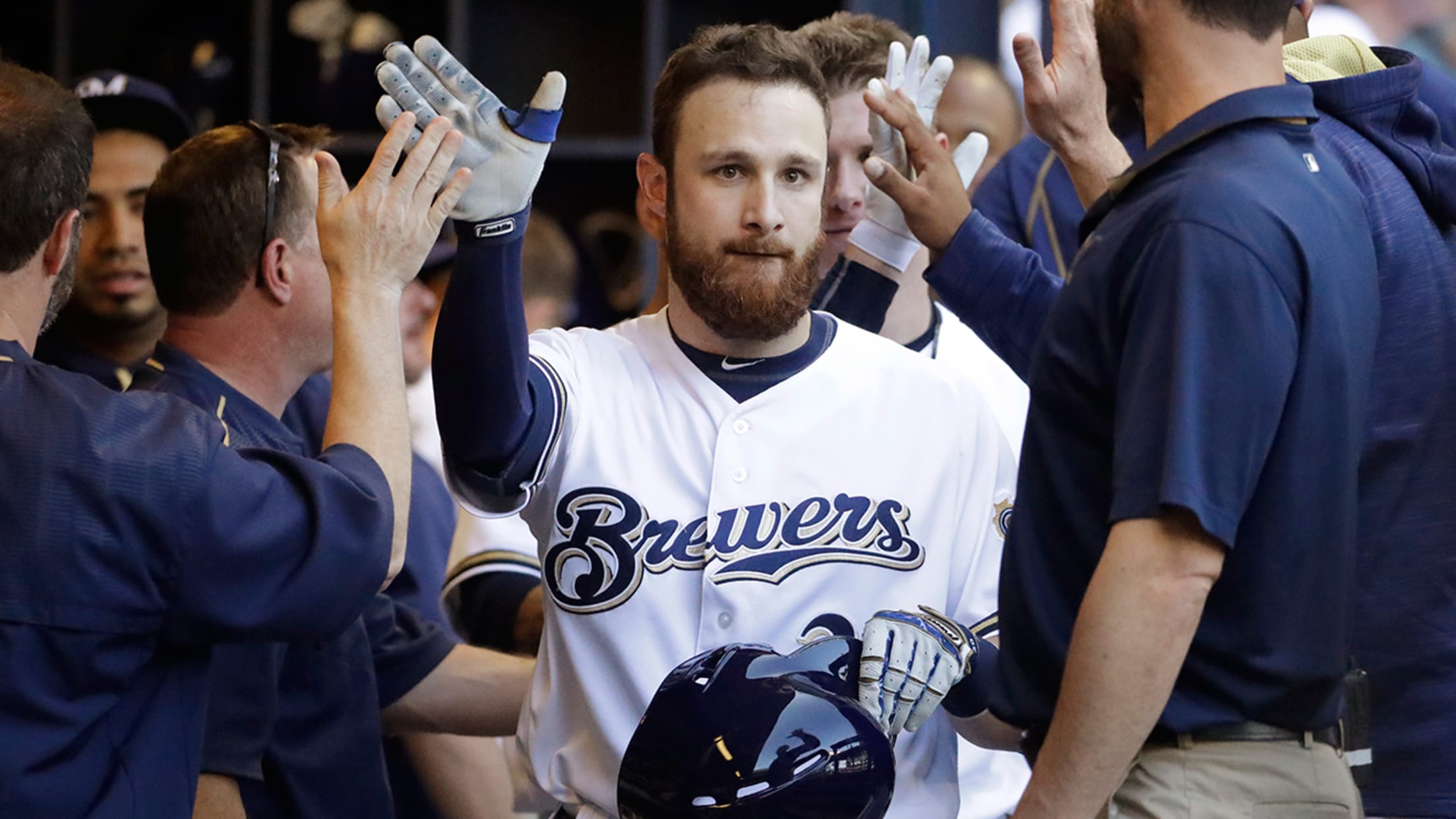 Jonathan Lucroy has volunteered for a Milwaukee-based Stars and Stripes Honor Flight for the past two years. (AP)
MILWAUKEE -- For the second consecutive year, Memorial Day was more personal for Brewers catcher Jonathan Lucroy, who stood at attention along with his teammates and the St. Louis Cardinals during pregame ceremonies on Monday at Miller Park.In past two offseasons, Lucroy has volunteered for a Stars and Stripes Honor
MILWAUKEE -- For the second consecutive year, Memorial Day was more personal for Brewers catcher Jonathan Lucroy, who stood at attention along with his teammates and the St. Louis Cardinals during pregame ceremonies on Monday at Miller Park.
In past two offseasons, Lucroy has volunteered for a Stars and Stripes Honor Flight, which takes military veterans on marathon one-day trips to Washington, D.C., to visit monuments and memorials. One of the program's hubs is in Milwaukee.
Lucroy has particularly been touched by veterans of World War II.
"It helps me to relate to something that happened more than 70 years ago," he said. "I grew up in a family where we watched a lot of the History Channel, so being able to hang out with a lot of these guys one-on-one for two years in a row now, it's been very cool and educational for me. It helps me to be thankful for what they did."
Happy Memorial Day to all those who have served and sacrificed! Thank you!! @Blessed_B_The1 @WarriorsLeft pic.twitter.com/KDWCiwi5V5

— Jonathan Lucroy (@JLucroy20) May 30, 2016
Teams across Major League Baseball paid tribute on Monday, wearing special Memorial Day uniforms with camouflage caps and numbering. At Miller Park, there were five ceremonial first pitches, each representing a branch of the U.S. military. The Brewers and Cardinals also planned to pause for one minute at 3 p.m. local time for the National Moment of Remembrance.
Lucroy has put his interest in military endeavors into action. He has funded scholarships for military families and supplied tickets to games. He provides funds for Fisher House Wisconsin, a facility for families of veterans receiving treatment at Milwaukee's VA Hospital. In January 2015, Lucroy was a guest of U.S. Sen. Ron Johnson (R-Wis.) at the State of the Union address. In November, Lucroy was honored at the U.S. Navy Memorial in Washington, D.C., as one of the recipients of the Bob Feller Act of Valor Award, named for the Hall of Fame pitcher who served in the Navy during World War II.
"If we wouldn't have won that war ... the world would be totally different," Lucroy said. "Those veterans have done some pretty amazing things, so I'm very thankful for that.
"The whole thing is special. The best thing for me is seeing when we land, there's 6,000-7,000 people in the main terminal to welcome these guys back. They form a parade line for them. Seeing these guys welcomed back by their families, that's very special. It's an emotional time for them. It's very cool."