Memphis putting together magnificent season
Redbirds' 65-35 record best in Triple-A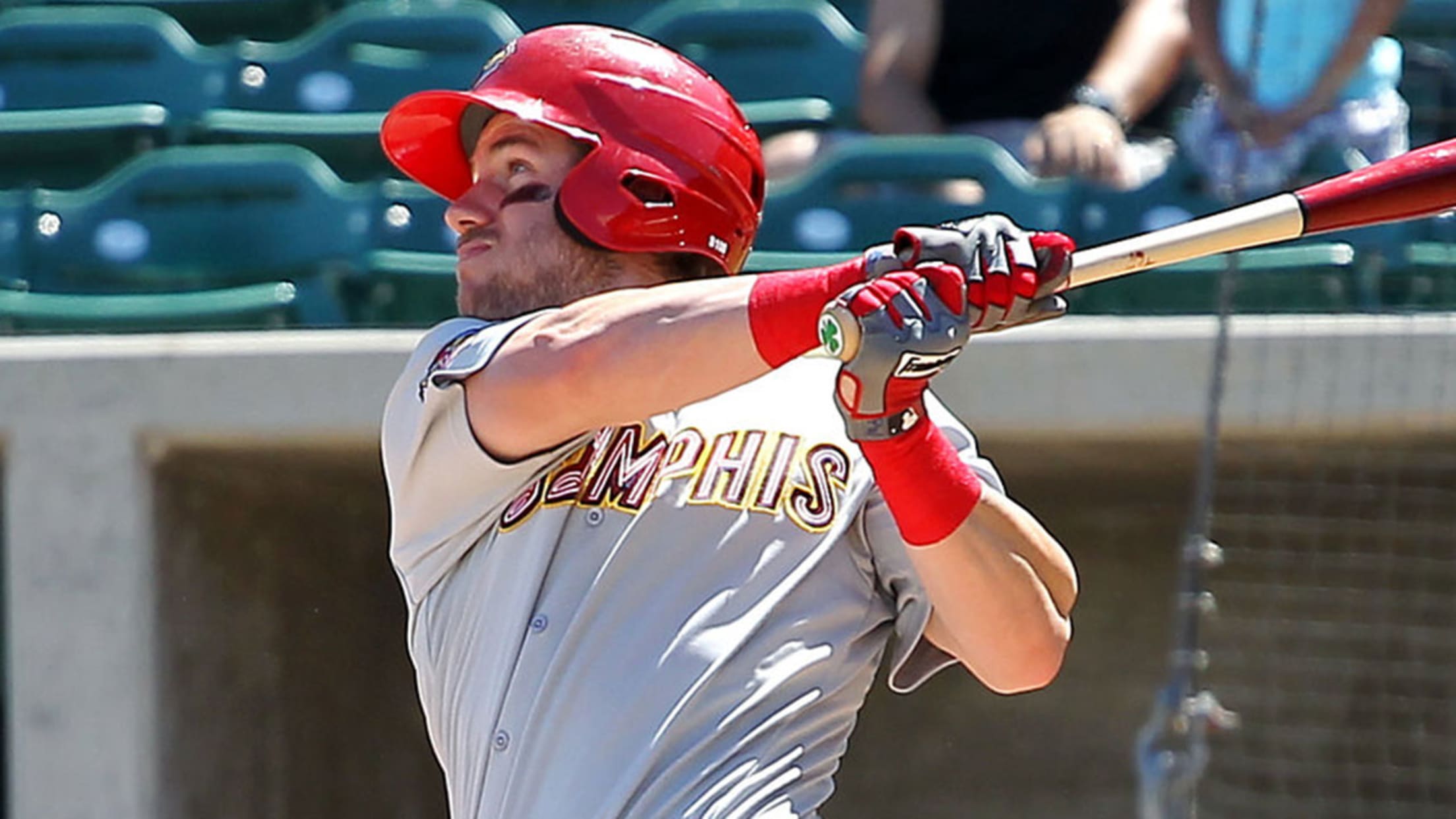 Patrick Wisdom hit his team-leading 22nd home run Sunday for the Redbirds. (MLB)
MEMPHIS -- As the Cardinals continue to battle in the National League Central, their Triple-A affiliate is having one of its best seasons in franchise history.Memphis has excelled in the Pacific Coast League this season and is 30 games over .500 at 65-35. The Redbirds hold the best record in
MEMPHIS -- As the Cardinals continue to battle in the National League Central, their Triple-A affiliate is having one of its best seasons in franchise history.
Memphis has excelled in the Pacific Coast League this season and is 30 games over .500 at 65-35. The Redbirds hold the best record in Triple-A baseball and have not lost a series since April 18-21. They've won 19 of their last 23.
• Cardinals Top 30 Prospects
While winning games is always a goal, the ultimate objective for the Triple-A team is to develop players. Memphis has accomplished both under the direction of first-year manager Stubby Clapp. Of the 14 Memphis players who have been promoted this season, seven are with St. Louis. Two of those players -- Tommy Pham and Paul DeJong -- have gone on to solidify starting roles with the Cardinals.
"I'm impressed by the guys that have gone on to the big leagues and done well, making a name for themselves," said Clapp, who was drafted by the Cardinals in 1996 and played parts of four seasons in Memphis. "That's what the big picture is -- to get these guys ready. And in the meantime, we've accumulated some nice W's down here."
Memphis has held opponents to four runs or fewer in 40 of their last 51 contests, and it boasts the only pitching staff in the Pacific Coast League with an ERA below 4.00.
Run support has been plentiful, too. The Redbirds have hit 116 home runs this year compared to 107 all of last season.
Several players said that the team's success has been fueled by a mental edge.
"[Clapp] has definitely instilled the ability to have fun when we play and regardless if we lose or win, I think we come out every day with the expectation to win," said third baseman Patrick Wisdom, who blasted his team-leading 22nd homer in Sunday's 7-5 win. "More than anything on any other team, just the fun factor has been huge."
Many of the players have climbed through the Cardinals' system together and had success at other levels. Their success is being tracked at the big league level, too, where Cardinals manager Mike Matheny has followed along through the daily reports he receives on how each affiliate fared the day before.
"Just a great tip of the cap to Stubby," Matheny said from Wrigley Field on Sunday. "We took their three-, four-, and five-[hole] hitters, and they've been continuing to [win]. It's great. We love to see that in the organization."
Winning has lessened some of the grind of the season and added more excitement for players who are still waiting for the opportunity to join some of their former teammates in the big leagues.
"[Their success] makes you understand how close you really are," said outfielder Harrison Bader, who entered Sunday slashing .299/.356/.522 with 19 homers and 47 RBIs. "I just use their success in many ways to help propel myself. Not that I need that, but [it's] an extra little push."
Alaina Getzenberg is a reporter for MLB.com based in St. Louis.