Mets' Top 5 general managers: DiComo's take
No one loves a good debate quite like baseball fans, and with that in mind, we asked each of our beat reporters to rank the top five players by position in the history of their franchise, based on their career while playing for that club. These rankings are for fun
No one loves a good debate quite like baseball fans, and with that in mind, we asked each of our beat reporters to rank the top five players by position in the history of their franchise, based on their career while playing for that club. These rankings are for fun and debate purposes only.
Here is Anthony DiComo's ranking of the Top 5 general managers in Mets history.
• Mets All-Time Team: C | 1B | 2B | 3B | SS | LF | CF | RF | Bench | RHP | LHP | Relievers | Managers
1. Frank Cashen, 1980-91, '93
Key moves: Drafted Darryl Strawberry and Dwight Gooden; traded for Keith Hernandez and Gary Carter
Consider some of Cashen's major transactions after becoming the Mets' general manager in 1980.
First, Cashen selected Strawberry with the top overall Draft pick that summer. Next, he signed a undrafted free agent named Kevin Mitchell, a teenager at the time. He swung trades for Rusty Staub, Dave Kingman and Ron Darling. He drafted Gooden, also in the first round. He brought Tom Seaver back to Flushing, albeit for only a year. Then, in relatively rapid succession, he completed deals for Hernandez, Sid Fernandez, Ray Knight, Howard Johnson and Carter -- all cornerstones of the 1986 World Series championship team.
The above paragraph includes a bit of revisionist history, considering it doesn't include any of Cashen's failures: trading away Jeff Reardon or Mike Scott, for instance, or struggling to find the right manager for the team in the early 1980s. But the point remains that over roughly a half-decade, Cashen took one Major League Baseball's most hapless teams -- the Mets lost 99 games in their final season before Cashen's hiring -- and transformed it into one of the greatest clubs in baseball history.
Given that success, his legacy as the Mets' greatest GM has gone essentially unchallenged since he left the post in 1991.
2. Bing Devine, 1966-67
Key moves: Signed Tom Seaver; drafted Jon Matlack and Gary Gentry
Initially an assistant to general manager George Weiss, Devine arrived in Flushing just as the Mets were beginning to show flashes of becoming something other than their ill-fated teams at the bottom of the National League. He was in the front office when the Mets drafted Nolan Ryan and was GM when they selected Matlack and Gentry.
Most importantly, Devine is widely credited with convincing Weiss to enter the Seaver lottery after the Braves lost his exclusive rights following an NCAA rules violation. The Mets ultimately signed Seaver, who led them to NL pennants in 1969 and '73. Although Devine was back in St. Louis by that point, his legacy as GM was secure.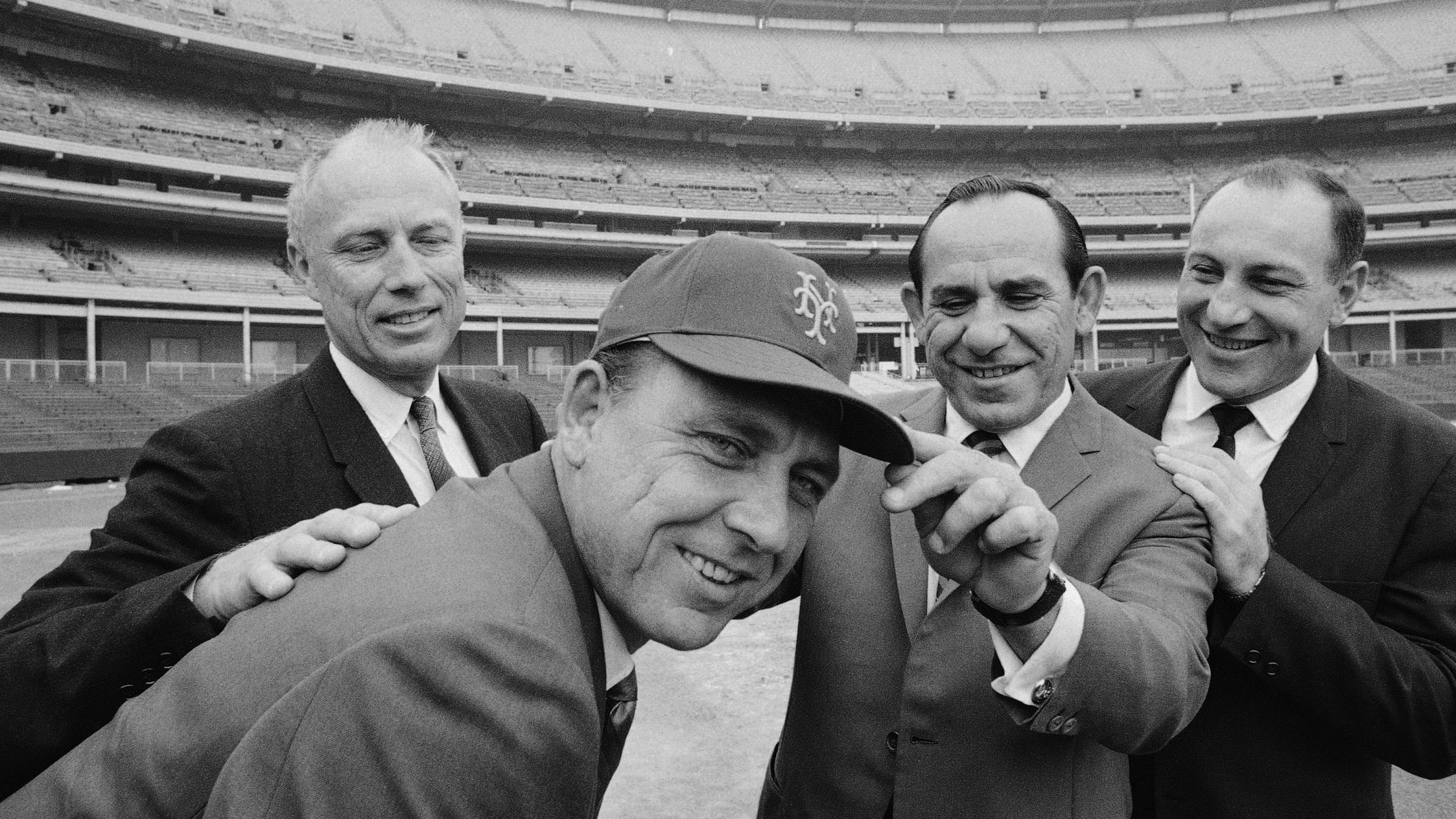 3. Johnny Murphy, 1967-70
Key moves: Acquired manager Gil Hodges and players Donn Clendenon and Tommie Agee
Although most of the Mets' 1969 World Series core was already in place by the time Devine left town and Murphy became GM, the latter put the finishing touches on a championship team. His first major move was to swipe Hodges away from the Washington Senators, installing him as manager. The next offseason, Murphy acquired Agee, who went on to play a significant role in the '69 World Series. Then, with the Mets trying to fight back from a nine-game deficit in the NL East, Murphy traded for Clendenon, who lifted them throughout the rest of the regular season and into October. He wound up becoming the World Series Most Valuable Player.
Murphy died of a heart attack just three months later, but the team he helped create remained successful into the mid-1970s.
4. George Weiss, 1961-66
Key moves: Signed Bud Harrelson, Cleon Jones, Ed Kranepool, Tug McGraw and Ron Swoboda
The Mets' initial general manager, Weiss arrived in Flushing already a surefire Hall of Famer due to his work over 14 seasons with the Yankees. He then oversaw a half-decade of ineptitude that was mostly out of his control; the Mets had little to choose from during the 1961 Expansion Draft, leaving Weiss and his pick for manager -- former Yankees skipper Casey Stengel, who at least gave the fledgling franchise some instant credibility -- to focus on aging veterans with name recognition.
Over the next few years, Weiss built up the farm system with a series of signings, though he also made his share of mistakes -- most notably passing on Reggie Jackson in the 1966 Draft. Like Devine, Weiss was out of the picture by the time the Mets made the World Series in '69, but his fingerprints were all over that championship roster.
5. Omar Minaya, 2005-10
Key moves: Signed Carlos Beltrán, Pedro Martinez and Billy Wagner; traded for Carlos Delgado and Johan Santana; drafted Matt Harvey and Jacob deGrom
Minaya's tenure is often unfairly remembered more for what he didn't do than what he did. He did not take the Mets to the postseason more than once, despite constructing a 97-win roster in 2006 and bolstering it in the years that followed. He did not make wise long-term investments in Oliver Perez and Luis Castillo, whose contracts wound up hamstringing the Mets. Nor did he build a roster with staying power; the Mets, after '09, had little choice but to rebuild under Sandy Alderson.
And yet Minaya rapidly turned the Mets into contenders in the mid-2000s, giving them a serious window of World Series contention. That they didn't capitalize is not entirely his fault. More than that, Minaya left behind a farm system full of players that would ultimately win the '15 pennant, including Harvey, deGrom, Steven Matz and Jeurys Familia.